Blonde : Naomi Watts abandonne Marilyn Monroe, le biopic sauvé par Brad Pitt
publié le 2 juin 2012
en ligne sur purepeople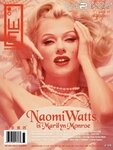 Marilyn Monroe n'est pas indestructible. Nommée aux Oscars via Michelle Williams pour My Week with Marilyn (2011) puis visage du Festival de Cannes 2012, l'icône était censée être incarnée par Naomi Watts dans Blonde, un film réalisé par Andrew Dominik (L'Assassinat de Jesse James par le lâche Robert Ford). Deux ans après l'annonce, cet autre biopic semble en péril.

Prévu en janvier 2011, le tournage de Blonde était repoussé à une date inconnue tandis que le cinéaste décidait de retrouver Brad Pitt pour le polar Cogan - La Mort en douce (Killing Them Softly) présenté à Cannes en sélection officielle - sous le regard de Marilyn Monroe donc. Interrogé sur le biopic de la star hollywoodienne, Andrew Dominik déclarait : "Je veux vraiment faire Blonde. Ce n'est pas quelque chose dont je peux parler parce que nous essayons de régler quelques choses en ce moment, mais j'espère ce sera le prochain film. (...) J'aimerais tourner l'année prochaine. C'est une sorte de conte de fées cauchemardesque, et je veux vraiment, vraiment le faire... C'est l'histoire d'une orpheline abandonnée qui se perd dans les bois."

Une bien belle manière de décrire un projet condamné par tous comme une nouvelle preuve du manque d'inspiration des scénaristes et des studios. Mais alors que l'affaire ne semblait pas plus concrète, Brad Pitt a décidé de soutenir son réalisateur en devenant producteur de Blonde, espérant ainsi apporter sa stature hollywoodienne à un film visiblement compliqué.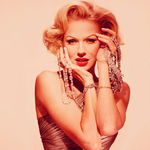 Seul bémol : Naomi Watts ne serait plus attachée au rôle de Marilyn Monroe. La production serait donc partie dans une nouvelle direction, avec l'éventualité de caster une actrice méconnue pour incarner la célèbre star.
Trop occupée à préparer son interprétation de Lady Di dans le très attendu Caught in Flight d'Olivier Hirschbiegel, Naomi Watts a certainement atteint son quota de biopics puisqu'elle est également attendue en Gertrude Bell dans Queen of the Desert de Werner Herzog.