17 juillet 2012
Celeste Holm. La disparition d'une élégante
publié le 16 juillet 2012
en ligne sur parismatch.com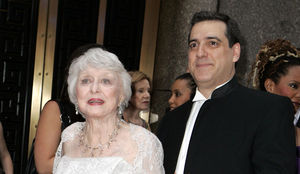 L'actrice Celeste Holm est décédée à New York à l'âge de 95 ans. Oscar du meilleur second rôle féminin en 1957 pour «Le Mur invisible» d'Elia Kazan, elle avait défrayé la chronique en 2004 en épousant le chanteur d'opéra Frank Basile, de 46 ans son benjamin.


Cette native de la Big Apple a vécu tant de passion sur les planches, au cinéma et dans la vie qu'elle pourrait faire l'objet d'un film. Née à New York en 1917, fille unique d'un businessman norvégien qui a fait fortune dans les assurances et d'une romancière américaine, Jean Parke, Celeste Holm débute au théâtre à la fin des années 30. L'ingénue triomphe dans «The Women», «Oklahoma !» et «Bloomer Girl», au point que le septième art finit par lui faire les yeux doux. La décennie suivante sera celle de sa consécration au cinéma. Pour le rôle d'Anne Dettrey dans «Le Mur invisible» d'Elia Kazan, elle obtient l'Oscar du meilleur second rôle en 1947. Une grande carrière au cinéma s'ouvrait alors à elle, mais Celeste Holm préférait la Côte Est à la Cité des anges, Broadway à Hollywood, si bien qu'elle est restée plutôt rare sur les grands écrans. On retrouve dans sa filmographie quelques beaux films des années 40-50 : «Chaînes conjugales» et «Eve» de Joseph L. Mankiewicz ou encore la comédie musicale «High Society», avec Bing Crosby, Grace Kelly et Frank Sinatra.

> Eve: Celeste Holm (en haut à droite) et Marilyn (en bas)
Une vie sentimentale tumultueuse

En 2004, pour son 85ème anniversaire, Celeste Holm s'offre un cadeau à la démesure de ses passions : un cinquième mariage avec le chanteur d'opéra Frank Basile, jeune, beaucoup plus jeune qu'elle – il avait alors 41 ans. L'actrice avait déjà convolé à quatre reprises quand elle rencontra pour la première fois le ténor à une soirée en octobre 1999, où il avait donné de la voix. Coup de foudre. Au printemps suivant, Frank Basile s'installait dans le riche appartement de Manhattan qu'elle avait acheté pour une bouchée de pain en 1953 – 10 000 dollars à l'époque.

Commença alors une terrible bataille pour la fortune de la comédienne. Celle-ci avait eu deux fils de ces précédents mariages : Theodor Holm Nelson, un pionnier de l'Internet – il est le créateur de la fonction hypertexte – qui vit à San Francisco et Daniel Dunning, né de son union avec Wesley Addy, son quatrième mari. Si le premier a toujours eu une relation très lointaine avec sa mère, le second, en revanche, s'occupait de l'argent de sa tendre maman. Et a beaucoup investi… Bien sûr qui dit gros sous, fils intéressé et jeune amant dit longue procédure judiciaire et très coûteuse laissant chaque partie au bord de la banqueroute. Mais l'amour triompha malgré tout et Frank Basile est resté auprès de sa belle. «L'âge n'est pas un facteur quand vous rencontrez une personne comme Celeste Holm. Elle est l'humour, l'esprit, l'intellect, le soutien, la compassion. C'est une femme extraordinaire et si vous ne le voyez pas, alors vous êtes aveugles. N'importe qui serait probablement tombé amoureux d'elle», expliquait-t-il en 2011 au «New York Times», les yeux embués de larmes.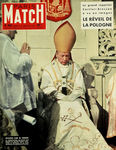 Le magazine Paris Match n°404, du 5 janvier 1957, consacrait un article de six pages sur la première du film Baby Doll avec Carroll Baker -dont 2 pages sur Marilyn et Arthur Miller-: "Gala scandale à Broadway".
Vidéo et Paroles de la chanson
I found a dream
interprétée par Marilyn Monroe
dans le film Le Prince et la danseuse en 1956
I found a dream
I lay in your arms
The whole night through,
I'm yours,
No matter what other may say or do.
Love has fired a fancy free,
That's the way to start.
There will be nothing to lose,
'Til you lose your heart.
---
Traduction
J'ai trouvé un rêve

J'ai trouvé un rêve
Je suis allongée dans tes bras,
toute la nuit,
Je suis à toi,
Peu importe ce que les autres disent ou font.
L'amour nous a rendus libres,
C'est la façon de commencer.
Il n'y aura rien à perdre,
Tant que tu ne perdes pas ton coeur.
---
Fiche Chanson avec paroles et traduction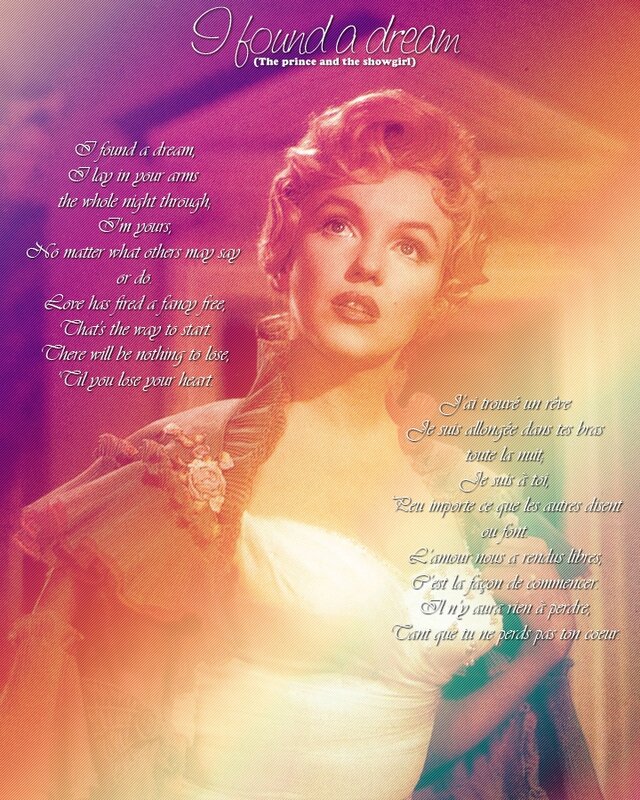 > source fiche: blog sugarkane

---
>> Bonus Infos
Il s'agit d'une chanson d'opérette, non adapatée à la voix de Marilyn, qui la chante ainsi avec un vibrato très prononcé. Marilyn eut beaucoup de mal à atteindre certaines notes et n'interprète qu'un couplet.