19 août 2012
Marilyn Monroe et Arthur Miller sont photographiés en juillet 1956 pendant leur séjour en Angleterre, là où Marilyn tourne le film The Prince and the Showgirl (Le Prince et la danseuse). Sans doute sont-ils photographiés dans le grand jardin de la maison de Parkside House où le couple logeait.
Photographies de Milton H. Greene.
---
Marilyn Monroe and Arthur Miller are photographed in july 1956 in England, where Marilyn shot The Prince and the Showgirl. Probably they are setting here in the garden of the Parkside House where the couple lived.
The photographer is Milton H. Greene.
Earl Theisen
(1903-1973)
photographe américain
Earl Theisen est né à Denver en 1903 et grandit à Chicago puis à Los Angeles. Il entre dans l'industrie cinématographique en 1922 en travaillant pour la compagnie 'Alexander Film'. Puis il quitte la société pour rejoindre la 'Consolidated Film Company'. En 1931, il commence des recherches sur le début de l'histoire du cinéma et collectionne des objets (des documents papiers: correspondances, dossiers et photographies, ainsi que du matériel sur le cinéma des années 1773-1935) sous l'auspice du musée de Los Angeles et de la société d'ingénieur de films. Il devient ensuite l'éditeur associé de "International Photographer", donne des cours à l'université de la Californie du sud, et devient le représentant de la côté ouest pour le syndicat de 'Register Tribune' et un photographe pour le magazine "Look."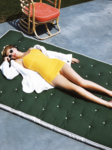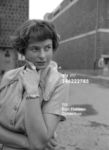 Ernest Hemingway ; Rita Hayworth ; Ingrid Bergman

Earl Theisen était un spécialiste de la photo de pin-ups. Il était réputé pour sa gentillesse et les stars l'adoraient (on raconte qu'il allait chasser l'ours avec Gary Cooper et qu'il voyageait en Afrique avec Hemingway). Parmi les sujets célèbres qu'il photographia figurent Walt Disney, Ernest Hemingway, Vera Miles, Gary Cooper, Elizabeth Taylor, Rita Hayworth, Jennifer Jones, Orson Welles, Ingrid Bergman, Marlene Dietrich, Judy Garland, Joan Crawford, Cecil B. DeMille etc...
Earl Theisen a photographié Marilyn de 1947 à 1953. Il a donc été l'un des témoins directs de la carrière de la jeune célébrité, accèdant au statut de star et de sa transformation en Marilyn Monroe.
Les premiers clichés qu'il prit d'elle datent de 1947, où Norma Jean pose dans une prairie. Puis en 1951, le photographe fait plusieurs sessions dans les studios de la Fox: tantôt en intéreur où elle pose en maillot de bain doré, en tee-shirt et mini short, ou encore prenant la pose de Jean Harlow ou des portraits visages pour le magazine Quick; tantôt en extérieur en maillot de bain deux pièces et en maillot doré. Toujours en 1951, il la photographie à l'école Van Nuys où Marilyn suivait des cours.
En février 1952, il est présent lors d'une séance de photos promotionnelles pour le film We're not married, et photographie Marilyn entre les prises de vues. Mais la séance la plus célèbre de Theisen, prise aussi en février 1952, est celle où Marilyn est vêtue d'un sac de pommes de terre. Lors de cette même séance, il la photographie aussi vêtue d'un simple tee-shirt et d'une culotte.
Le 3 août 1952, Theisen fait parti de la multitude de photographes présents à la Ray Anthony Party dont Marilyn est l'invitée d'honneur. Le 8 novembre 1952, il la photographie dans les loges de la Fox, pendant que Marilyn prépare son rôle pour le film Niagara.
Enfin le 17 avril 1953, il la photographie sur le tournage de How to marry a millionaire (dans les loges et des photos officielles de la campagne publicitaire du film, avec Lauren Bacall et Betty Grable). L'une de ses photos fera la couverture du premier numéro du magazine Look le 30 juin 1953.
En 1956, il la croise à la cérémonie du magazine Look ('The Look Magazine Awards').

>> Voir les photos de Marilyn par Earl Theisen

Commentaire de Earl Theisen sur Marilyn Monroe:
"Photographier Marilyn, c'était comme regarder une fleur éclore ; dès que l'objectif était tourné dans sa direction, elle s'ouvrait".

>> sources web:
Biographie sur collections.oscars.org
Photos sur Getty Images