02 septembre 2012
Le 31 mars 1955, Marilyn Monroe est invitée à une cérémonie de la compagnie navale USS Bennington, au 'Grand Ballroom' de l'hôtel Astor sur Times Square à New York. Après la perte de près de 103 marins à la guerre de Corée, Marilyn accepta l'invitation. Prévue pour venir à 20 heures, c'est finalement à 23 heures qu'elle arriva. Pendant tout ce temps d'attente, les quelque 3 000 marins présents ont patienté au bar, à boire beaucoup. Si bien que lorsque Marilyn fit son apparition et monta sur scène pour prononcer un discours, l'assemblée était très agitée.
> Marilyn et les marins d'USS Bennington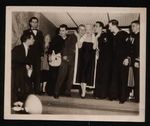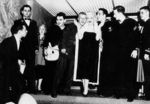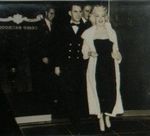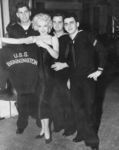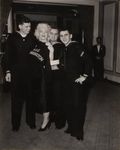 ---
On 1955, March 31, Marilyn Monroe is invited to an USS Bennington Party at the Grand Ballroom of the Astor Hotel in Times Square, New York.
Sources : témoignages d'anciens marins à lire sur uss-bennington.org
Le 26 février 1955, Marilyn Monroe et Joe DiMaggio assistent à la soirée d'anniversaire de Jackie Gleason (acteur, compositeur, producteur, scénariste et réalisateur) au Toot's Shor de New York.
In February 26, 1955, Marilyn Monroe and Joe DiMaggio attend the birthday party of Jackie Gleason (actor, composer, producer, writer and director) at Toot's Shor, in New York City.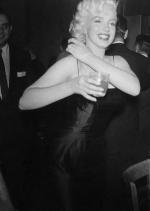 > Jackie Gleason, Marilyn & Joe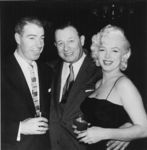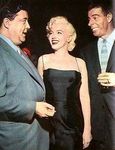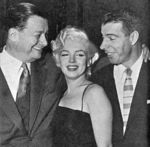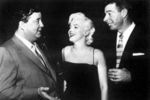 > Jackie Gleason, Marilyn & Robert Q. Lewis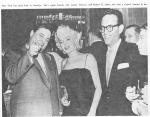 > A table avec Dom Ameche, Joe, Jackie Gleason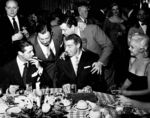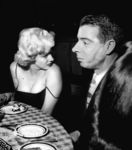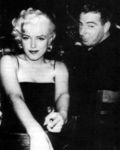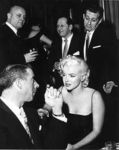 > Marilyn et le journaliste du 'NY Post' Leonard Lyons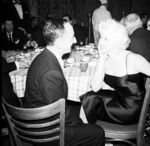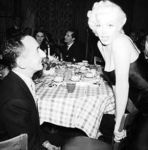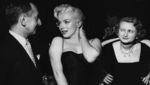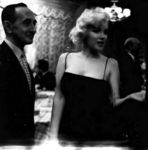 > dans la presse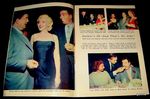 ---
Plus tard dans la soirée, Marilyn se rend au Club 21, pour une soirée donnée en l'honneur de John Huston.
After on the same night, Marilyn goes to the Club 21, for a party given for John Huston.
> Marilyn et -en second plan- Joe DiMaggio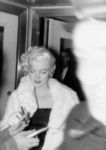 > A table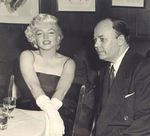 avec le journaliste Everson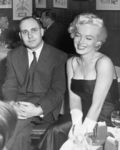 avec David Seymour (photo: Burt Glinn)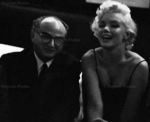 ---
> Marilyn et son agent New-Yorkais Jay Kanter
Marilyn and her New Yorker agent Jay Kanter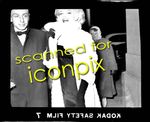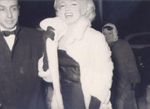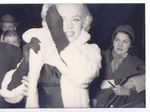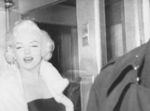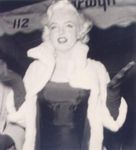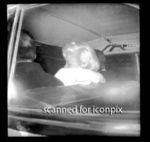 ---
Marilyn Monroe quitte le Glastone Hotel de New York et se rend au Harwyn Club (tampon date photographies: 12 mars 1955)
In March 12, 1955, Marilyn Monroe leaves the Gladstone Hotel in New York and goes to Harwyn Club. (Date stamp photography: March 12, 1955)

- de la collection de James Collins, fan des Monroe Six
-from the personal collection of James Collins, one of the 'Monroe Six'
Marilyn avec Jay Kanter / avec Milton Greene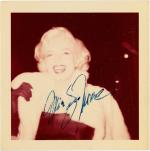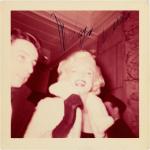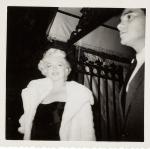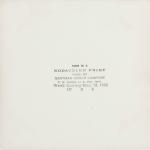 ---
- de la collection de Frieda Hull, une fan des Monroe Six
-from the personal collection of Frieda Hull, one of the 'Monroe Six'
---
> Marilyn est habillée à l'identique que le 31/03/1955 USS Bennington Party
---
© All images are copyright and protected by their respective owners, assignees or others.
copyright text by GinieLand.
Enregistrer
Enregistrer
Enregistrer
Enregistrer
Enregistrer
Vidéo et Paroles de la chanson
Runnin' Wild
interprétée par Marilyn Monroe
dans le film Certains l'aiment chaud en 1959
Runnin' Wild
Lost Control
Runnin' Wild
Mightly Bold
Feelin Gay
Boisterous too
Carefree mind
All the time
Never Blue !

Always going
Don't know where
Always showing
I don't care
Don't love nobody
It's not worthwhile
All alone
Runnin' Wild !
---
Traduction
Course Libre

Course libre, sans contrôle
Course libre, sans aucune peur,
Me sentant heureuse, également imprudente,
L'esprit insouciant, tout le temps
jamais triste !
Allant toujours, je ne sais où,
Toujours m'exhiber, ça m'est égal
Je n'aime personne, ça n'en vaut pas la peine,
Toute seule, course libre !
---
Fiche Chanson avec paroles et traduction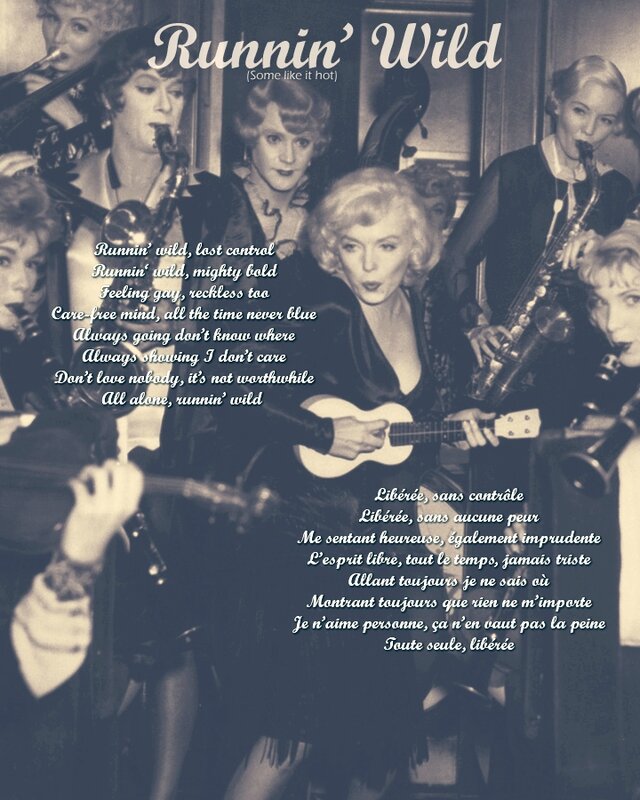 > source fiche: blog sugarkane

---
>> Bonus Infos
Cette chanson populaire a d'abord été enregistrée en

1922

; composée et écrite par

Arthur Harrington Gibbs

,

Joe Grey

et

Leo Wood

.

On peut entendre la musique en introduction de deux courts métrages muets de

Laurel et Hardy

(en 1929 dans 'Men O' War' et 'They Go Boom').

Une version gypsy a été arrangée par

Django Reinhardt

et le Hot Club de France en 1928.
Quand à

Ella Fitzgerald

, elle en donne une version swing jazzy en 1962 dans son album 'Ella Fitzgerald: Rhythm is My Business with a fabulous big band'.
D'autres artistes de jazz comme

Duke Ellington

ou encore

Glenn Miller

ont aussi repris la chanson.
Marilyn Monroe a appris le ukulélé (une genre de mini guitare qui vient des îles hawaïennes), pour jouer la scène de chant qu'elle interpréte dans le film. C'est le réalisateur Billy Wilder qui avait demandé à Marilyn de jouer du ukulélé, car il était l'instrument indissociable des flappers danseuses de charleston qui personnifient les années 1920. L'ukulélé de Marilyn était un Martin 3M des années 1950, mais ce modèle différait très peu de ceux que fabriquait la firme de Nazareth vingt ans auparavant. Toutefois, l'instrument fut repeint en blanc, lui donnant une vraie modernité, puisqu'il le faisait ainsi ressembler aux Islander en plastique que Maccaferri vendait en 1959 par millions.



Sources

: plus d'infos sur la chanson sur

wikipedia

/ le ukulele de Marilyn sur

ukulele.fr