12 septembre 2012
Mermaid Gown with Blue Sequins
robe sirène aux paillettes bleues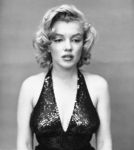 Les robes dîtes 'sirènes' font parties intégrantes de l'image de Marilyn Monroe. Ce sont ces robes au décolleté très plongeant (jusqu'au sternum, entre la poitrine et le nombril), en forme V, et au dos nu. Marilyn porta ce type de robes à plusieurs reprises: notamment la fameuse robe lamée or portée en 1952, et surtout, la robe blanche de "Sept ans de réflexion", mais aussi la robe rouge de sa dernière séance d'avec Milton Greene en 1957, ainsi que cette robe à strass et paillettes.
Cette robe aux paillettes qui permettent de refléter la lumière, est dans les tons bleu / gris. C'est une création signée du couturier Norman Norell. Marilyn a d'ailleurs porté différentes robes de ce créateur pour de nombreuses sorties en public (théâtre, première, conférence de presse, remise de prix).
Mais cette robe paillette, qui moule littéralement le corps, semble être l'une des préférées de Marilyn, qui la porta à de nombreuses reprises:
Marilyn apparaît pour la première fois vêtue de cette magnifique robe le 18 décembre 1956 pour la première du film Baby Doll qui s'est tenue à Broadway, à New York. Elle était accompagnée de son mari Arthur Miller. Elle coordonna la tenue avec de longues boucles d'oreilles pendantes à strass, faisant échos aux paillettes de la robe; ainsi qu'avec un manteau de fourrure blanc à la doublure noire.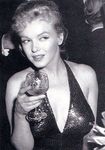 Puis elle porte à nouveau la tenue pour une sortie publique quelques mois plus tard: le 11 avril 1957 au grand Bal 'April in Paris', au Waldorf Astoria à Manhattan, New York; qui était un gala comprenant un dîner et une soirée dansante. Toujours accompagnée de son mari Arthur Miller, Marilyn avait cette fois-ci relevé ses cheveux en chignon et ne porte aucun bijoux.
Les autres photographies montrant Marilyn portant cette robe, sont des portraits effectués en studio par les photographes Richard Avedon et Milton Greene. D'abord, en 1957, pour une série de clichés promotionnels du film "Le Prince et la danseuse": celles de Avedon avec Marilyn sur un canapé, avec un fourreau transparent, avec un tigre en peluche, et une série de portraits de Marilyn seule (datée du 6 mai 1957); et celles de Greene de Marilyn avec Laurence Olivier .

La dernière séance où elle porte la robe, toujours sous la direction du photographe Richard Avedon, est en 1958 pour une série de portraits pour le magazine Life.


---
Inspirations
Norman Norell s'est-il inspiré d'autres robes à strass et paillettes pour créer sa tenue ? Comme celle-ci portée par l'actrice Lana Turner, qui est devenue célèbre dans les années 1940, bien que sa robe à paillettes n'est pas en forme de 'sirène'.

D'autres actrices vont porter des robes 'sirènes' à strass et paillettes. Comme ces 'doubles' de Marilyn des années 1950: Jayne Mansfield et surtout celle portée par Mamie Van Doren, qui semble être une copie conforme de celle portée par Marilyn:
>> Jayne Mansfield (Février 1958, Las Vegas, Tropicana Club)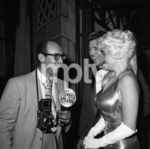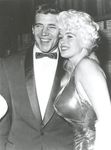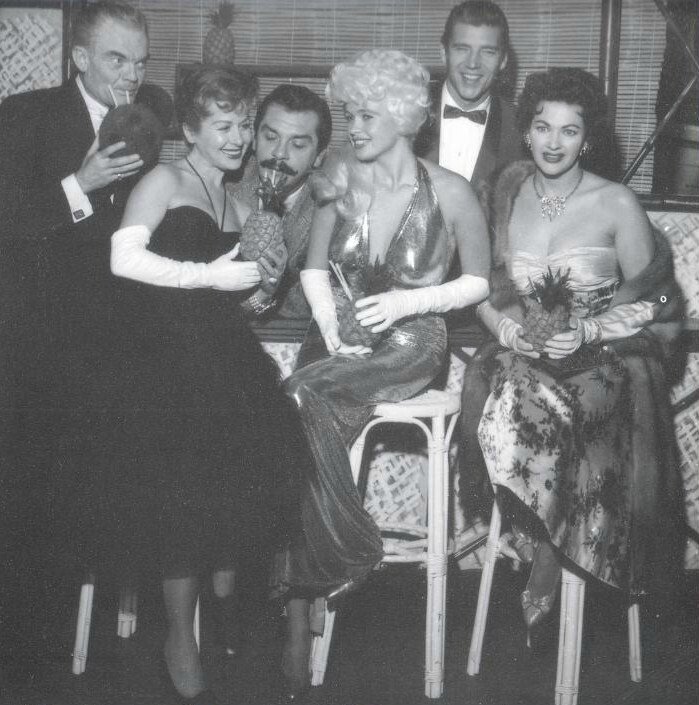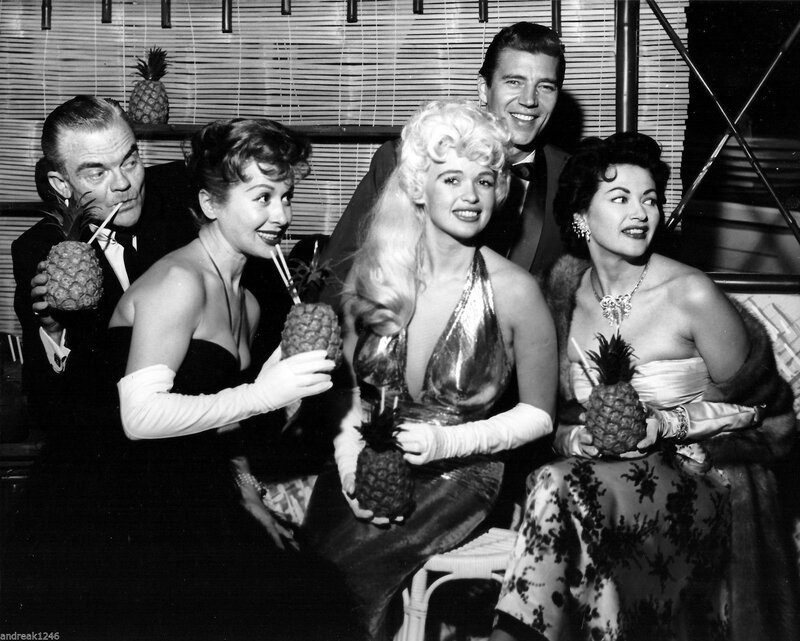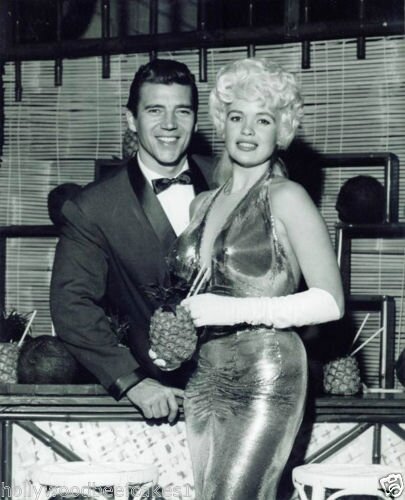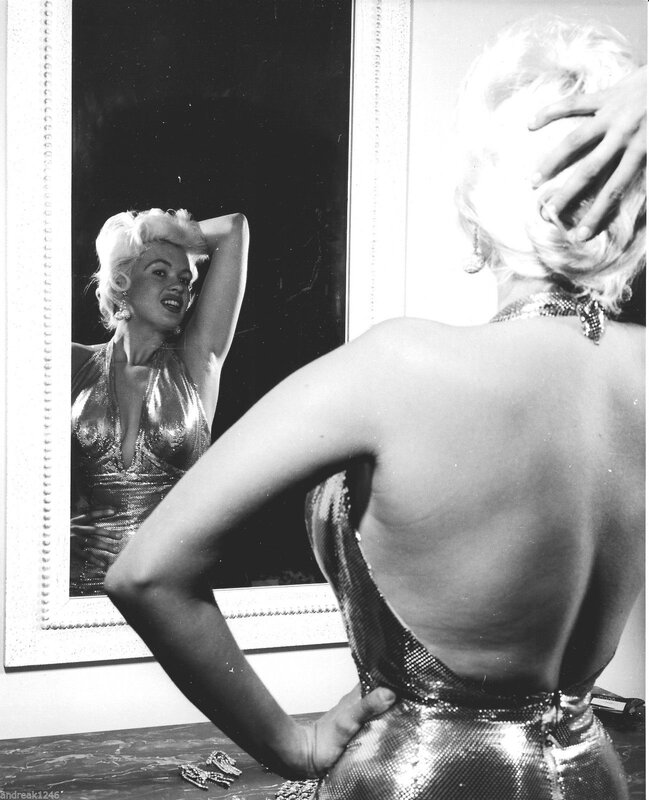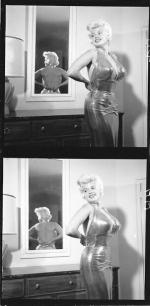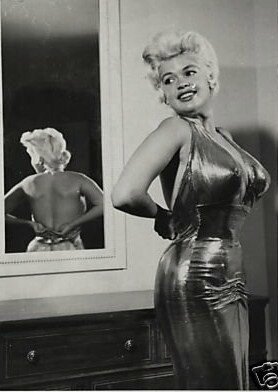 >> Lauren Bacall en 1955 (ici, avec David Niven
à la première de "Around The World in 80 Days")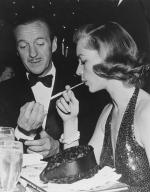 En 1995, le photographe Bill Nation fait poser des actrices en Marilyn. Chacune prend la pose vêtue d'une robe à strass, à l'image de la séance de Marilyn par Richard Avedon:

>> Jeanne Tripplehorn, Liz Hurley, Melanie Griffith et Rebecca De Mornay: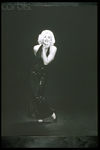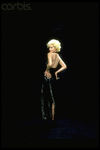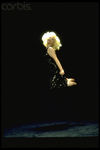 Les années 1970 sont celles de la musique disco et des paillettes. De nombreuses chanteuses portaient alors des tenues brillantes, faîtes de strass, comme Dalida et Sheila:

---
© All images are copyright and protected by their respective owners, assignees or others.
copyright text by GinieLand.
Enregistrer