13 septembre 2012
Clichés de paparazzis montrant Marilyn Monroe à Londres le 20 juillet 1956; bien cachée sur la banquette arrière derrière un rideau, portant lunettes noires et foulard.
> Photos publiées dans le Paris Match du 18/08/1956 .
Pictures of Marilyn Monroe hidden back of a car in London, 1956.

Betty Boop
Poo Poo Pee Doo...
...quand un dessin-animé inspire Marilyn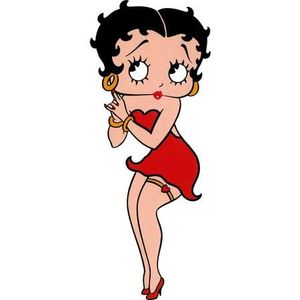 Née en 1930, mélange de la sulfureuse actrice Mae West pour les jambes et de la chanteuse Helen Kane pour le visage, Betty Boop crève l'écran par ses atouts avantageux.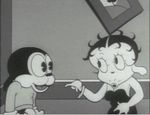 Elle apparaît le 9 août 1930 dans le dessin animé Dizzy Dishes puis dans une douzaine de dessins animés, comme personnage secondaire anonyme, notamment aux côtés du chien vedette Bimbo. À ses débuts, dotée de longues oreilles tombantes mais déjà très maniérée, elle hésite entre une identité de chienne anthropomorphe et de jeune femme cabotine et délurée. C'est à partir de 1931 qu'elle est la vedette de plusieurs aventures sous le nom de Betty Boop. Première héroïne de dessin animé, représentée sous les traits d'une petite femme brune aguicheuse et sensuelle, elle est devenue un sex-symbol de l'âge d'or de l'animation américaine. Mais, à cause de sa jupe trop courte et de certains épisodes avec ses compagnons, Betty Boop a été censurée pendant quelque temps (le temps que le studio rallonge sa robe).
Elle a chanté dans plusieurs films mêlant parfois prises de vues et animation dotés d'un sous-titrage avec bouncing ball, véritable ancêtre du karaoké, adaptant des chefs-d'œuvre de la chanson réaliste et du jazz, comme 'Minnie the Moocher' de Cab Calloway, dans des animations d'une grande fantaisie.
Betty a emprunté à Helen Kane la célèbre chanson "Boop Boop a Doop", interprétée également par Marilyn Monroe qui reprendra le fameux gloussement affecté "poo-poo-pee-doo" dans "Certains l'aiment chauds".
> Dessin-Animé (voir à 5:15 le "Boop-Oop-A-Doop")

> Voici en images quelques Betty Boop en Marilyn...
Le magazine Paris Match n°384, du 18 août 1956, consacrait un article de 4 pages sur Marilyn Monroe: "Le cauchemar de Norma Jeane".