15 octobre 2012
Le 13 juillet 1956, Marilyn Monroe et Arthur Miller partent de New York pour se rendre en Angleterre où Marilyn doit tourner "The Prince and the Showgirl" (Le prince et la danseuse). Une foule de personnes s'est regroupée à l'aéroport new-yorkais pour apercevoir le couple qui prend l'avion, accompagné par les parents d'Arthur. De nombreux journalistes de la presse écrite et aussi des caméras, sont sur les lieux. La presse va rapporter que le couple voyage avec 27 valises.
> de la collection de James Collins, un fan des Monroe Six
-from the personal collection of James Collins, one of the 'Monroe Six'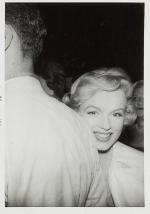 ---
Le couple arrive à Londres le 14 juillet. La nouvelle de l'arrivée de Marilyn avait fait la Une des journaux, allant jusqu'à éclipser un très important discours du Premier Ministre Anthony Eden sur la catastrophe économique en Angleterre. Marilyn et Arthur sont assaillis dès leur descente d'avion à Idlewild Airport: près de 70 policiers sont présents pour assurer la sécurité car plus de 200 journalistes et photographes sont agglutinés sur le tarmac et dans l'aéroport.
---
Dans le hall de l'aéroport, c'est la cohue entre journalistes et photographes. Laurence Olivier et sa femme Vivien Leigh viennent à la rencontre de Marilyn et Arthur.
---
Une conférence de presse est organisée dans le petit salon de l'aéroport et au bar du petit hôtel. Les journalistes posent des questions idiotes à Marilyn, la considérant comme une petite blonde stupide; ils lui demandent notamment ses habitudes de sommeil, ce à quoi elle réplique:
-"Maintenant que je suis en Angleterre, disons que avant de dormir, j'aime me parfumer avec de la lavande de Yardley's".
Les journalistes -quasiment tous masculins- vont être finalement totalement séduits par la star et sont surpris par ses réparties délicieuses. Le journal 'The London Evening News' va écrire dans ses colonnes: "Elle marche. Elle parle. Elle est aussi savoureuse que des fraises à la crème."
---
> photographies de Milton H Greene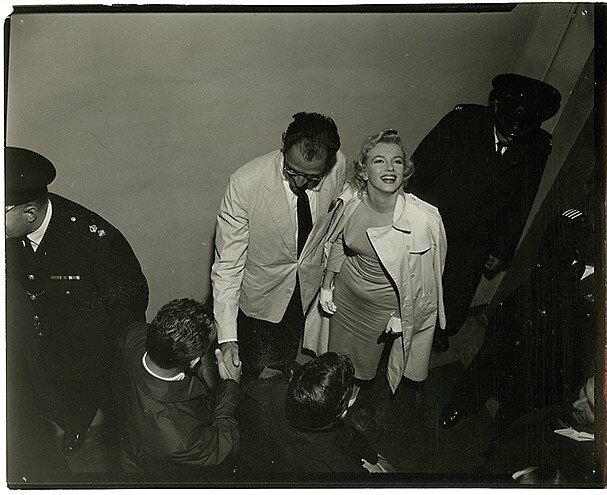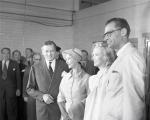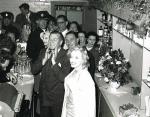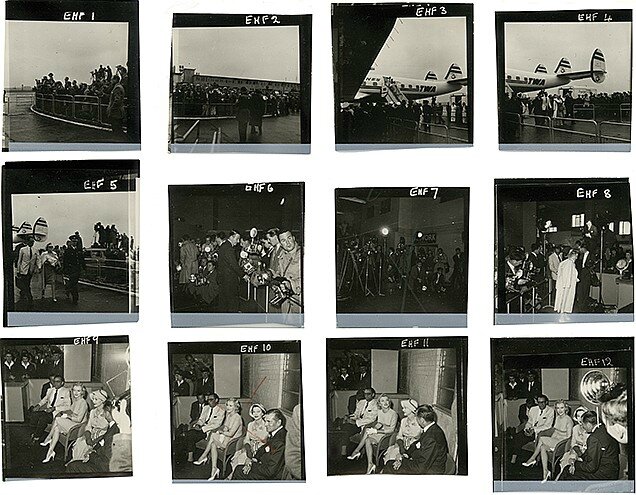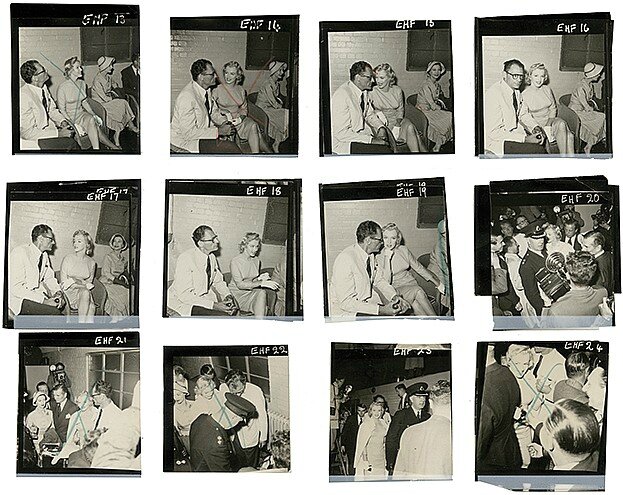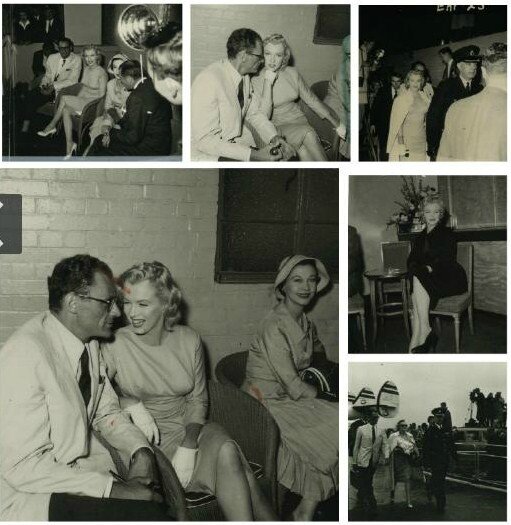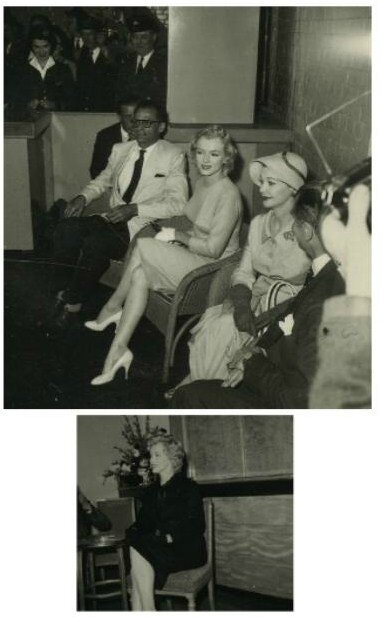 ---
Marilyn et Arthur sont escortés jusqu'à une limousine (une Austin Princess) qui les amènent à Parkside House, une propriété située à Englefield Green à Egham, à moins d'une heure en voiture de Londres. Le photographe Milton Greene et l'attaché de presse de Marilyn, Arthur Jacobs, s'y rendent aussi; ils sont escortés par quatre policiers en motos. Le couple Olivier les suivent dans une Bentley.

---
Puis Marilyn, Arthur, Laurence Olivier et Vivien Leigh se retrouvent à Parkside House, où Marilyn et Arthur vont loger. Ils la louent à Lord Moore, directeur du Financial Times, et à sa femme, la pianiste Joan Moore. Donald Zec, journaliste au 'Mirror' est présent pour accueillir le couple. D'ailleurs Marilyn permit aux photographes d'accéder à la propriété pour prendre des photos.
---
> video 1


> video 2


> video 3


> video 4


> video "Marilyn and Miller go to England" sur youtube

> video "MM arrives in England" sur youtube

> video 'British Movietone News'


---
---
On July 13, 1956, Marilyn Monroe and Arthur Miller leave New York, going to London where Marilyn should shoot 'The Prince and the Showgirl'. They travel with 27 pieces of luggage.
They arrive in London the July 14 where they meet Laurence Olivier and Vivien Leigh. More than 200 journalists and photographs are here and 70 policemen make the security service. A press conference is organised in the airport's hall.
They go after to Parkside House.

---
sources:
> Les vies secrètes de Marilyn Monroe, d'Anthony Summers.
> Marilyn Monroe et les caméras.
> Marilyn Monroe, de Barbara Leaming.
> Marilyn Monroe Les inédits, de Marie Clayton.