29 octobre 2012
White Dress with Red Polka Dots
robe blanche à pois rouges
Cette robe a été conçue par la créatrice américaine Ceil Chapman, qui créa des robes de soirées très glamour portées par de nombreuses actrices d'Hollywood. Elle était l'une des créatrices préférées de Marilyn Monroe qui porta plusieurs de ses créations pour des soirées.
C'est une tenue de la garde robe personnelle de Marilyn Monroe: une robe longue blanche au ton ivoire avec de grands pois rouges, au décolleté de forme carrée et à la jupe large et évasée, une coupe typique des robes des années 1950s.
Marilyn la porte pour la première fois le

1er septembre 1952

pour rencontrer les femmes militaires à Atlantic City. C'est l'Etat qui avait demandé à Marilyn de poser avec des femmes de l'armée US afin d'offrir une publicité de recrutement. Mais la robe de Marilyn provoquera une controverse pour l'Armée: en effet, un photographe grimpa sur une chaise pour prendre ses clichés, si bien que l'angle de la prise de vue montre Marilyn avec un décolleté très plongeant. Ce à quoi Marilyn répliquera plus tard: "You wouldn't think all other women kept their bodies in vault". Sur la robe, Marilyn y attacha l'écusson de la parade qu'elle parraina à Atlantic City le

lendemain

pour le concours de beauté de Miss America. Aux pieds, elle porte les sandales noires qu'elle avait mise dans le film

Niagara

, tourné en juin 1952.

Marilyn porte à nouveau la tenue à la fin de l'année

1952

, apparemment lors d'une séance de lecture de texte aux studios de la Fox. Elle porte des boucles d'oreilles blanches.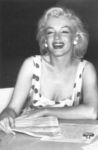 Marilyn réapparaît dans cette tenue l'année d'après, en

1953

, pour remettre le trophée du "Studio league Championship" d'un match de base-ball entre techniciens de la Fox. Elle accessoirise la tenue en portant

une chaîne avec un pendentif.
---
All photos are copyright and protected by their respective owners.
Copyright text by GinieLand.
Enregistrer
Marilyn Monroe en octobre 1951. Marilyn retourne à l'usine Radioplane, où elle travailla et fut découverte par le photographe David Conover.

Marilyn Monroe in 1951, October. Marilyn goes back in the Radioplane factory.

> photographie issue du magazine Filmland April 1952