30 octobre 2012
Le 26 juillet 1952, Marilyn Monroe donne une conférence de presse dans un hôtel de San Francisco. Marilyn passa le week-end chez Joe DiMaggio.
---
On Saturday July 26 1952, Marillyn Monroe gives a press conference at San Fransisco. She stayed the week-end with Joe DiMaggio.
Sept ans de réflexion
Captures

11ème partie des captures du film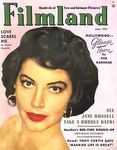 Le magazine américain Filmland, de avril 1952, consacrait un article de 5 pages à Marilyn Monroe intitulé "mmmm-- It's Marilyn".
Marilyn Monroe Family - en anglais

Visuel du site (clik dessus pour aller sur le site)
Présenté comme "le site officiel de la généalogie familiale de Marilyn Monroe", ce site, géré par les descendants de William Marion Hogan (qui était le frère de la grand-mère de Marilyn) et approuvé par Mona Miracle (la nièce de Marilyn) présente en effet la généalogie de Marilyn: de ses ancêtres (grands-parents), à ses descendants (Marilyn n'a pas eu d'enfants, mais elle avait des nièces, cousins etc..). On peut faire une recherche par nom de famille et obtenir l'arbre généalogique d'une personne de sa famille; ou encore accèder à une frise chronologique -malheureusement, encore incomplète. Ce site est plutôt bien fait, bien que la naviguation laisse parfois à désirer (surtout dans la rubrique "One Angel") mais il est intéressant de remonter autant aux origines familiales de Marilyn, que de découvrir sa filiation de descendance.
Pour ce mois de Novembre qui démarre sous de mauvais auspices météorologiques (retour du froid, vent, pluie...), j'ai choisi de faire un montage de photographies de Marilyn portant un manteau bien chaud!
Marilyn en 1962 photographiée par Bert Stern