11 novembre 2012
Séance "Edward Murrow"
Edward Murrow Sitting
---
C'est accompagnée de son associé, le photographe Milton H Greene, que Marilyn Monroe rencontre le journaliste Edward Murrow dans une suite de l'Ambassador Hotel de New York le 1er avril 1955. Elle le rencontrera plusieurs fois, dès le mois de mars, afin de préparer son passage en direct dans l'émission de Murrow, "Person to Person", qui sera diffusée le 8 avril 1955. Le dispositif de l'intervention en direct dans une émission étant encore novateur pour l'époque, la préparation est minutieuse et Marilyn et Milton, qui viennent de créer les "Marilyn Monroe Production" en début d'année, traitent des questions à aborder avec l'animateur. Murrow montre à Marilyn le fonctionnement d'un micro avec fil qu'elle portera sur elle pour l'émission.

That's accompanied by her partner, photographer Milton H Greene, that Marilyn Monroe meets journalist Edward Murrow in a suite at the Ambassador Hotel in New York on April 1, 1955. She meets him several times, since the month of March, in order to prepare her intervention in live in the TV show of Murrow, "Person to Person", which will be diffused on April 8, 1955. The device of the live intervention in a program being still innovative for the time, the preparation is meticulous and Marilyn and Milton, who have just created the "Marilyn Monroe Production" at the beginning of the year, deal with the questions to be discussed with the host. Murrow shows to Marilyn how a wired microphone works that she will wear for the show.
---
- "EM" - Edward Murrow -
---
- planches contact -
contact sheets
---
- information presse -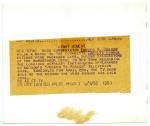 ---
All photos are copyright and protected by their respective owners.
copyright text by GinieLand.