08 décembre 2012
Marilyn Monroe , Arthur Miller et Jane (la fille d'Arthur) dans le jardin de la propriété d'Arthur à Roxbury, dans le Connecticut; fin juin 1958. Photographies de paparazzis.
Marilyn, Arthur Miller and Jane (Miller's daughter) in Roxbury home, Connecticut; end of June 1958.
---
© All images are copyright and protected by their respective owners, assignees or others.
copyright text by GinieLand.
Hollywood Wax Museum
Le 'Hollywood Wax Museum' (en français le 'musée de cire d'Hollywood') est l'un des musées de cire les plus connus et plus ancien des Etats-Unis. Il existe trois musées 'Hollywood Wax Museum' répartis au travers des USA:
> un en Californie, sur Hollywood Boulevard, au coeur du quartier touristique.
> un dans la ville de Branson, dans l'Etat du Missouri.
> un dans la ville de Pigeon Forge, dans l'Etat du Tennessee.


Le musée californien, inauguré en 1965, est l'oeuvre de l'entrepreneur Spoony Singh, qui voulait que son musée soit le seul entièrement dédié aux célébrités. Une grande partie du musée (l'intérieur et l'extérieur) fut rénové en 2006. Les figures de cire, ainsi que les décors, changent régulièrement; les musées contiennent aussi une "chambre des horreurs" ('Chamber of Horrors'), contenant des reproductions des monstres des films d'horreurs.
Après la retraite de Singh, ses fils et petits-filsont repris la direction des musées. Les héritiers ont ainsi construit un musée à Branson, dans le Missouri, inauguré en 1985, et qui fut à son tour complètement rénové en 2009.
En 2007, un autre musée a été ouvert à Gatlinburg, dans le Tennessee, mais il a fermé en 2010 afin d'agrandir et de donner plus d'importance au musée de Pigeon Forge, situé dans le même Etat (Tennessee) et qui a ouvert ses portes en mai 2012.
---
6767 Hollywood Blvd,
Los Angeles, CALIFORNIA 90028
Le groupe Garbage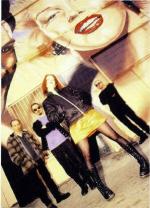 > Inauguration de la statue le 29 octobre 1965:
L'acteur Sonny Tufts, qui joue le rôle
de Tom MacKenzie dans "Sept ans de reflexion"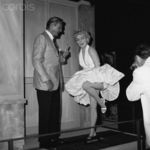 ---
3030 W. Hwy. 76,
Branson, MISSOURI 65616
> L'entrée du musée:
Le 'Mont Hollywood' construit dans les années 1990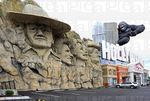 ---
106 Showplace Blvd.
Pigeon Forge, TENNESSEE 37863
---
>> sources:
Site officiel hollywoodwax.com
Article des Musées sur wikipedia
Article Spoony Singh sur nytimes.com
Photos sur flickr
Enregistrer