Le 1er mars 1956, une conférence de presse est organisée: Marilyn Monroe et son associé Milton Greene rencontrent Jack Warner pour annoncer officiellement qu'un accord de distribution (représenté par une clé) a été conclu entre les Marilyn Monroe Productions et la Warner pour le film "The sleeping prince" (le titre provisoire pour "The prince and the showgirl" / "Le prince et la danseuse").
Parmi les personnalités présentes, se trouvent le réalisateur Billy Wilder et l'acteur James Stewart.
Pat Newcomb, l'attaché de presse de Marilyn, est à ses côtés.
De nombreux journalistes de la presse américaine et étrangère sont sur les lieux: Francis Bacon, Louella Parsons, Jose Jasd, Joan Mc Trevor, Pedro de Samaniego et Olga Andre.
> Remise de la clé: Milton Greene, Marilyn et Jack Warner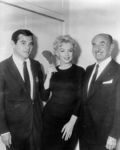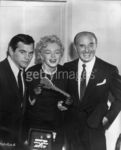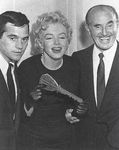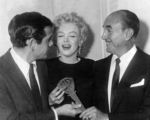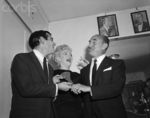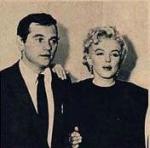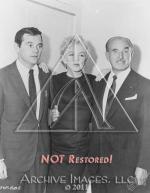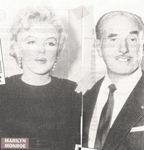 > Inscription de la Clé:
"Welcome to Warner Bros Studios, the largest in the world"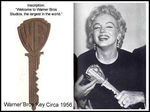 > Jack Warner offre un bouquet de fleurs à Marilyn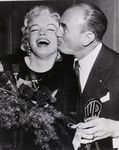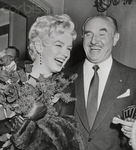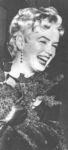 > Billy Wilder, Milton, Marilyn et Jack Warner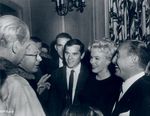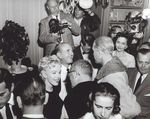 ---
avec Francis Bacon

avec Joan Mc Trevor
(correspondante française pour "Ciné Revue")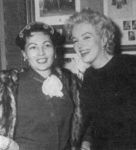 avec Olga Andre
(correspondante espagnole pour "Primer Plano")

avec Pedro de Samaniego
(correspondant espagnol)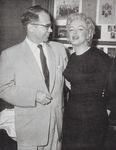 ---
---
---
On March 1st, 1956, Marilyn Monroe laughs heartily with Jack Warner, president of Warner Bros. Studios here, after Warner announced that Miss Monroe will co-star with British actor Laurence Olivier in the film version of "The Sleeping Prince" for Warner Bros. It was announced that the movie will be produced jointly by Marilyn Monroe Productions and Olivier, who will star and direct the movie for Warners.