Vidéo et Paroles de la chanson
Some like it hot
interprétée par Marilyn Monroe
dans le film Certains l'aiment chaud en 1959
I got a fever
An inflammation
That's what I got
You turn the heat on me
Some like it hot

Look what you started
A conflagration
Baby, that's what
Don't let the flame go out
Some like it hot

Oh baby,
I'm from that old school
I'll play it real cool
But when you kissed me
I lit up
Like a four alarm fire

Call out the engine
Ring up the station
I'm on the spot
Love burns you up the most
Like it or not
But baby,
I like it hot !
---
Traduction
Certains l'aiment chaud

J'ai attrapé la fièvre
Une inflammation
C'est ce que j'ai
Tu fais monter la chaleur en moi
Certains l'aiment chaud
Regarde ce que tu as fait
Un incendie
Bébé, voilà ce que c'est
Ne laisse pas la flamme s'éteindre
Certains l'aiment chaud
Oh bébé,
Je suis de la vieille école
Je garderais la tête froide
Mais quand tu m'as embrassée
Je me suis embrasée
Comme un immense incendie

Fais venir les camions
Appelle la caserne
J'ai un problème
L'amour vous consume
Que ça te plaise ou non
Mais bébé, moi, je l'aime chaud !
---
Fiche Chanson avec paroles et traduction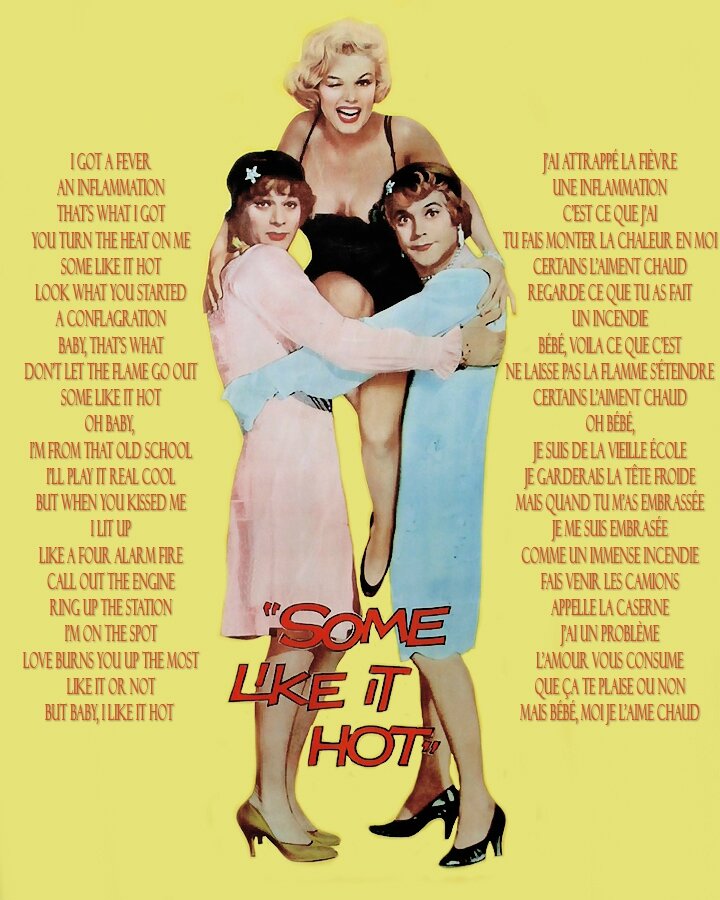 > source fiche: blog sugarkane

---
>> Bonus Infos
Cette chanson a été composée par

Matty Malneck

et écrite par

I.A.L. Diamond

en

1958

pour le film qui porte le même titre.


Alors que la chanson devait être utilisée pour le générique du film, c'est la version instrumentale qui y figurera, ainsi que sur la bande originale. La version avec la voix de Marilyn sera commercialisée à part.