06 janvier 2013
Vidéo et Paroles de la chanson
Some like it hot
interprétée par Marilyn Monroe
dans le film Certains l'aiment chaud en 1959
I got a fever
An inflammation
That's what I got
You turn the heat on me
Some like it hot

Look what you started
A conflagration
Baby, that's what
Don't let the flame go out
Some like it hot

Oh baby,
I'm from that old school
I'll play it real cool
But when you kissed me
I lit up
Like a four alarm fire

Call out the engine
Ring up the station
I'm on the spot
Love burns you up the most
Like it or not
But baby,
I like it hot !
---
Traduction
Certains l'aiment chaud

J'ai attrapé la fièvre
Une inflammation
C'est ce que j'ai
Tu fais monter la chaleur en moi
Certains l'aiment chaud
Regarde ce que tu as fait
Un incendie
Bébé, voilà ce que c'est
Ne laisse pas la flamme s'éteindre
Certains l'aiment chaud
Oh bébé,
Je suis de la vieille école
Je garderais la tête froide
Mais quand tu m'as embrassée
Je me suis embrasée
Comme un immense incendie

Fais venir les camions
Appelle la caserne
J'ai un problème
L'amour vous consume
Que ça te plaise ou non
Mais bébé, moi, je l'aime chaud !
---
Fiche Chanson avec paroles et traduction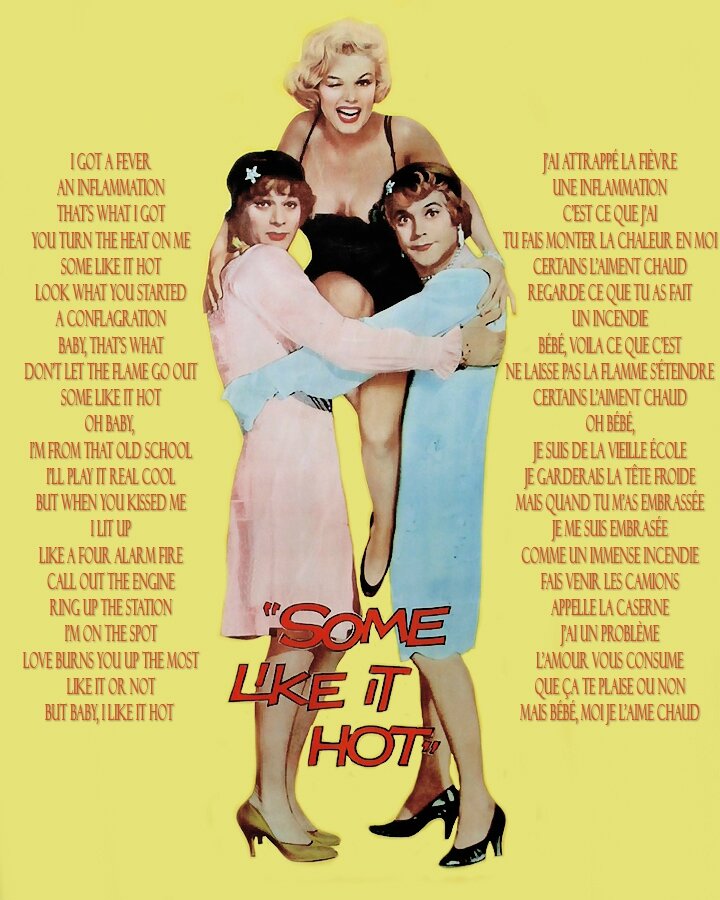 > source fiche: blog sugarkane

---
>> Bonus Infos
Cette chanson a été composée par

Matty Malneck

et écrite par

I.A.L. Diamond

en

1958

pour le film qui porte le même titre.


Alors que la chanson devait être utilisée pour le générique du film, c'est la version instrumentale qui y figurera, ainsi que sur la bande originale. La version avec la voix de Marilyn sera commercialisée à part.
1989, Sérigraphie
par Richard Duardo / Jim Evans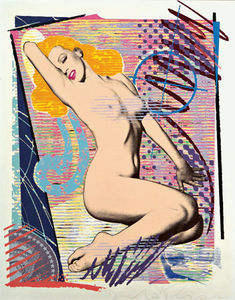 Marilyn Monroe
Enquête sur une affaire classée
Auteur: Frank Long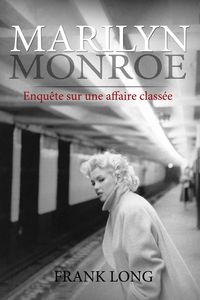 Date de sortie: décembre 2010
Relié 352 pages
Langue: français
Éditeur: ?
Prix éditeur: ? Euros
ISBN: EAN978-2-923865-17-1
Description: Dans Marilyn Monroe : Enquête sur une affaire classée, Frank Long brosse un portrait saisissant et inédit de l'icône la plus glamour du 20e siècle. Encore aujourd'hui, la vie de la star, ses relations avec des hommes célèbres (JFK, Joe Dimaggio et Arthur Miller), sa consommation excessive d'alcool et de médicaments et sa mort prématurée suscitent fascination et interrogation.
L'auteur dévoile plusieurs faits surprenants inconnus du grand public : le nom des hommes qu'elle a utilisés pour nourrir ses ambitions, ceux qu'elle a vraiment aimés et le pouvoir qu'elle a exercé à Hollywood. Loin d'être une sainte, Marilyn s'est servie de son corps pour gravir les échelons de sa profession. Son charme envoûtant crevait l'écran et a fait d'elle une des stars les plus adulées du cinéma.
Long revient sur les circonstances obscures qui ont entouré le décès de l'actrice. En 1962 et 1982, des enquêtes spéciales ont conclu que sa mort était accidentelle. Les découvertes de Long, étayées par des interviews auprès de sources clés et des analyses méticuleuses, prouvent sans l'ombre d'un doute que Marilyn a été assassinée. Son investigation s'achève sur l'aveu écrit choc de la personne responsable de la mort de la star, un homme déterminé à se venger des frères Kennedy.
---
Marilyn Monroe
Cold Case #81128
Author: Frank Long

Publication Date: September 7, 2010
Number of pages 352
Trim Size 6x9
Éditeur: Cogito Media Group
Prix éditeur: $26.95
ISBN: 978-2-923865-05-8
Ou le commander ? sur cogitomedias
---
Vous avez le livre ? Do you have the book ?
Apportez votre critique, votre avis ou votre note (/10)