Marilyn Monroe:
Cover to Cover
Auteur: Clark Kidder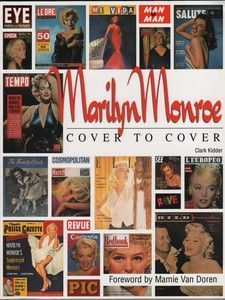 Date de sortie: octobre 1999
Broché 159 pages
Langue: anglais
Éditeur: KP Books
Prix éditeur: 56 Euros
ISBN-10: 0873417402
ISBN-13: 978-0873417402
Ou le commander ? sur amazon

Présentation du livre (traduction du texte anglais):
Marilyn Monroe est toujours au top dans le business des collectionneurs. En à peine 16 ans de carrière, Marilyn accrocha le coeur de beaucoup de personnes en tant que "cover girl" de centaines de couvertures de magasines immortalisant sa légendaire beauté. Dans cette première édition de ce livre, Clark Kidder nous livre plus de 300 photographies des plus beaux et mémorables portraits de Marilyn ayant fait la une des magasines, avec pour chacun, leur cotation. Préfacé par Mamie Van Doren, y figure aussi la vie de Marilyn par dates (time line) et des anecdotes sur sa vie.

Présentation de l'auteur (source: jvlnet ): The book consists of 160 pages on glossy stock, filled with nearly 300 of Marilyn Monroe's magazine cover appearances from the world over. Many never before seen photos of Marilyn are featured! It is softcover and measures 8 1/2 x 11 inches. For each cover I have provided the title, date, country of origin, cover photographer's name (if known), estimated value and an interesting quote by Marilyn, along with additional historical information. A wonderful foreword was written by screen goddess Mamie Van Doren. She writes in part, "Most wonderfully of all, in looking at what has to be the most complete collection of magazine covers on any single subject ever, you will see - so clearly and beautifully - Marilyn's soul." I provide a timeline of Marilyn's life and a full index to the covers.
A Savoir: Un livre pour les collectionneurs, qui présente des couvertures de Marilyn avec références (dates, pays), et la côte financière des magazines.
---
Vous avez le livre ? Do you have the book ?
Apportez votre critique, votre avis ou votre note (/10)