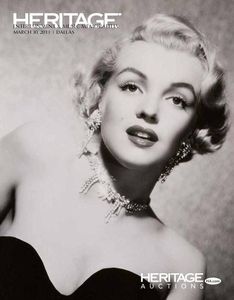 Vente aux enchères 'Entertainment and music memorabilia' le 30 mars 2013 par Heritage Auctions à Dallas, aux Etats-Unis.
Le catalogue (photo ci-contre) est en ligne sur le site de entertainment.ha.com
Les objets mis en vente sont en consultation libre sur entertainment.ha.com. Outre les lots de photographies rares de Marilyn Monroe, se trouvent des objets et photographies de Marlon Brando, The Beatles, Elvis Presley...