21 avril 2013

Mercredi 24 avril 2013
Canal Plus
Biopic - Documentaire
* * * * * * * * * *
Biopic Film - My week with Marilyn - à 20h55
Rediffusions: - mardi 23 avril à 20h55 sur Canal +
- mercredi 24 avril à 22h40 sur Canal Décalé
- jeudi 25 avril à 20h50 sur Canal Décalé
- dimanche 28 avril à 22h20 sur Canal Cinéma
- lundi 29 avril à 12h10 sur Canal Cinéma
- mercredi 1 mai à 8h15 sur Canal Cinéma

Grande-Bretagne - Etats-Unis - 2011 - 1h39
Réalisateur : Simon Curtis
Distribution: Michelle Williams, Karl Moffatt, Simon Russell Beale, Toby Jones, Eddie Redmayne, Julia Ormond, Kenneth Branagh, Pip Torrens, Emma Watson, Geraldine Somerville, Michael Kitchen, Miranda Raison
Résumé: 1956. Sir Laurence Olivier, gloire incontestée du cinéma britannique, prépare un nouveau film. Coup de maître ! Il en partagera la vedette avec la star mondiale du moment, Marilyn Monroe, à la recherche d'une légitimité artistique qu'elle espère pouvoir trouver auprès du vieux maître shakespearien. Colin Clark, un bouillant étudiant en cinéma, ne veut manquer la fête pour rien au monde. Il réussit à se faire embaucher comme troisième assistant réalisateur. Quand la blonde Marilyn Monroe débarque à Londres, c'est l'effervescence. Mais d'emblée, les rapports entre les deux têtes d'affiche sont tendus. Marilyn, déstabilisée, se confie à Colin Clark...
>> Sur le blog: fiche du film My week with Marilyn
* * * * * * * * * *
Documentaire - Love, Marilyn - à 22h35
Rediffusions: mardi 30 avril à 13h55 sur Canal Cinéma
- mercredi 1 mai à 9h50 sur Canal Cinéma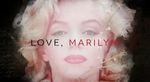 Etats-Unis - France - 2012 - 1h45
Réalisateur : Liz Garbus
Résumé: A travers des textes intimes écrits par Marilyn Monroe, retrouvés près de cinquante ans après sa mort, retour sur la vie de l'actrice américaine. La comédienne a écrit de nombreux carnets dans lesquels elle se livrait réellement. Ces notes permettent de la découvrir sous une autre facette, loin des lumières de Hollywood et de l'image de femme plantureuse et souriante. De nombreux acteurs témoignent de l'impact de la carrière de Marilyn Monroe sur leur métier et dans leurs vies, à l'instar de Glenn Close, Uma Thurman, Elizabeth Banks, Marisa Tomei, Evan Rachel Wood, Viola Davies, Paul Giamatti ou encore Adrien Brody...
Marilyn Monroe dans sa suite de l'Ambassador Hotel, à New York. Elle discute avec Dick Sheperd, agent au département cinéma de MCA à New York.
Photographies de Ed Feingersh.
---
Marilyn Monroe in her suite at the Ambassador Hotel, Manhattan, NYC. She talks with Dick Sheperd.
Photographer: Ed Feingersh.
---
All photos are copyright protected by their respective owners.