Le 26 mars 1955, Marilyn Monroe pose en compagnie de Milton Berle et d'une petite fille de 8 ans, Alice Fitzpatrick, pour préparer la performance qu'ils donneront au cirque Ringling Bros and Barnum & Bailey le 30 mars, et dont les recettes seront reversées au profit de la lutte contre l'arthrite et les rhumatismes. Les photographies promotionnelles sont prises par Milton Greene, dans son studio de Lexington Avenue, à Manhattan, New York.
On March 26, 1955, Marilyn Monroe poses with Milton Berle and a 8-year-old girl, Alice Fitzpatrick, who suffers from arthritis, to prepare the performance that they will give with the Ringling Bros. and Barnum & Bailey on March 30, and whose income will be donated to support the fight against arthritis and rheumatism. Promotional photographs are taken by Milton Greene, in his studio in Lexington Avenue, Manhattan, New York City.

---
La séance d'essayage semble avoir lieu chez Brooks Costume
Milton Berle et Marilyn Monroe en costumes

A ne pas confondre avec la venue de Marilyn l'après-midi du 30 mars 1955 pour les essayages chez Brooks Costume où elle se prépare pour la soirée du Madison Square Garden; pour distinguer les séances, Marilyn porte ici une paire de boucles d'oreilles.
The fitting session appears to be taking place at Brooks Costume
Milton Berle and Marilyn Monroe are wearing costumes
Don't confuse with Marilyn coming in the afternoon of March 30, 1955 for fittings at Brooks Costume where she is getting ready for the Madison Square Garden party; to distinguish the sittings, Marilyn is wearing here a pair of earrings.
---
La séance de pose semble avoir lieu dans le studio de Greene sur Lexington
Séance destinée à promouvoir la soirée

The pose sitting appears to take place in Greene's studio on Lexington
Session intended to promote the evening
---
Planches Contact / Contact Sheets
> planches contact
---
- photographie de presse -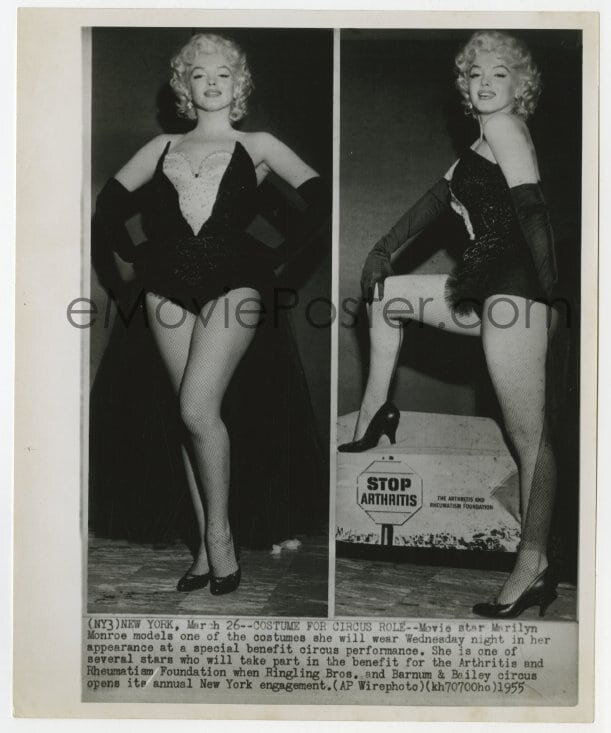 ---
© All images are copyright and protected by their respective owners, assignees or others.
copyright text by GinieLand.