20 mai 2013
'Let's Make Love' Dress
robe du "Milliardaire"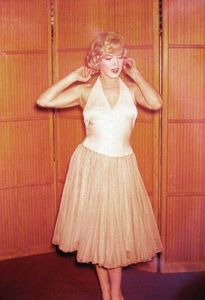 Robe à la ligne simple, en jersey de soie, au décolleté en forme V, qui, à partir de la taille, part en longue jupe de mousseline évasée.

---
La conception a été initialement attribuée à John Moore, qui en créa une version pour Marilyn de couleur rouge profond, qu'elle porta pour des portraits photos en studio: d'abord, en 1955, posant sous l'objectif de John Florea; puis, en janvier 1957, pour la dernière séance photos d'avec Milton Greene, nommée la 'Red Sitting' (séance en rouge), qui étaient destinées à être des photos publicitaires pour le film The Prince and the Showgirl (Le Prince et la Danseuse).
Marilyn adorait tellement cette robe qu'elle en recommanda une autre à Moore, la même, mais de couleur noire.
La robe rouge fut vendue par Christies en 2001.
La robe noire fut vendue par Sothebys en 2001.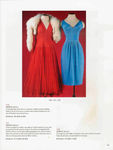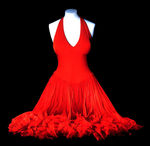 ---
La robe qu'elle porte dans le film "Let's Make Love" ("Le Milliardaire") en 1960 existe en trois versions: elles ont été créées par Jax. Marilyn se basa sur les créations de Moore et demanda à Jax d'en faire plusieurs copies. Les boutiques Jax étaient tenues et dirigées par Jack Hanson (qui en ouvrit deux au début des années 50: une à Beverly Hills et une à New York, près de l'appartement où vivait Marilyn). En 1960, Rudi Gernreich était le nouveau couturier qui travaillait pour Hanson, il est donc probable que ce soit lui qui créa les trois robes:

> La robe est aujourd'hui la propriété du fan et collectionneur Greg Shreiner,
qui la prête occasionnellement à des organisateurs d'expositions
(comme à l'expo Marilyn Remembered de 2010;
voir son site web: The Marilyn Monroe Site )

* * * * * * * * * * * * * *
2

/ Puis, une version blanche au ton gris pâle, que Marilyn porta le

16 janvier 1960

pour la conférence de presse du film "Let's Make Love", et plus tard la même année, durant la période de tournage de "The Misfits": dans un casino, et

le

16 octobre 1960

à un dîner avec Monty Clift.



Durant la conférence de presse, toute l'équipe du film participa à un cocktail et but du champagne. Il semble que Marilyn renversa sa coupe sur le décolleté de sa robe, tel qu'on peut le voir sur les photographies suivantes où Yves Montand désigne du doigt à Marilyn la tâche qu'a laissé le champagne sur sa robe, une tâche visible sur certaines photographies:

> La robe fut vendue 52 900 Dollars par Christies en 1999,
et remise en vente par Julien's en 2005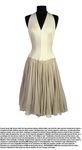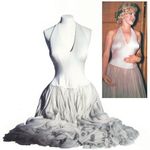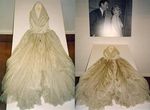 * * * * * * * * * * * * * *
3

/ Enfin, la version de la robe dans les tons rouge orangé

que Marilyn porta en

1957

en se rendant au cinéma avec Arthur Miller à New York pour voir le film "The Prince and the showgirl":

> La robe est vendue aux enchères Juliens de novembre 2016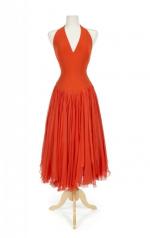 ---
All photos are copyright and protected by their respective owners.
Copyright text by GinieLand.
Enregistrer