06 juin 2013
En juillet 1949, Marilyn Monroe se rend à Milwaukee (dans le Wisconsin), avec d'autres starlettes, pour se faire photographier dans les studios du journal de la ville 'The Milwaukee Journal'. La ville se trouvait probablement sur la route de promotion pour le film 'Love Happy'.
> dans la presse 'Milwaukee Journal'
le 15 juillet 1949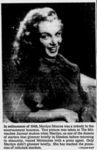 ---
In July, 1949, Marilyn Monroe traveled to Milwaukee (in Wisconsin), along with other starlets, to be photographed in the studios of the local newspaper 'The Milwaukee Journal'. The city was probably on the road to promote 'Love Happy'.
---
All photos are copyright and protected by their respective owners.
Copyright text by GinieLand.