11 juin 2013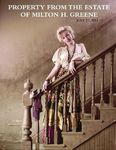 Vente aux enchères 'Property of the Estate of Milton H. Greene' le 27 juillet 2013 par Profiles in History aux Etats-Unis.
Le catalogue (photo ci-contre) est en vente au prix de 50 $ sur le site de profilesinhistory
Le catalogue est à consulter en ligne en format pdf et en animation flipbook .
La vente aux enchères est consacrée aux photographies de Milton H. Greene (près de 4000 photos): 82 lots photographiques de Marilyn Monroe sont mis en vente (dont certaines jamais publiées auparavant); les lots photographiques sont en consultation libre sur artfact.com (les lots concernant Marilyn vont du n°1 au n°82).
---
> Message publié sur la page facebook de Joshua Greene
I HAVE BEEN ASKED TO EXPLAIN WHAT IS GOING ON WITH THE UPCOMING AUCTION WITH PROFILES. IN 2000 WHEN I SEPARATED FROM A ABUSIVE BUSINESS RELATIONSHIP I HAD WITH VERY UNSAVORY PARTNERS. I WAS FACED WITH SPLITTING UP MY FATHERS BODY OF WORK AND GRANTING THEM THE COPYRIGHTS, A DECISION I REGRETTED EVERYDAY. I OFFERED MY GREEDY X PARTNERS 1.2 MIL & IT WAS NOT ENOUGH!!! SO IT SAT IN A VAULT IN NYC TILL 2005 WHEN THEY SOLD IT TO THE CURRENT OWNER FOR 500K. GO FIQURE.

THE BOTTOM LINE THE MM WORK IS MEDIOCRE AT BEST. THE BULK OF IT IS FROM THE SET OF BUS STOP & PRINCE, THAT IS WHY THE QUANTITIES ARE SO HIGH. THERE IS VERY LITTLE OF THE OTHER MM SITTINGS AND THEY ARE OUT, OUT, OUT, TAKES.

THE REAL ISSUE IS THAT IT IS HIS LIBRARY OF ALL THE OTHER PERSONALITIES AND FASHION HE DID OVER HIS LIFE TIME. SINCE I ALREADY OWN THE BEST OF HIS WORK WHICH IS 40 % OF THE COLLECTION INCLUDING THE BEST OF MM MY INTERESTS ARE IN THE OTHER WORKS FOR PERSONAL REASONS.

AS SAD AS THIS IS MAYBE IT WILL COME BACK HOME WHERE IT BELONGS.

THOUGHT YOU ALL SHOULD NO THE FACTS.

Sept ans de réflexion
Sur le tournage
> Marilyn Monroe et un membre de l'équipe
Marilyn Monroe and a member of the crew

---
> Avec son maquilleur Whitey Snyder et sa coiffeuse Gladys Rasmussen
with makeup artist Whitey Snyder and haidresser Gladys Rasmussen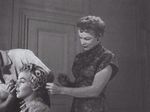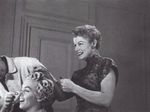 ---
> Le 30 septembre 1954, avec Whitey Snyder et Gladys Rasmussen
On September, 30, 1954 with Whitey Snyder and Gladys Rasmussen

---
> Marilyn photographiée par Sam Shaw
Marilyn photographed by Sam Shaw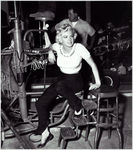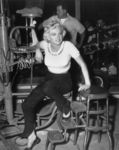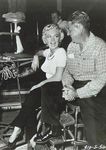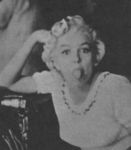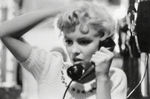 ---
All photos are copyright and protected by their respective owners.
copyright text by GinieLand.