Sept ans de réflexion
Scène coupée
Cette scène faisait partie des diverses séquences des "fantasmes imaginaires" du personnage de Richard Sherman, interprété par Tom Ewell. On y découvrait Marilyn Monroe, plus sexy que jamais, aux allures de vamp, parodiant l'actrice américaine des années 1930, Mae West. Mais la scène fut malheureusement coupée au montage et les rushes tournés n'ont, à ce jour, jamais été montrés.
Dans le livre "Marilyn Among Friends" de Sam Shaw et Norman Rosten, on découvre la raison pour laquelle la scène a été supprimée:
"Billy Wilder était impressionné par son talent comique. Il la voyait comme apparenté au personnage de Mae West, et a suggéré, qu'en créant son style de comédie unique, elle pourrait travailler dans des films jusqu'à ses 80 ans.
Le réalisateur Billy Wilder a demandé à Marilyn de 'se mettre dans la peau' de Mae West, ironisant l'imitation de Miss West des hommes gais. Marilyn, extrêmement féminine, manquait de l'élément d'hostilité et de ridicule envers les hommes, qui seraient essentiels pour de telles imitations. Elle a raté le test."
> Avec Tom Ewell et Robert Strauss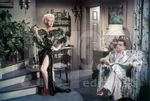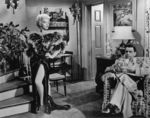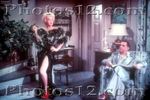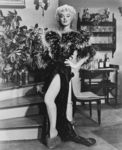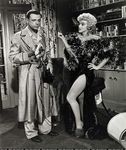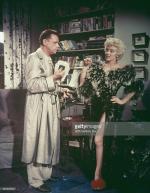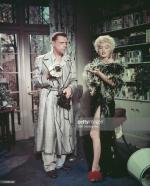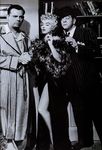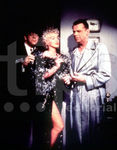 ---
This scene was one of the several sequences of "imaginary fantasies" of the character Richard Sherman, played by actor Tom Ewell. Marilyn Monroe was shown, sexier than ever, looking like a vamp, parodying American actress of the 1930s, Mae West. But unfortunately, the scene was deleted and rushes filmed have,until today, never been shown.

In the book "Marilyn Among Friends" by Sam Shaw and Norman Rosten, there is an explanation of the reason why the scene was deleted:
"Billy Wilder was impressed with her comic talent. He saw her as akin to the Mae West character, and suggested by creating her unique comedy style she could work in films until she was eighty.
Director Billy Wilder asked Marilyn to do a "send-up" of Mae West, satirising Miss West's imitation of gay men. Marilyn, supremely feminine, lacked the element of hostility and ridicule toward men that would be essential in such impersonations. She flunked the test."
---
© All images are copyright and protected by their respective owners, assignees or others.
copyright text by GinieLand.