Sept ans de réflexion
Sur le tournage - scène 15

Le 13 septembre 1954, Marilyn Monroe tourne ce qui sera la scène finale du film "Sept ans de réflexion", celle où elle est en peignoir dans l'appartement de Richard Sherman (Tom Ewell). Il s'agit de la première scène tournée en extérieur, à New York, dans l'appartement situé au 164 East 61 Street. Près de 1000 personnes (des photographes, gens de la presse et beaucoup de passants et de fans), se sont amassés devant l'immeuble.
In September, 13, 1954, Marilyn Monroe shoots what will be the final scene of "The Seven Year Itch", the one where she is in a white robe in the apartment of Richard Sherman (Tom Ewell). This is the first scene shot on location in New York, in an apartment located at 164 East 61 Street. Nearly 1,000 people (photographers, press people and a lot of shoppers and fans), were raised in front of the building.
> 6ème partie: Marilyn dans l'appartement
> photographie de Bob Henriques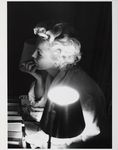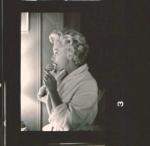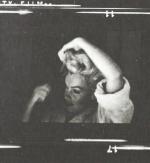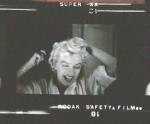 ---
© All images are copyright and protected by their respective owners, assignees or others.
copyright text by GinieLand.