28 juin 2013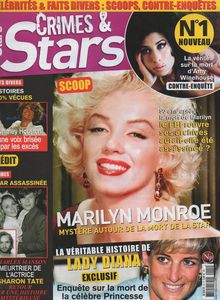 Le nouveau magazine Crimes & Stars n°1, de juillet - août - septembre 2013, consacre sa couverture à Marilyn Monroe et un article de 16 pages lui est consacré.
Prix: 3,90 Euros
(scans persos).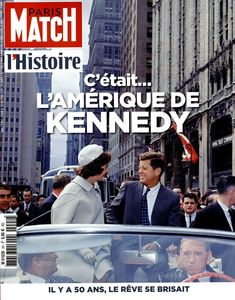 Le magazine hors-série Paris Match L'Histoire n°2, paru le 30 mai 2013, est entièrement consacré à la famille Kennedy; avec évidemment l'évocation de Marilyn au sein d'un des nombreux articles de ce magazine.
Prix: 6,90 Euros

Elliott Reid, le détective dans "Gentlemen Prefer Blondes", est mort, à l'âge de 93 ans.
publié le 25 juin 2013 - par Anita Gates
en ligne sur nytimes.com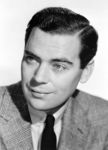 L'acteur américain Elliott Reid, qui interprétait le fiancé de Jane Russell dans "Les hommes préfèrent les blondes", est décédé à Studio City, Los Angeles, le 21 juin 2013, à l'âge de 93 ans.
Edgeworth Blair Reid était né le 16 janvier 1920, à New York. Il était un imitateur accompli: il fit notamment une imitation de John F. Kennedy qui aurait "bouleversé" le président Kennedy quand il l'a vu en personne.

Elliott Reid avait débuté sa carrière à la radio. Travaillant adolescent pour le "March of the Time", il rencontra Orson Welles, qui l'invita à rejoindre sa nouvelle société, Mercure Theater. Il a fait ses débuts à Broadway, comme le poète Cinna, dans la production de Mercury de "Jules César" en 1937 et fit ses débuts au cinéma en 1940 dans "The ramparts we watch," un docu-fiction patriotique.
Dans "Gentlemen Prefer Blondes", il a joué Ernie Malone, un détective privé engagé pour enquêter sur Lorelei Lee, interprété par Marilyn Monroe. Il finit par tomber amoureux de sa meilleure amie, jouée par Jane Russell.
Dans d'autres films, il joua le rival de Fred MacMurray dans la comédie de Disney "The Absent-Minded Professor" (en 1961) et un procureur d'une petite ville dans "Inherit the Wind" (en 1960).
Son dernier long métrage était la comédie "Young Einstein", en 1988, dans laquelle il joue un garde dans un hôpital psychiatrique.
Il travailla aussi souvent pour la télévision, apparaissant dans des séries comme "Alfred Hitchcock presente" dans les années 1950, la satirique "That Was the Week That Was" dans les années 60, puis "All in the Family" dans les années 70 et "Designing Women" dans les années 80.
Il a également tenté sa chance dans les coulisses, avec l'écriture des épisodes de "Lou Grant", "The Love Boat", "After MASH" et "Love, Sidney" dans les années 1980.