07 juillet 2013
Sept ans de réflexion
Photos scène 11 - tournage en studio

Quelques jours après l'annonce de son divorce d'avec Joe DiMaggio à la presse, le 6 octobre 1954, Marilyn Monroe devait encore tourner quelques scènes de "Sept ans de réflexion" dans les studios de la Fox à Hollywood. La scène de la robe blanche qui se soulève, tournée au préalable -le 15 septembre 1954- dans une rue de New York (sur Lexington Avenue), a dû être refaite en studio. En effet, aucune des prises ne fut utilisable à cause non seulement du bruit ambiant, mais aussi du manque de liberté de mouvement dûs à la foule trop nombreuse présente ce jour là; puis parce que le ventilateur utilisé ne produisait pas l'effet désiré.
Marilyn dira au réalisateur Billy Wilder, à propos des plans tournés à New York: "J'éspère que ce n'est pas pour votre collection privée, et que vous n'allez pas le projeter à une soirée entre hommes."
La rue de Lexington Avenue de New York sera reproduite à l'identique dans les studios de la Fox: le cinéma Trans Lux Theatre, ainsi que les vitrines des boutiques. Elle sera la dernière scène tournée, c'est à dire correspondant au dernier jour de tournage, le 5 novembre 1954. Dans la scène du film, Marilyn marche sur une grille d'aération du métro, sa jupe se soulève juste au-dessus de ses genoux et un raccord montre son visage où s'exprime le plaisir ressenti de la fraîcheur reçue par une chaude nuit d'été. Il fallut au préalable couper l'un des trois plans de la séquence originale pour satisfaire au "code Hays" définissant strictement, selon les bonnes moeurs du puritanisme américain, ce qui était convenable à l'écran.
A few days after the announcement of her divorce from Joe DiMaggio to the press, in October 6, 1954, Marilyn Monroe had still shoot some scenes of "The Seven Year Itch" in the Fox studios in Hollywood. The scene of the white dress that raises was shot in September 15, 1954 in a New York street (on Lexington Avenue), but had to be redone in the studio. Indeed, none of the takes were used not only because of the noise, but also of the lack of freedom of movement due to the crowd that day, and because the blower used did not produce the desired effect.
Marilyn says to the director Billy Wilder, about the shots filmed in New York: "I hope that this is not for your private collection, and you're not going to throw a men party."

Street Lexington Avenue in New York will be exactly reproduced in the Fox studios: the cinema Trans Lux Theatre, and the shops' windows. It will be the last scene shot, corresponding to the last day of filming on November, 5, 1954. In the scene of the film, Marilyn walking on a subway ventilation grate lifts her skirt just above her knees and her face shows a connection that expresses the pleasure felt of the coolness received on a warm night of summer. It has to cut one of the three shots of the original sequence to satisfy the "Hays Code" defining strictly which was suitable to the screen.
---
---
>> Photographies de Sam Shaw
---
>> Photographies de Bruno Bernard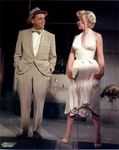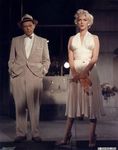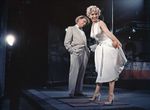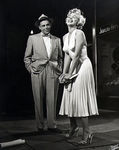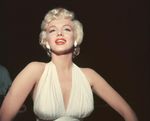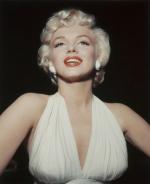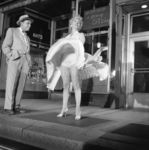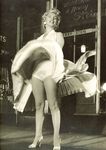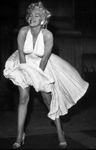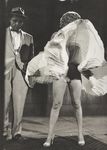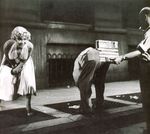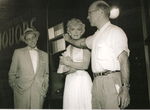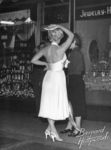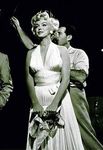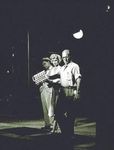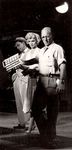 > Marilyn et son maquilleur Whitey Snyder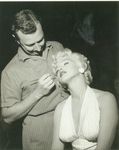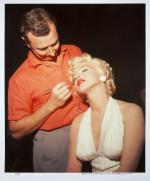 > Marilyn et sa coiffeuse Gladys

> Marilyn avec sa coach Natasha Lytess et sa coiffeuse Gladys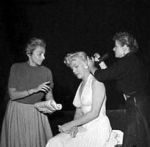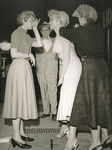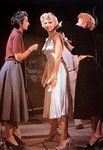 > Marilyn avec sa coach Natasha Lytess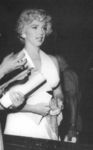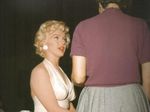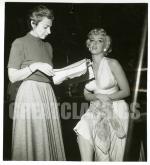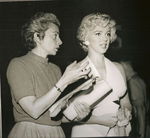 > Les doublures lumières de Marilyn et Tom Ewell

Extraits du journal de Bruno Bernard:
- De retour à Hollywood, Marilyn a été placée sous sédatifs. Je n'ai pas pu la joindre par téléphone ni même franchir le barrage des gens de sa suite. Les jours passent sans réponse de sa part. Entre-temps, on a reconstruit le Trans Lux Theatre et les boutiques de la Lexington Avenue voisines dans les studios de la Fox. Je commence à m'inquiéter, non seulement au sujet d'un rendez-vous plateau pour mon portrait de couverture (pour le magazine Redbook), mais aussi en ce qui concerne l'état de fragilité émotionnelle de Marilyn qui se laisse manipuler par des gens qui en profitent.
- "Désolé, Bernard, pas question de portrait officiel, m'annonce Harry Brand au téléphone, le chef du département publicité. Nous aurons de la chance si nous parvenons à finir le film après-demain. Billy Wilder a ordonné le huis-clos sur le tournage. Mais à la demande de Marilyn et de 'Redbook', vous seriez admis demain sur le plateau." A la fois découragé et encouragé, je me précipitai le jour-dit à la Fox (le 6 octobre 1954), où le gardien me dit que la journée de tournage était annulée. Je téléphonai chez Marilyn et au département publicité, personne ne répondit. Me sentant totalement exclu, je rentrai chez moi en empruntant sans y penser la route de Palm Drive; C'est alors que j'ai aperçu le plus grand rassemblement de journalistes que j'ai vu de toute ma carrière à Hollywood. (...) j'ai couru vers la maison avec mon appareil photo, pour apprendre avec tristresse que Marilyn devait annoncer qu'elle et joe divorcaient.
- Lorsque la lumière verte se mit à clignoter au-dessus du rideau de fer du gigantesque Plateau 3 de la Fox, m'autorisant à pénétrer sur le plateau, je découvris la réplique exacte du Trans Lux Theatre et des vitrines des boutiques voisines. Billy Wilder, cette fois sans son chapeau tyrolien mais son inséparable cravache à la main, donnait à Marilyn quelques directives particulières pour la 35ème prise de la scène de la bouche de métro. (...) Tandis que sa doublure enfilait un long pantalon noir de torero pour éviter de prendre froid, la pauvre Marilyn n'avait rien sur elle, à l'exception de sa fine culotte de soie. Et elle ronronnait pour la 36ème fois:
"N'est-ce pas délicieux ? Quel soulagement !".
"Coupez. On garde celle-là, mais on en fait une de plus pour la forme", ordonna Billy Wilder.
Une fois que Gladys Whitten, la coiffeuse de Marilyn a eu fini de la peigner, Natasha a endossé le rôle d'assistante réalisateur et l'a hypnotisée en articulant chaque syllabe de ses répliques appuyées par des gestes. Marilyn s'est concentrée sur cet aspect hypnotique, comme si elle était en état de transe. Lorsque la caméra s'est mise à tourner, Natasha se tenait à côté d'elle, juste en dehors du cadre, pour apporter son soutien moral à sa marionnette angoissée.
Pendant que la coiffeuse s'occupait de Marilyn, l'étrange aparté du couple disparate que formaient Marilyn et Natasha, l'une soufflant sa réplique à l'autre, ressemblait plus à une répétition d'un spectacle de marionnettes qu'au tournage d'un film. Au fond, c'était du 'théâtre de l'absurde' au sein du monde iréel du cinéma, une scène infiniment plus intéressante à observer que celle du film.
Après que la 39ème prise du plan de la robe volant soit dans la boîte, Billy Wilder, épuisé, complimenta à haute voix Marilyn pour son endurance: "Bien, Marilyn, ne t'inquiète pas. Nous avons gardé celle-là, on en fait juste une de plus pour atteindre la perfection!" (...) Ce n'est qu'à la 40ème prise que le metteur en scène s'écria avec enthousiasme: "Coupez ! On la garde ! C'est la bonne !" (...) Surgissant de derrière la caméra, Natasha se précipita vers Marilyn, l'embrassant de joie, tandis que la star, l'air aussi égaré qu'en enfant abandonné, lui demandait: "Pensez-vous vraiment que la dernière était réussie ? ... Je veux dire, parfaite à la lettre près ? Ou bien...". "Ca ne fait aucun doute pour moi, chérie, assura Natasha, c'était tout à fait cela !" Alors Marilyn sembla émerger de sa transe (...) et je me dépêchai de profiter de ce moment de lucidité pour obtenir une photographie insolite de Marilyn, montrant son sens de l'humour. Lorsque Sid Skolsky fit irruption dans la loge, la complimentant chaleureusement sur son interprétation, je demandai à Marilyn de poser pour moi. Marilyn se jeta aussitôt sur le divan, singeant une "star de cinéma un dimanche".
> Marilyn et le photographe Sam Shaw
Marilyn and the photographer Sam Shaw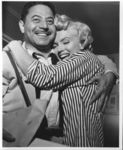 ---
>> sources:
- Livres: Bernard of Hollywood's Marilyn / De Norma Jean à Marilyn, de Susan Bernard / L'Encyclopédie d'Adam Victor.
---
All photos are copyright and protected by their respective owners.
copyright text by GinieLand.