20 juillet 2013

The Seven Year Itch Apartment
en ligne sur onthesetofnewyork.com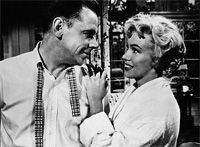 Film: The Seven Year Itch
Home: Richard Sherman (and the girl upstairs)
Address: 164 East 61st Street, Manhattan.

Richard Sherman lives in a fully furnished apartment on the Upper East Side with his wife Helen and their young Son, Ricky.
Like many other Manhattan husbands, Richard Sherman sends his wife and son to the country for the summer, while he stays behind and revels in temporary bachelor freedom, a lifestyle that often causes him to overactive, over-vivid his imagination. On one particular summer, a delightfully unconventional, voluptuous blonde moved into the upstairs apartment. Upon returning home, Richard had the fortune of meeting the girl, who was in town to make a television commercial for a toothpaste. During the same evening, while proof reading a book by psychiatrist Dr. Brubaker, claiming that a significant proportion of men have extra-marital affairs in the seventh year of marriage, Richard narrowly missed being hit on the head by a tomato plant that had come crashing down from the apartment above. The girl apologised to Richard and in return he had invited her to come down for a drink. In the days that followed, Richard and the girl grew closer. His resolve to resist temptation in all of its many forms fuelled his fear that he had succumb to the 'Seven Year Itch'. The increasing fantasies had turned Richard into a paranoid wreck, and after a crazed confrontation with McKenzie, whom Helen has asked to drop by to pick up Ricky's canoe paddle, Richard final came to his senses and told the girl that she could stay at his air conditioned apartment for the rest of the summer as he was leaving the city.
otsoNY Comments: The property on East 61st Street was only used for exterior shots. All interior shots were done in a Hollywood studio, although the property was used for entrance and window shots. Today, the apartment building is still there for fans to see with the only visual difference being the missing window blinds and the colour of the exterior wall.
Richard Sherman's apartment is on the Upper East Side is a neighbourhood in the borough of Manhattan in New York City, btw Lexington and 3rd Avenues and has a gross square footage of 5,800. The five story property sits on a 20 foot by 101 foot lot and is built 20 feet by 90 feet on the first floor. Floors 2 through 5 are built 20 feet by 50 feet.

The Seven Year Itch (1955)
en ligne sur onthesetofnewyork.com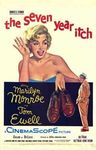 In summertime in Manhattan, the plain and average Richard Sherman (Tom Ewell) sends his wife and son for vacation in the country. Sherman is the key man of a publishing firm, Brady & Company, which publishes cheap pocket books. The faithful Sherman has a routine life with his family and never steps outside of his standing desk or beyond the office door, but dreams on being successful with women. When a beautiful and sexy blonde (Marilyn Monroe) lodges the upstairs apartment of his small building, Sherman first opens the front door for her and then he invites her to have a drink with him after the fall of her tomato vase on his chair. Along the days, he spends some time with the girl and feels tempted by her, but later he misses his family and travels to meet them.
LOCATION:
Pennsylvania Station, 7th Avenue and West 31st Street, Manhattan.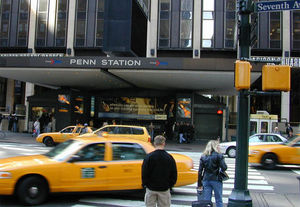 ---
LOCATION:
Richard's Apartment, 164 East 61st Street and Lexington Avenue, Manhattan.

---
LOCATION:
Lexington Avenue and East 52nd Street, Manhattan.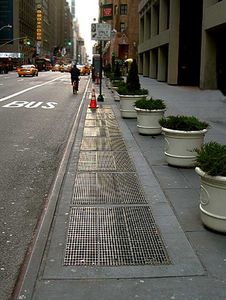 otsoNY Comments: The classic shot of Marilyn Monroe's dress blowing up around her legs as she stands over a subway grating was originally shot on Manhattan's Lexington Avenue at 52nd Street on Sept. 15, 1954 at 1 AM. There were so many onlookers whistling and cheering through the takes as Marilyn repeatedly missed her lines that the original footage shot on that night in New York never made it to the screen. The noise of the crowd had made it unusable. Billy Wilder re-staged the scene on the 20th Century Fox lot, on a set replicating Lexington Avenue, and got a more satisfactory result.