Sept ans de réflexion
Sur le tournage - scène 11
Date: le 15 septembre 1954, à une heure du matin.
Lieu: entre la 51 et 52st Street, au croisement de Lexington Avenue.
Scène: il s'agit d'une scène mythique, l'une des plus célèbres de l'histoire du cinéma, qui reste sans doute la "scène la plus vue au monde", celle où la robe blanche de Marilyn se soulève entraînée par l'air d'une grille de métro. La presse en parla comme de "l'exhibition la plus intéressante depuis Lady Godiva".
Date: September 15, 1954, at one o'clock.
Location: between 51 and 52st Street on the corner of Lexington Avenue.
Scene: it is a mythical scene, one of the most famous in the history of cinema, which is probably the "most scene view in the world," the one where the white dress of Marilyn Monroe rises, driven by the blow of the subway grate. The press spoke of as "the most interesting exhibition since Lady Godiva".
---
Marilyn Monroe, Tom Ewell, le réalisateur Billy Wilder (homme en noir, chapeau noir), Johnny Graham (homme en costume, chapeau et cigar), manager de production de la Côte Est qui organisa la logistique pour le tournage des scènes à New York, et Natasha Lytess, la coach de Marilyn.
---
>> Photographies de George Barris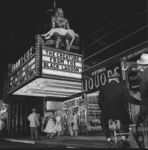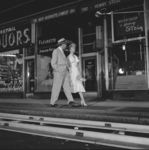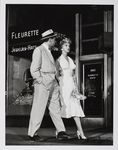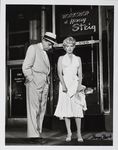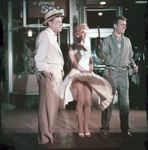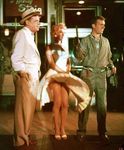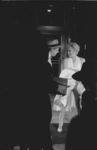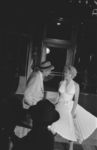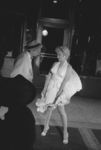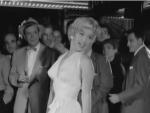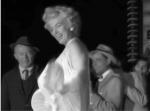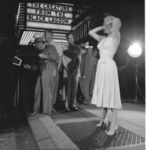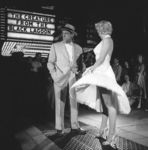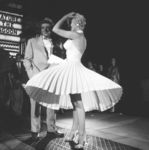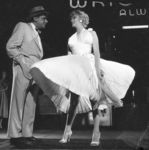 ---
---
>> Photographie de Matthew Zimmerman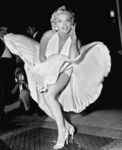 ---
>> Photographie de Sam Goldstein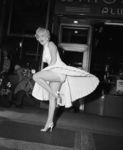 ---
---
>> Photographie de Tom Caffrey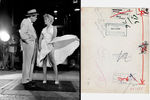 ---
>> Photographies de Kas Heppner

---
>> Photographies de Frank Worth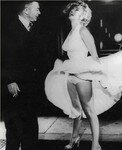 ---
>> Photographies de Milton Greene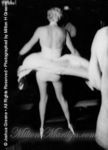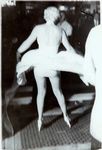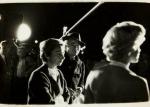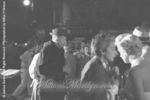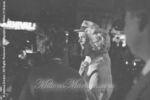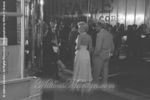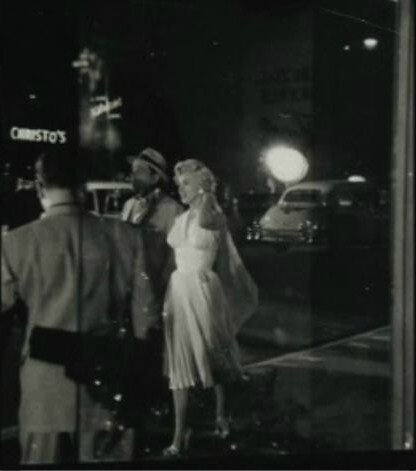 ---
>> Photographies de George S. Zimbel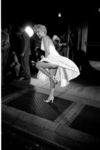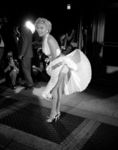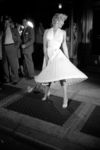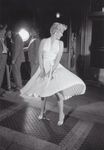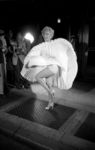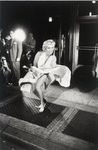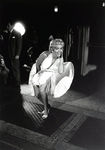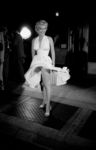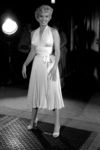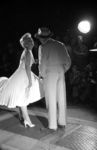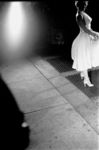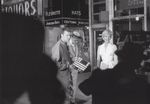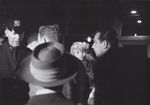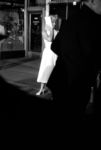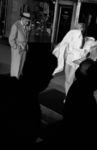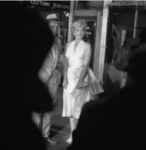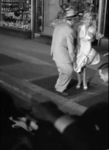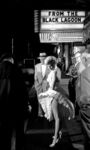 ---
>> Photographies de Elliot Erwitt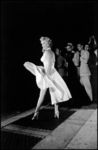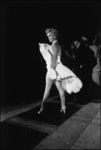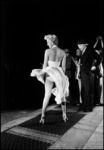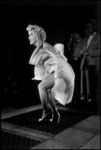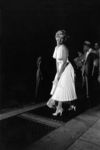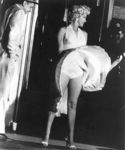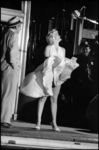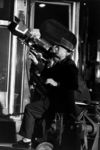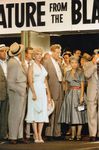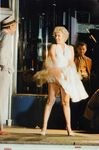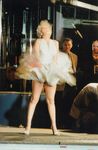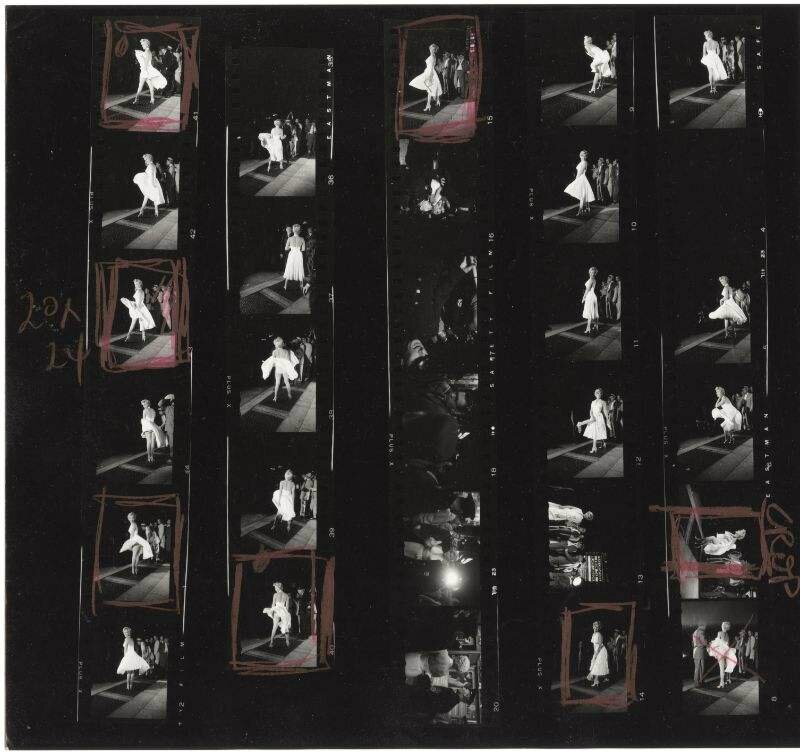 ---
>> Photographies de Garry Winogrand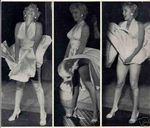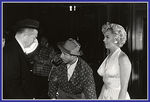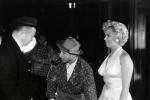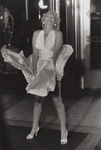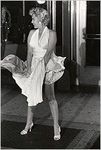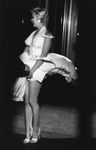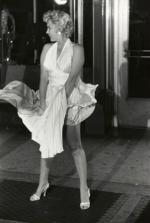 ---
>> Photographies de Charles Hagedorn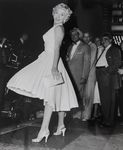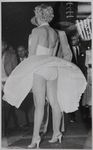 ---
>> Photographies de John Randolph Hearst

---
>> Photographies de Bill Kobrin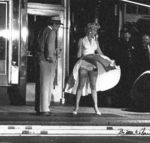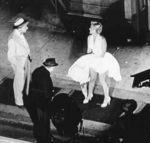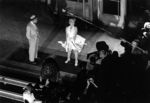 ---
---
>> Photographies de Bruno Bernard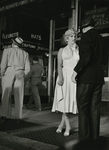 Extraits du journal de Bruno Bernard:
- Le magazine Redbook engagea Bruno Bernard pour couvrir le tournage de Marilyn dans The Seven Year Itch.
- New York - 14/09/1954. Si cela n'avait pas été pour mon travail (la couverture de Redbook) et Marilyn, dix chevaux ne m'auraient pas traîné sur le tournage de Seven year Itch. Zut. J'ai attendu trois heures au milieu des odeurs transpiration et des cris de la foule et d'une bande de paparazzis (...). Soudain, la foule a poussé un formidable hurlement. Marilyn apparaissait en chair et en os. Lorsque Billy Wilder, le metteur en scène, a dit "On tourne", Marilyn est sortie du théâtre, a fait quatre pas sur la gauche avant de s'arrêter juste au-dessus d'une grille d'aération. A ce moment précis, on doit imaginer qu'un métro quitte la station, l'air qu'il déplace soulevant la jupe de Marilyn. Pour mieux contrôler l'action, les accessoiristes ont disposé un ventilateur directement sous la grille. Dans certaines prises, la jupe blanche de Marilyn s'est soulevée au point de lui couvrir le visage, à la grande joie des spectateurs hystériques. D'après le scénario, Marilyn doit simplement dire: "Ah, quel soulagement ! N'est-ce pas délicieux ?!" tandis qu'elle prend plaisir à sentir cet air frais.
La scène a été refaite trente fois parce que Marilyn se trompait à chaque fois dans son texte. Sous sa robe, elle ne portait qu'une petite culotte de soie blanche transparente. (...) DiMaggio, qui se trouvait juste en face de moi et près de walter Winchell, regardait le spectacle. Je me rendais nettement compte que la gêne de DiMaggio tournait à la fureur. Je me frayais rapidement un chemin à travers la foule, dans l'espoir de le calmer. Mais, avant que je n'arrive près de lui, il avait déjà quitté les lieux très en colère. Winchell (...) m'a dit que DiMaggio était parti "apaiser son tempérament de macho italien au Toot's Shor's". Roy Croft nous rejoignit: "Nous devrions plutôt nous réjouir qu'elle porte au moins quelque chose dessous".
L'absence de DiMaggio ne la troubla pas, et la déesse de l'amour poursuivit ses interminables prises devant son public new-yorkais extasié.
- J'ai vraiment besoin de faire ces photos de Joe et Marilyn pour boucler mon article. Depuis le couloir de leur appartement du Saint Regis, je peux entendre les éclats d'une querelle passionnée suivie par des pleurs hystériques. Je suis parti et je n'ai pas fait mes photos. (...) J'étais abbatu et silencieux. Rencontrant Roy dans l'ascenceur, il tenta de me consoler: "Tout n'est pas perdu. Comme il y avait trop de bruits de fond en extérieur, Wilder a décidé de refaire toute la scène à Hollywood."

---
>> sources:
- Livres: Bernard of Hollywood's Marilyn / De Norma Jean à Marilyn, de Susan Bernard / Marilyn among friends, Sam Shaw / L'Encyclopédie d'Adam Victor / Marilyn Monroe et les caméras, de Georges Belmont / Les trésors de Marilyn Monroe, de Jenna Glatzer / Les vies secrètes de Marilyn Monroe, d'Anthony Summers.

---
All photos are copyright and protected by their respective owners.
copyright text by GinieLand.

Enregistrer
Enregistrer