09 août 2013
Sept ans de réflexion
Photos scène 11
Richard (Tom Ewell) et sa voisine (Marilyn Monroe) sortent du cinéma, où ils été voir le film fantastique de Jack Arnold, "The Creature from the Black Lagoon" ("L'étrange créature du lac noir").
Richard (Tom Ewell) and her neighbor 'The Girl' (Marilyn Monroe) came out of the theatre, where they saw the horror film directed by Jack Arnold "The Creature from the Black Lagoon".

---
All photos are copyright and protected by their respective owners.
copyright text by GinieLand.
Sept ans de réflexion
Sur le tournage - scène 11
Date: le 15 septembre 1954, à une heure du matin.
Lieu: entre la 51 et 52st Street, au croisement de Lexington Avenue, New York City.
Scène: il s'agit d'une scène mythique, l'une des plus célèbres de l'histoire du cinéma, qui reste sans doute la "scène la plus vue au monde", celle où la robe blanche de Marilyn se soulève entraînée par l'air d'une grille de métro. La presse en parla comme de "l'exhibition la plus intéressante depuis Lady Godiva".
Date: September 15, 1954, at one o'clock.
Location: between 51 and 52st Street on the corner of Lexington Avenue.
Scene: it is a mythical scene, one of the most famous in the history of cinema, which is probably the "most scene view in the world," the one where the white dress of Marilyn Monroe rises, driven by the blow of the subway grate. The press spoke of as "the most interesting exhibition since Lady Godiva".
---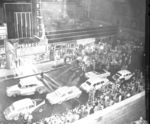 Le soir du 14 septembre 1954, la police dressa des barrières de bois devant le cinéma "Trans-Lux Theater", au carrefour de Lexington Avenue et de la 52nd Street. Le département publicité des studios n'avait pas manqué l'occasion de prévenir la presse en communiquant le lieu exact du tournage et en garantissant que la circulation serait bloquée.
Vers une heure du matin (donc le 15 septembre 1954), alors que le tournage devait débuter, plusieurs centaines de photographes et journalistes se bousculaient pour prendre place, au milieu d'une foule de milliers de spectateurs (d'après Billy Wilder, il y avait près de 5 000 personnes; mais un journal avança le nombre d'environ 1 000 personnes), qui appréciait chaque moment en poussant des hourras et en criant avec frénésie "Plus haut! Plus haut!", chaque fois que la jupe de Marilyn Monroe s'envolait. Le tournage dura cinq heures et il y eut quinze prises.
On the evening of September 14, 1954, police erected barriers of wood in front of the movie theater "Trans-Lux Theater" at the intersection of Lexington Avenue and 52nd Street. The advertising department studios had not missed the opportunity to prevent the press in communicating the place of the shooting and ensuring that traffic was blocked.
About one o'clock in the morning (so September 15), while filming was to begin, hundreds of photographers and journalists jostled to take place in the middle of a crowd of thousands of spectators (from Billy Wilder, there were nearly 5,000 people; but a newspaper talked about 1,000 people), who enjoyed every moment cheering and shouting "higher! higher!" with excitement whenever the skirt of Marilyn Monroe flew. The shoot lasted five hours and there were fifteen takes.
> Marilyn Monroe, Tom Ewell, Billy Wilder

---
Le vent était géré par une machine installée en-dessous de la grille d'aération du métro, sur laquelle Marilyn prenait place. Le responsable des effets spéciaux, Paul Wurtzel, avait fait placer un gigantesque ventilateur, afin que le courant d'air soit assez puissant pour soulever la robe de Marilyn et ainsi dévoiler ses jambes et sa culotte blanche. C'est pour cette raison que Marilyn, prévoyante, portait deux culottes blanches superposées, afin d'éviter tout effet de transparence, bien que certains ont suggéré le contraire (comme Bruno Bernard), affirmant qu'elle ne portait qu'une culotte transparente. Apparemment, les techniciens qui manipulaient le ventilateur perçurent des pots-de-vin pour permettre à certains spectateurs d'avoir une vue "dégagée" d'en dessous.
The wind was managed by a machine set below the subway gate, on which Marilyn took place. The special effects supervisor Paul Wurtzel, had placed a huge blower so that the air stream is enough powerful to lift the dress of Marilyn and thus reveal her legs and her white panties. It is for this reason that Marilyn, provident, wore two white panties superimposed to avoid transparency effect, although some have suggested otherwise (as Bruno Bernard), claiming she was wearing a transparent panties. Apparently, the technicians who handled the blower took money by some viewers, who had in return, an "open" view from below.
> Un technicien sous la grille - photo de Sam Shaw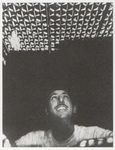 ---
Avant que le tournage ne débuta avec les acteurs, on fit des essais avec des doublures: c'est Gloria Mosolino qui répéta, en huit prises, la scène de Marilyn afin de régler les lumières et l'air propulsé, et elle ne toucha que 20 Dollars et un repas pour ces répétitions.
Before filming with the actors, tests were made with actors' stand-in: Gloria Mosolino repeated, in eight takes, the scene of Marilyn to adjust the lights and air powered, and touched only 20 Dollars and a meal for these rehearsals.
> Gloria Mosolino

---
> videos


---
---
>> sources:
- Livres: Bernard of Hollywood's Marilyn / De Norma Jean à Marilyn, de Susan Bernard / Marilyn among friends, Sam Shaw / L'Encyclopédie d'Adam Victor / Marilyn Monroe et les caméras, de Georges Belmont / Les trésors de Marilyn Monroe, de Jenna Glatzer / Les vies secrètes de Marilyn Monroe, d'Anthony Summers.

---
All photos are copyright and protected by their respective owners.
copyright text by GinieLand.

Enregistrer
Enregistrer