Les clins d'oeils à Marilyn au Cinéma
- Back to the future part II -

Dans le film "Back to the future part II" ("Retour vers le futur 2"), de Robert Zemeckis, en 1989, Marty (Michael J Fox) découvre que le cours de l'histoire a changé: Biff (Thomas L Wilson) a volé l'almanach des résultats de courses des cinquantes dernières années et remonte dans le passé pour aller le donner à lui-même quand il était jeune. Biff est alors devenu très riche et le monde a changé; c'est ce que découvre Marty en regardant un film publicitaire à la télévison dans une vitrine, où il voit que Biff est sorti avec les plus belles femmes telles que Jayne Mansfield et Marilyn Monroe.
---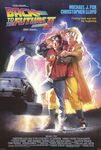 Film: Back to the Future 2
Année: 1989
Pays: USA
Réalisateur: Robert Zemeckis
Scénario: Bob Gale et Robert Zemeckis
Genre: science-fiction
Distribution: Michael J. Fox (Martin « Marty » McFly), Christopher Lloyd (Dr. Emmett Lathrop « Doc » Brown), Thomas F. Wilson (Biff Tannen/Griff), Lea Thompson (Lorraine Baines/McFly/Tannen), James Tolkan (Mr. Strickland), Elisabeth Shue (Jennifer Parker/McFly), Billy Zane (Match), Casey Siemaszko (3-D), Jeffrey Jay Cohen (Skinhead), Charles Fleischer (Terry), Jason Scott Lee (Whitey), Flea (Douglas J. Needles), Elijah Wood (l'un des enfants dans le Café 80') ...
L'histoire: Lors de son premier voyage en 1985, Marty a commis quelques erreurs. L'avenir qu'il s'était tracé n'est pas si rose, et son rejeton est tombé sous la coupe du voyou Griff Tannen, qui veut régner sur la ville. En compagnie de son ami Emmett "Doc" Brown et de sa fiancée Jennifer, Marty va devoir entreprendre un voyage vers le futur, pour tenter de donner un peu plus de moralité à son héritier. Un voyage aux conséquences dramatiques...

> Sur le web: le film sur imdb (en anglais)
Merci à Lolie pour les informations
---
© All images are copyright and protected by their respective owners, assignees or others.
copyright text by GinieLand.
Enregistrer