15 Artist Tributes to Marilyn Monroe
publié le 31/05/2013
en ligne sur redesignrevolution.com
Recognize the name Norma Jeane Mortensen? We didn't think so – Norma Jeane Mortensen is more affectionately known to the entire world as Marilyn Monroe – one of the most well known icons associated with beauty in not only the United States – but the world. In honor of her 87th birthday on June 1, we take a look back at the one of the most well known pop culture icons in the world.
Marilyn Monroe is probably the most celebrated and recognizable actress in the entertainment industry. Sure, she sung of diamonds being a girl's best friend, but her life was anything but grand prior to being discovered by RKO Pictures' Howard Hughes, a multi-millionaire businessman, film producer and director.
Her father abandoned the family prior to her birth, poverty was a constant struggle, and her mother was mentally unstable. At the age of nine, she was placed in an orphanage after being in and out of various foster homes. After overcoming a seemingly difficult childhood, Marilyn Monroe went on to make a name for herself in the growing entertainment industry.
Did you know any of these fun facts about Marilyn?
She is known for her breathless voice, voluptuous figure, sparkling blue eyes – don't forget the beauty mark or platinum blonde hair!
She debuted her famous platinum blonde locks in 1952′s Monkey Business
The identity of Marilyn Monroe was created in 1946, but she didn't legally changer her name until 1956.
Marilyn was the first woman to be featured on the cover of Playboy Magazine.
In 1953, she starred in Gentlemen Prefer Blondes and began dating the one and only Joe DiMaggio. A huge movie role and a relationship with baseball great Joe DiMaggio – talk about making it big!
In 1999, she was voted People Magazine's "Sexiest Woman of the Century".
We decided to honor Marilyn in true Redesign fashion, and it was obvious it would not be hard to find amazing pieces of art that paid tribute to this iconic figure. Check out our 15 favorite artist tributes to Miss Monroe below.
---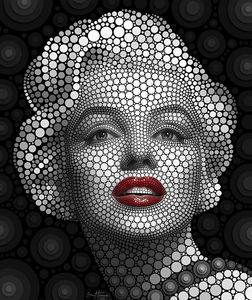 Portrait Made of Thousands of Circles by Ben Heine
It took the artist a week of intense work to create this piece. We also featured his portraits in our Lady Gaga and Elvis Presley roundups.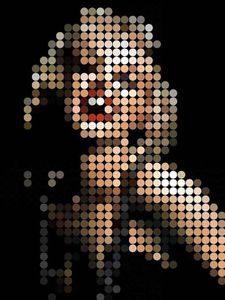 Large Pixel Portrait by Heather Herscheid

Mistral Typographer Poster by Rhiannon Bellmore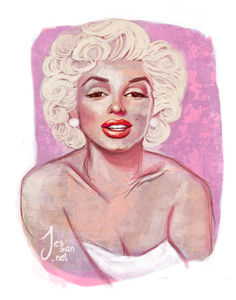 Digital Quick Sketch by Jessica Sanchez

Art Print by Ciaran Monoghan $80

Day of the Dead Marilyn by misscarissarose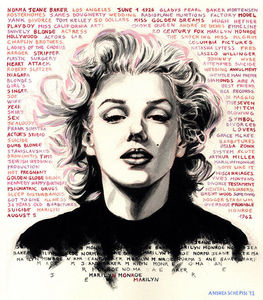 Watercolor Painting by Andrea Schepisi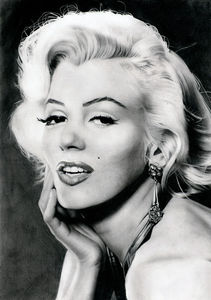 Hyperrealistic Potrait by Stanbos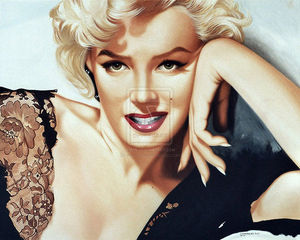 Acrylic on Canvas by antonio56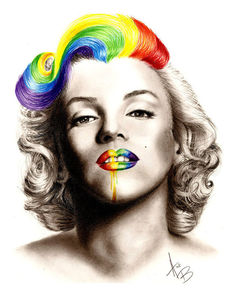 Graphite and Colored Pencil Drawning by BabyDollB