Marilyn Monroe: A case for murder
Author: Jay Margolis

Date de sortie: août 2011
Broché 441 pages
Langue: anglais
Éditeur: iUniverse.com
Prix : 45 Euros
ISBN-10: 146201755X
ISBN-13: 978-1462017553
Ou le commander ? sur amazon.fr
Site officiel sur marilynmonroeacaseformurder
Description: It is one of the greatest mysteries of the twentieth century. How did Marilyn Monroe die? Although no pills were found in her stomach during the autopsy, it was still documented in the Los Angeles coroner's report that she had swallowed sixty-four sleeping pills prior to her demise. In Marilyn Monroe: A Case for Murder, biographer Jay Margolis presents the most thorough investigation of Marilyn Monroe's death to date and shares how he reached the definitive conclusion that she was murdered.
Margolis meticulously dissects the events leading up to her death, revealing a major conspiracy and countless lies. In an exclusive interview with actress Jane Russell three months before her death, he reveals Russell's belief that Monroe was murdered and points the finger at the man she held responsible. While examining the actions of Peter Lawford, Bobby Kennedy, and Monroe's psychiatrist, Dr. Ralph Greenson, Margolis establishes a timeline of her last day alive that leads to shocking revelations.
In August 1962, Marilyn Monroe's lifeless body was found on her bed, leaving all to wonder what really happened to the beautiful young starlet. Marilyn Monroe: A Case for Murder provides a fascinating examination of one of the most puzzling deaths of all time.
> 4ème de couverture (back cover)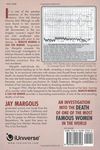 > Autre couverture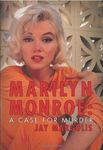 ---
Vous avez le livre ? Do you have the book ?
Apportez votre critique, votre avis ou votre note (/10)