03 septembre 2013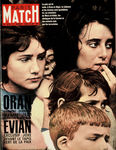 Le magazine Paris Match n°675, du 17 mars 1962, consacrait un article sur Marilyn et Arthur Miller: "Marilyn et Arthur, enfin heureux... mais pas tout à fait de la même manière: Arthur au coin du feu. Marilyn dans les boîtes de nuit".
Marilyn Monroe, From Beginning to End :
Newly Discovered Photographs by Earl Leaf
from the Michael Ochs Archives
Author: Michael Ventura
Photographer: Earl Leaf

Date de sortie: juin 1997
Broché 144 pages
Langue: anglais
Éditeur: Cassell Illustrated
Prix : 25 Euros
ISBN-10: 0713726865
ISBN-13: 978-0713726862
Ou le commander ? sur amazon.fr

Description: Her platinum blonde hair and distinctive birthmark have become cultural icons. Her rise from small-town girl to glamorous film superstar, her torrid romances, and her untimely and mysterious death have captured the imagination of people around the world for decades. Now take a fresh look at the life and times of Marilyn Monroe through newly discovered photographs and fascinating text filled with quotes from Marilyn Monroe herself as well as from the people who knew and loved her. Taken from the body of work of Earl Leaf a famous paparazzo photographer of the fifties and sixties, the exquisite images in this volume offer the fascinating illustrated life story of an incredible woman. Although thousands of reels of film were devoted to Marilyn during her lifetime few professionals photographed her over the span of time that Earl Leaf did. He was with her in 1950 before stardom came and was still on the some in 1962 when her life hit the rocks. Because of this, his work offers an unforgettable glimpse into the life and career of an unforgettable woman.
---
Vous avez le livre ? Do you have the book ?
Apportez votre critique, votre avis ou votre note (/10)