06 septembre 2013

> du blog normajeanemonroe.tumblr.com
Février 1962: Marilyn écrit pour discuter des droits civils et de son impression générale sur Robert Kennedy qu'elle avait rencontré la veille, dans une lettre à Bobby, le fils d'Arthur Miller. Il s'agit sans doute du dîner donné chez les Lawford, le 1er février, au cours duquel elle rencontra Bobby Kennedy pour la première fois.

February 1962: Marilyn writes of discussing Civil Rights and her general impression of Robert Kennedy having met him the night before in a letter to Arthur Miller's son Bobby. This is probably the dinner given in Lawford's, the 1st February, during which she met Bobby Kennedy for the first time.
Oh Bobby, devine quoi: j'ai dîné hier soir avec le procureur général des États-Unis, Robert Kennedy, et je lui ai demandé ce que son ministère allait faire sur les droits civils et quelques autres questions. Il est très intelligent, et en plus de tout cela, il a un excellent sens de l'humour. Je pense que tu l'aimerais bien. Quoi qu'il en soit, je devais aller à ce dîner hier soir car il était l'invité d'honneur et quand ils lui ont demandé qui il voulait rencontrer, il voulait me rencontrer moi. Donc, je suis allé au dîner et je me suis assise à côté de lui, et il n'est pas un mauvais danseur non plus. Mais j'ai surtout été impressionnée par la façon avec laquelle il traite sérieusement le sujet des droits civils. Il a répondu à toutes mes questions et puis il a dit qu'il allait m'écrire une lettre et le mettre sur papier. Donc, je t'enverrai une copie de la lettre quand je la recevrai parce qu'il y aura des choses très intéressantes dedans car j'ai posé vraiment beaucoup de questions. Tout d'abord, il m'a demandé si j'avais déjà assisté à ce genre de réunions. (ha ! ha !) J'ai ri et j'ai dit: "Non, mais ce sont le genre de questions pour lesquelles les jeunes d'Amérique veulent des réponses et veulent que des choses soient réalisées." Non pas que je suis si jeune, mais je me sens jeune. Mais il est lui-même un vieux de 36 ans ce qui m'a étonné, parce que j'en ai 35. Ce fut une soirée agréable, dans l'ensemble.
Oh Bobby, guess what: I had dinner last night with the Attorney-General of the United States, Robert Kennedy, and I asked him what his department was going to do about Civil Rights and some other issues. He is very intelligent, and besides all that, he's got a terrific sense of humor. I think you would like him. Anyway, I had to go to this dinner last night as he was the guest of honor and when they asked him who he wanted to meet, he wanted to meet me. So, I went to the dinner and I sat next to him, and he isn't a bad dancer either. But I was mostly impressed with how serious he is about Civil Rights. He answered all of my questions and then he said he would write me a letter and put it on paper. So, I'll send you a copy of the letter when I get it because there will be some very interesting things in it because I really asked many questions. First of all he asked if I had been attending some kind of meetings. (ha ! ha !) I laughed and said: "no, but these are the kind of questions that the youth of America want answers to and want things done about." Not that I'm so youthful, but I feel youthful. But he's a old 36 himself which astounded me because I'm 35. It was a pleasant evening, all in all.
---
© All images are copyright and protected by their respective owners, assignees or others.
copyright text by GinieLand.
Le 13 août 1962, Jose Bolanos se recueille sur la tombe de Marilyn en y déposant un bouquet de fleurs.
On August 13, 1962, Jose Bolanos (her Mexican lover) is at the Marilyn's grave of Marilyn by laying down a bouquet of flowers.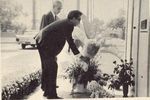 Des passants viennent déposer des fleurs.
Some people comes to lay flowers.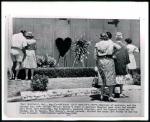 ---
© All images are copyright and protected by their respective owners, assignees or others.
copyright text by GinieLand.