08 septembre 2013
Sept ans de réflexion
Photos scène 2
Le pot de fleurs du balcon de 'la fille' (Marilyn Monroe) est tombé sur le tranza de la terrasse de Richard Sherman (Tom Ewell) , qui a failli le recevoir.
Flower pot on the balcony of the 'girl' fell on the tranza of Richard, who failed to receive it on him.
---
© All images are copyright and protected by their respective owners, assignees or others.
copyright text by GinieLand.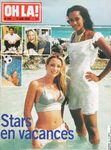 Le magazine OH LA ! n°254, du 5 août 2003, consacrait un article de 4 pages intitulé "Les dessous tragiques du mariage de Marilyn Monroe et Joe DiMaggio", avec le témoignage de Dolores Hope Masi.