30 octobre 2013
Le magazine hors-série Les Cahiers de l'Express n°20, paru le 16 octobre 2013, est entièrement consacré à la famille Kennedy, avec 1 page sur Marilyn Monroe: "Extrait. Marilyn Monroe, enquête sur un assassinat. Par Don Wolfe".
Prix: 5,90 Euros
> visuel page sur Marilyn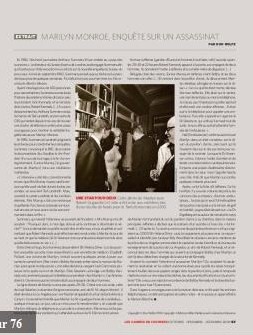 Burnt Orange Rib Knit Dress
Robe orange striée en laine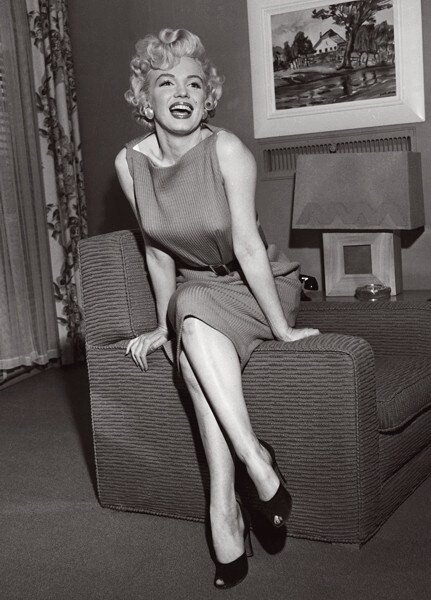 Marilyn Monroe ne va porter cette robe qu'à une seule occasion médiatique: le 15 avril 1954 où elle donne une conférence de presse à Hollywood pour célébrer son retour à la 20th Century Fox, après ses démêlés avec le studio. Elle va répondre aux journalistes, prendre la pose dans un fauteuil et devant une commode où trône une photographie de son récent époux Joe DiMaggio, mais aussi chanter avec le pianiste Hal Schaeffer, qui est aussi son professeur de chant avec qui elle s'entraîne pour les chansons du film There's no business like show business (La Joyeuse Parade) mais qui est aussi son amant. Puis elle va aussi recevoir le prix de "National Movie Poll Award" remis par le "Hollywood reporter". Ils s'agit donc d'un événement médiatique important pour Marilyn et pour marquer son retour, elle porte une robe sans manches en tricot strié et au col bateau gainant d'une couleur orange prononcé, qu'elle accessoirise d'une ceinture blanche (qu'elle va ensuite changer avec une ceinture noire) et des escarpins marrons ouverts aux orteils.
Le couturier de cette robe reste inconnu.
> changement de ceinture: de la blanche à la noire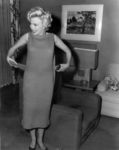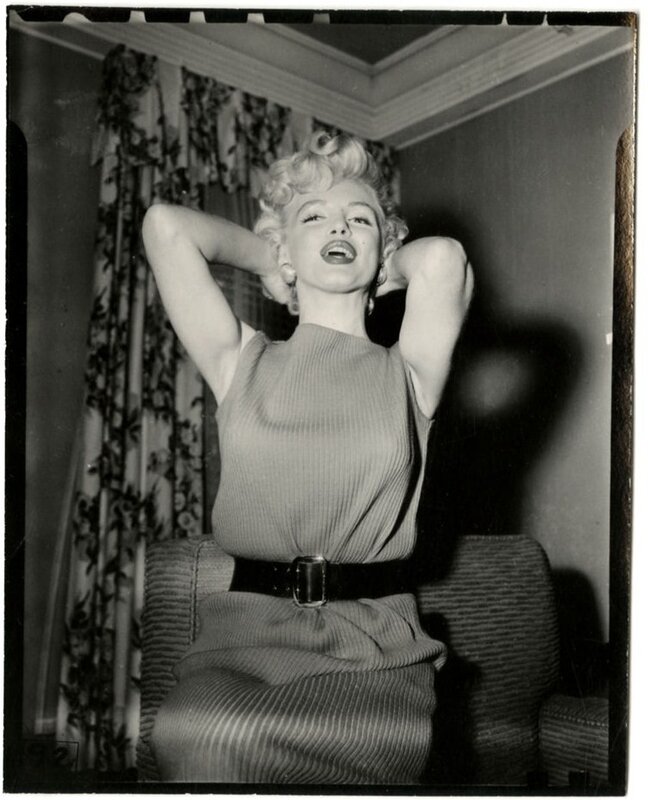 Aux oreilles, elle porte les boucles blanches boules qu'elle portera à nouveau dans la célèbre scène de "Sept ans de réflexion", celle où sa robe blanche se soulève par l'air de la grille d'aération du métro.
> Les boucles d'oreilles blanches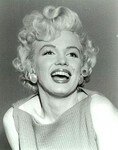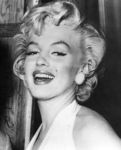 ---
Une autre actrice qui était considérait comme une sorte de double de Marilyn, va porter cette robe: il s'agit de Jayne Mansfield. Il y a donc de fortes chances à croire que cette robe n'appartenait pas à Marilyn et que celle-ci l'avait emprunté aux studios.
Jayne va emmener cette robe dans ses bagages pour sa tournée promotionnelle en Europe en septembre et octobre 1957 pour la tournée publicitaire du film "Will Success Spoil Rock Hunter ?" ("La Blonde Explosive"). Jayne va se rendre en Angleterre, en France, en Italie, en Allemagne, au Danemark.
> Jayne à sa descente d'avion au Danemark
le 10 octobre 1957: visite des locaux d'un journal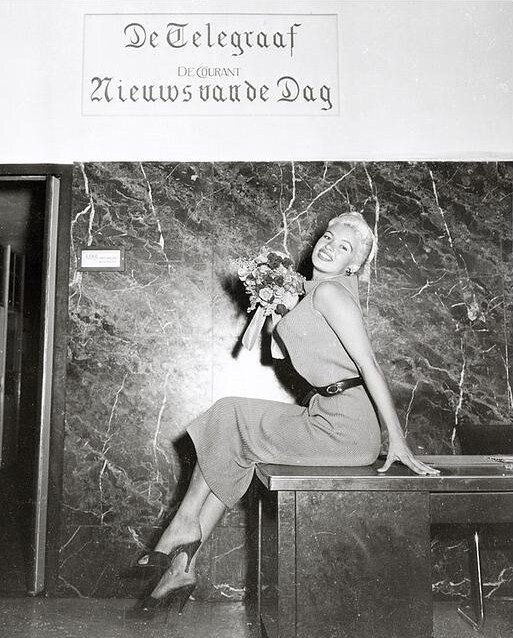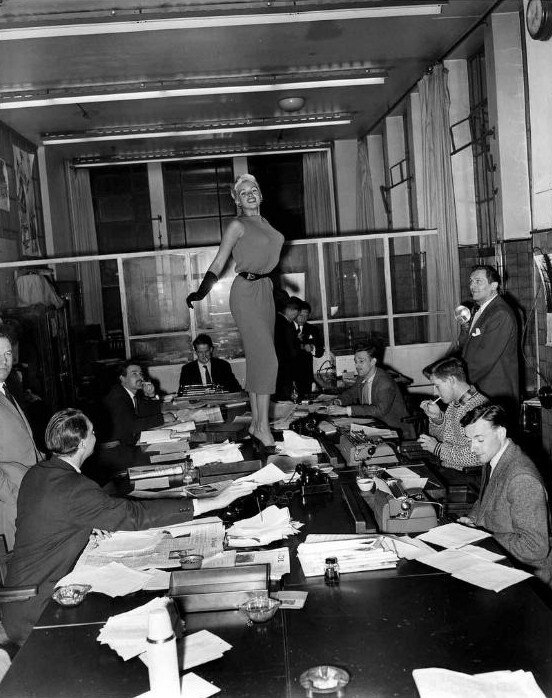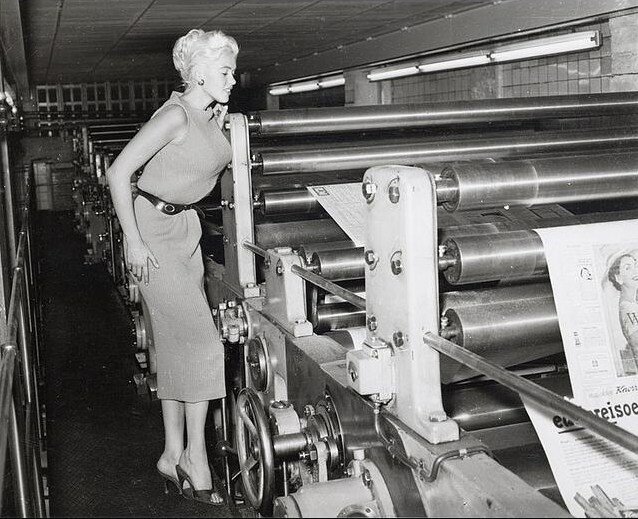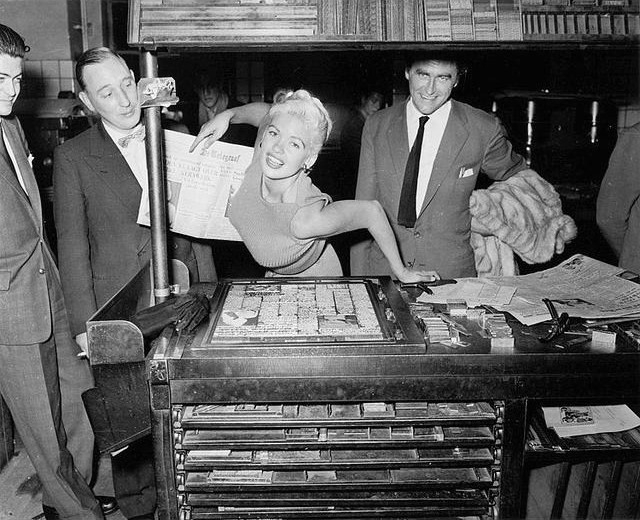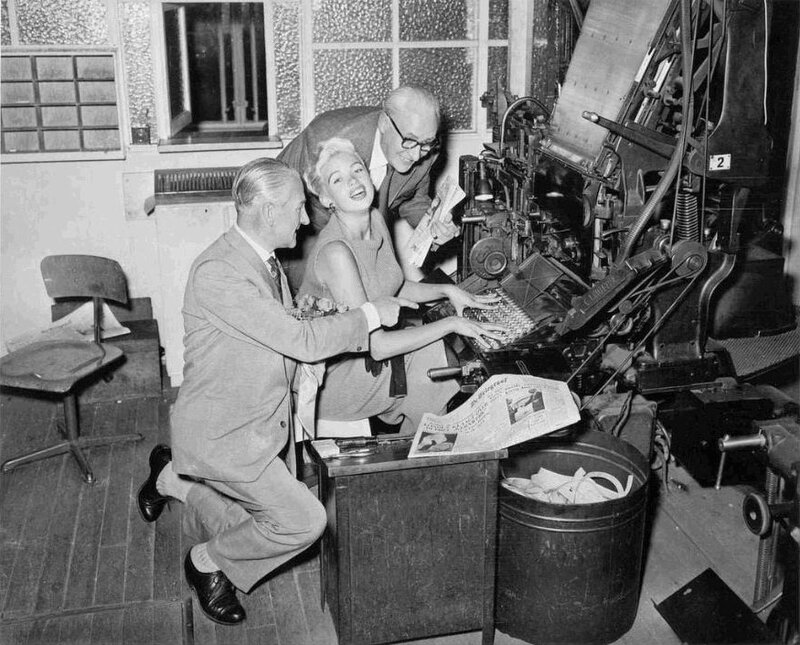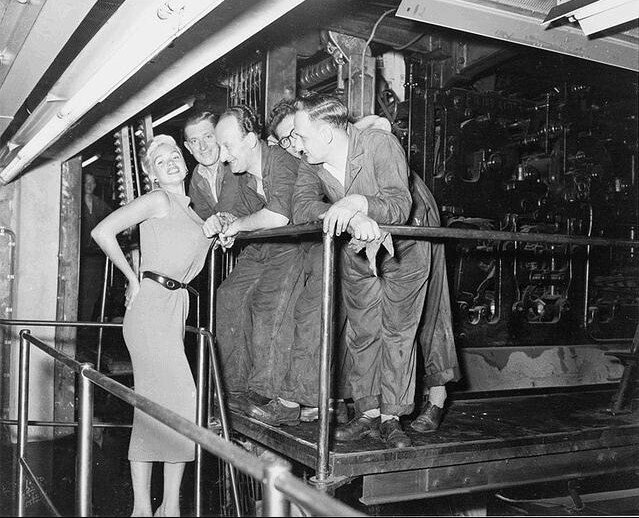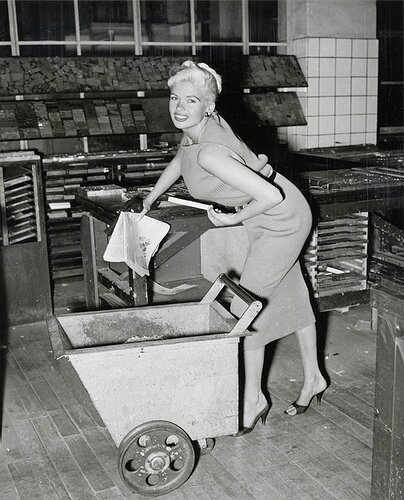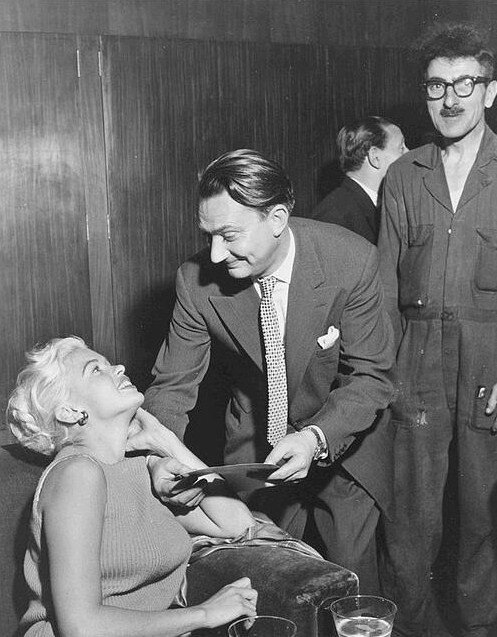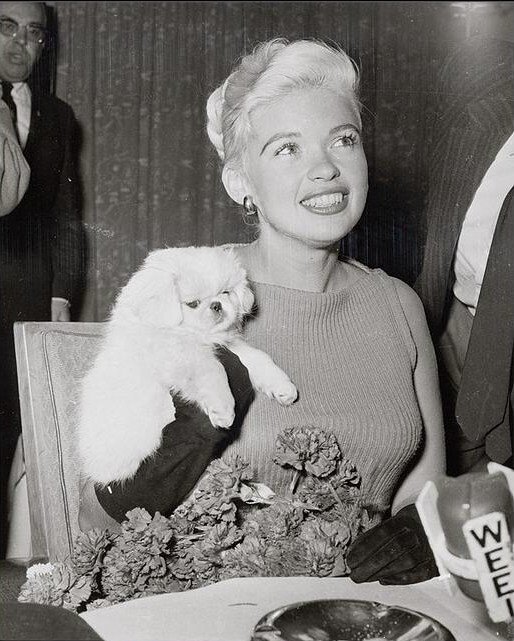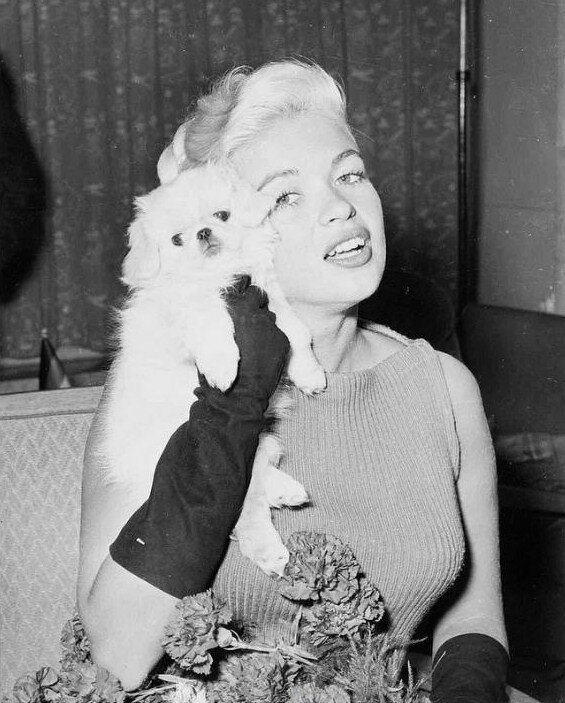 > Jayne et son mari Mickey Hargitay (vers 1958)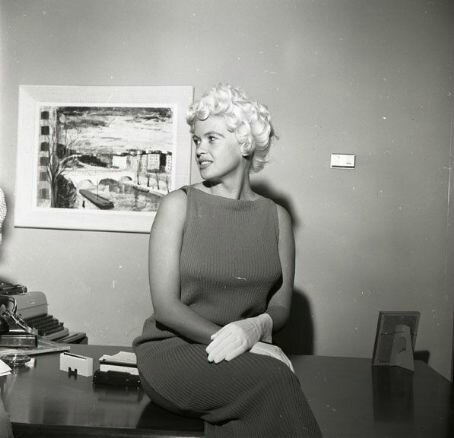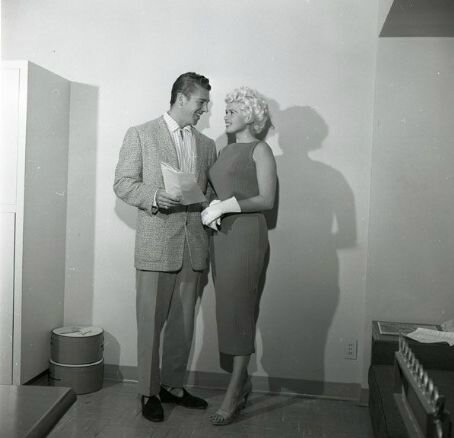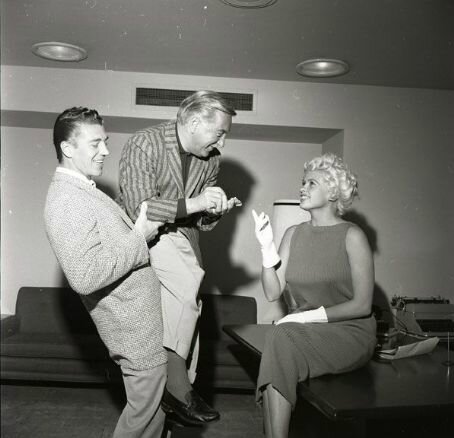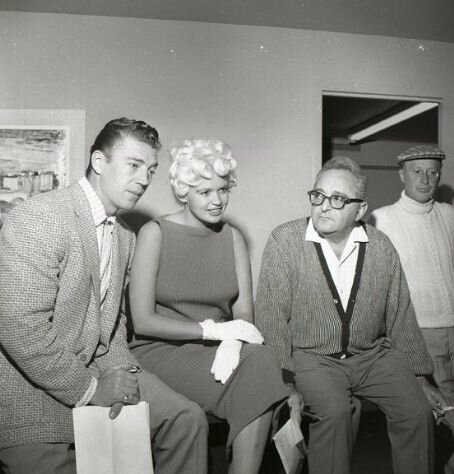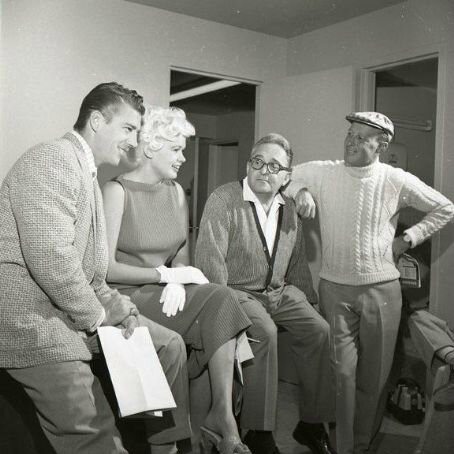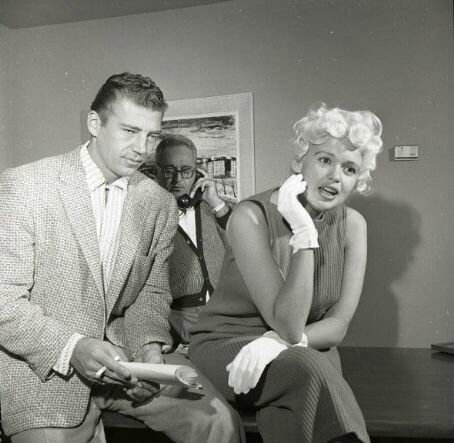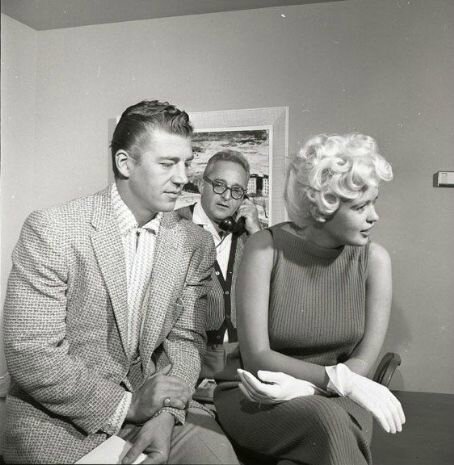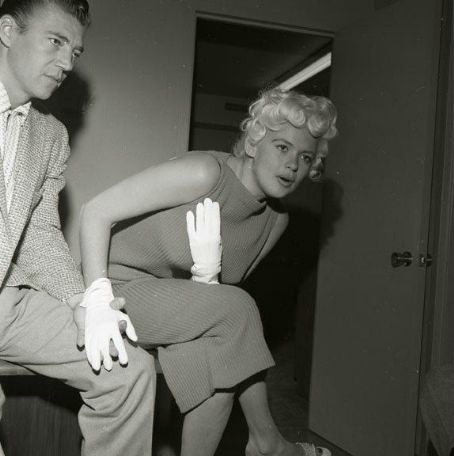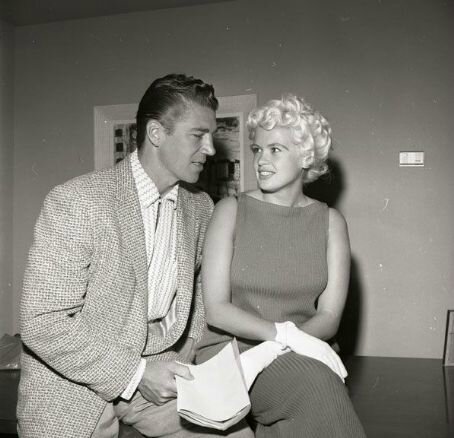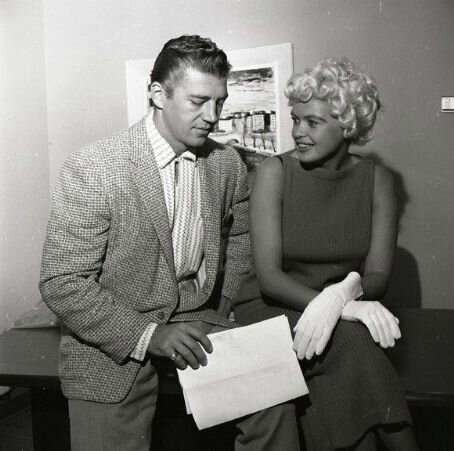 > Jayne signe le contrat de son étoile Walk of Fame (1960)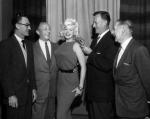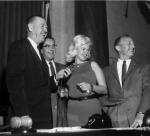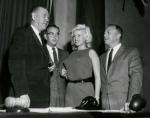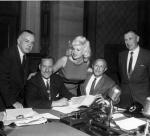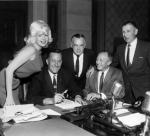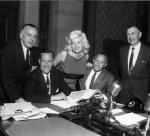 ---
L'actrice Kim Novak semble porter aussi le même modèle de robe, mais dans une teinte plus foncée:
> Kim Novak (à gauche) avec Debbie Reynolds (à droite)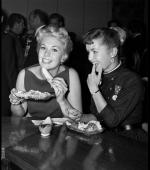 ---
© All images are copyright and protected by their respective owners, assignees or others.
copyright text by GinieLand.
Enregistrer