Le 24 janvier 1955, Marilyn Monroe et son ex-mari Joe DiMaggio dînent dans un restaurant de Boston avec le frère de Joe, Dominic DiMaggio et la femme de ce dernier, Emily. Quand les journalistes demandent au couple qu'ils se sont réconcilés, Marilyn leur répond: "Non, pas du tout. C'est juste une visite". Joe ne fait aucun commentaire. Le couple est invité par Dominic, à son domicile de Wellesly, dans le Massachusetts.
Photographies de Bob Nelson.
On January 24, 1955, Marilyn Monroe and ex-husband Joe DiMaggio dining in a restaurant in Boston, with the brother of Joe, Dominic DiMaggio and his wife Emily. When reporters ask to Marilyn if their meeting was a reconciliation, she answers: "No, it isn't. Just call it a visit". Joe refused to comment. The couple will be the guests of Dominic at his Wellesly, Massachusetts, home while visiting Massachusetts.
---
Le lendemain (ou le soir même), Joe raccompagne Marilyn à son hôtel de New York. C'est une journée brillante pour DiMaggio, il a été élu au 'Baseball Hall of Fame' par l'Association des auteurs de baseball .
The day after (or the same night) Marilyn Monroe gets out of Joe Dimaggio's car in front of a New York hotel. It is an auspicious day for DiMaggio; He was elected to the Baseball Hall of Fame by the Baseball Writers Association.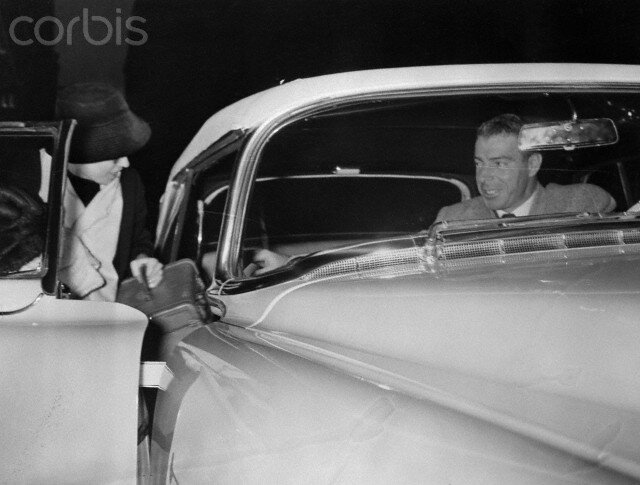 ---
© All images are copyright and protected by their respective owners, assignees or others.
copyright text by GinieLand.