20 décembre 2013
Quelques instantanés de Marilyn Monroe pris à New York vers 1955
Some candids shot of Marilyn Monroe taken in New York City circa 1955
---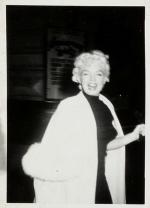 ---
> Marilyn avec John Reilly, un fan de la bande des "Monroe Six"
Marilyn with John Reilly from the "Monroe Six" group of fans.
---
> photographie de James Collins des Monroe Six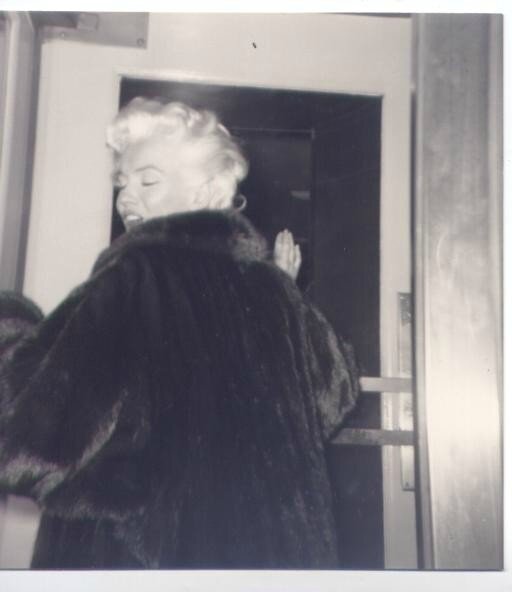 ---
> Marilyn avec -probablement- Susan Strasberg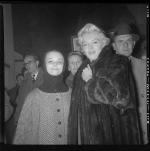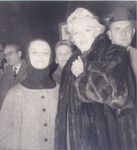 photographie collection Frieda Hull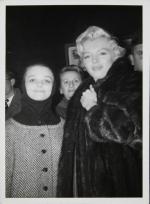 ---
---
---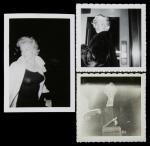 photographies collection Frieda Hull

---
© All images are copyright and protected by their respective owners, assignees or others.
copyright text by GinieLand.

Enregistrer
Enregistrer
Le 22 mars 1950, Marilyn Monroe signe son contrat pour son rôle de Iris Martin dans le film Hometown Story (sous le titre provisoire de "Between the lines") : il est stipulé qu'elle percevra un salaire de 350 Dollars par semaine; et que le tournage débutera le 24 mars 1950. Marilyn vivait au 1301 North Harper Avenue à Hollywood (Californie).
On 1950, March, 22, Marilyn Monroe signs her contract for her role of Iris Martin in the movie "Hometown Story" (under the temporary title "Between the Lines") : she earns a salary of 350 Dollars per week; the shooting of the movie begins some days later, on March, 24.
Marilyn lived in 1301 North Harper Avenue, West Hollywood, CA.

---
© All images and documents are copyright and protected by their respective owners, assignees or others.
copyright text by GinieLand.
Tailored Dress
from 'We're not married'
robe tailleur portée dans le film
"Cinq mariages à l'essai"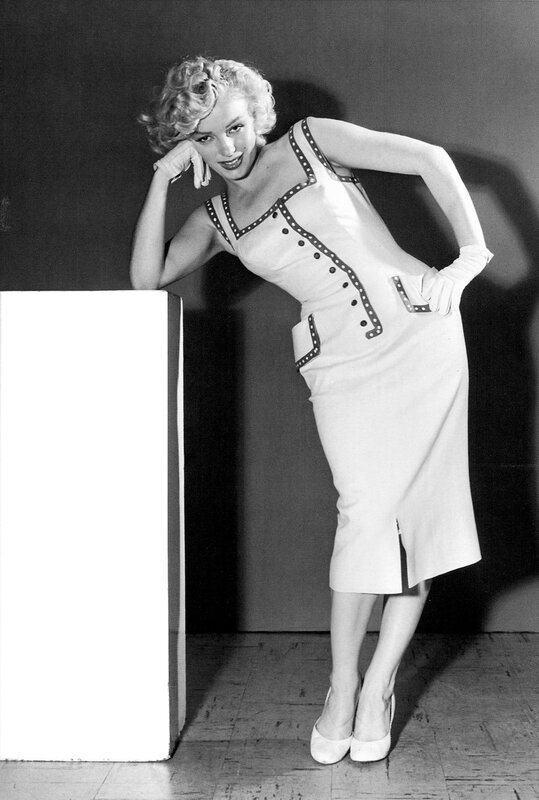 Cette robe tailleur a été conçue par la costumière de cinéma et de télévision Elois Jenssen pour le film We're not married tourné au début de l'année 1952. Cette longue robe de style tailleur est de couleur beige très clair, boutonnée au buste jusqu'au bassin par huits gros boutons foncés qui contrastent avec le tissu clair de la robe; ainsi que des larges bandes de garnitures en pointillées au niveau du décolleté et des poches; avec une jupe droite faussement fendue au milieu sur le devant, suivant une ligne de tissu replié.
La robe est accessoirisée par deux éléments: d'abord, la fine ceinture blanche nouée à la taille; puis le court boléro sans manche au col montant à la nuque, et du même design que la robe (même couleur, et avec une large bande de pointillés au niveau du col et des emmanchures). Marilyn Monroe fit des essais de test costumes avec cette tenue le 11 janvier 1952 , portant la robe tantôt sans le boléro, tantôt avec, mais accompagnée d'un petit chapeau blanc se portant à l'arrière de la tête et contenant une grande plume à l'horizontal. Cependant, la tenue restera dans les placards, car elle n'a finalement pas été retenue pour les costumes du film et Marilyn ne porte pas cette robe dans le film.
---
Le 12 février 1952, Marilyn se rend à UCLA , l'Université de Californie à Los Angeles, pour un reportage photographique qui paraîtra dans le magazine Movies Day à l'automne 1952. Et pour l'occasion, elle choisit de porter la robe tailleur avec la veste.
---
Entre

fin août et début septembre 1952

, Marilyn est à Atlantic City pour promouvoir la sortie du film Monkey Business. Durant son séjour, elle en profite pour visiter un
hôpital pour enfants

le

30 août 1952

. Et pour cette occasion, elle porte la robe tailleur qui a suivi quelques modifications: la longueur a été relevée (la robe est légèrement plus courte) et surtout, elle a été fendue sur le devant. Marilyn ne porte pas la ceinture, mais elle a accessoirisée sa tenue en portant de petits gants blancs afin d'accentuer le côté chic de la tenue.
Enregistrer