09 janvier 2014
Le magazine américain Newsweek, édite un numéro spécial consacré à Marilyn Monroe sorti le 8 janvier 2014 (et disponible jusqu'au 18 mars 2014).
Prix: ?
> information on newsweek.com
What started as an entire issue of Marilyn Monroe's favorite photographers sharing their their favorite pictures and anecdotes about the iconic actress, turned into a never-before-seen look inside Marilyn's mind. Through conversations with legendary photographer Lawrence Schiller, we discovered he had a "Lost Scrapbook" in his personal archives that has been locked away for nearly 60 years.
Written in her own hand (in crayon), and filled with her personal photos, The Scrapbook is a love note to a man she had an affair with (Sam Shaw) perhaps while married to Joe Dimaggio and Arthur Miller. It consists of photos of Marilyn that Sam Shaw took glued into a notebook, with hand-written notes on each page in crayon. There are very few never-before-seen Marilyn Monroe moments left in the world and that is what makes this Newsweek Special Issue so special.
"Marilyn Monroe's Lost Scrapbook" is on sale Thursday, January 9th in Walmart and Barnes & Noble and on newsstands nationwide Tuesday January 14th.
---
Let's Get Lost: The Missing Marilyn Scrapbook

By Jeff Ashworth / January 08 2014 6:33 PM
online on newsweek.com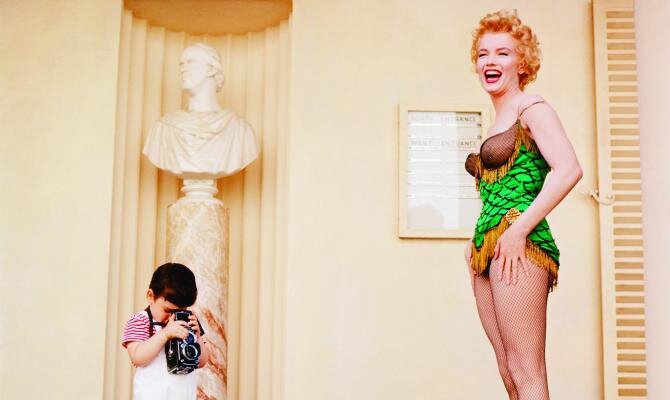 After more than 40 years a little bit of the woman no one really knew is revealed in an artifact no one's ever seen.
Photograph by Milton H. Greene ©2013 Joshua Greene/ArchiveImages.com
"My friend Sam Shaw gave me this scrapbook in 1973," says Lawrence Schiller, a photojournalist and author, whose latest book is Marilyn & Me. "I was at my office on Sunset Boulevard. Sam brought it in a tattered brown-paper bag, opened it up, then laid it out on the desk. 'Take a look at this,' he said." Marilyn had died 10 years earlier, but according to Schiller "she'd made this for Sam. She picked out all her favorite pictures, which I believe Sam had taken of her, and on each page she'd used a different colored crayon," says Schiller. "My first impression of the scrapbook was surprise. I couldn't imagine Marilyn doing something like this. A child? A teenager? Maybe. But not Marilyn."

Schiller first met Marilyn in 1960, on the set of Let's Make Love. "I'd been hired to shoot her for Look magazine," Schiller recalls. "I kept telling myself it was just another assignment, but it wasn't. I was 23 years old. She was every man's—and woman's—fantasy. The Marilyn Monroe." A few years later, Schiller's photos of her nude in the swimming pool on the set of Something's Gotta Give earned him his first Life cover. "Seven weeks later, she was gone," he says.


Photos of Marilyn Scrapbook Courtesy of the Archives of Polaris Communications
According to a Sam Shaw biography, Shaw met Marilyn on the set of 1952's Viva Zapata! Shaw was friends with the director, Elia Kazan. He didn't drive, so he needed someone to get him to the set to shoot photos. Kazan asked Marilyn to drive Shaw, and they hit it off. The iconic shot of Marilyn on the subway grate with her dress blowing up was his idea. "He was a brilliant photographer," says Schiller. "His photos speak for themselves."
"Sam and I used to go to Vincent Rao's together in New York with Norman Mailer, John Cassavetes, all of us," says Schiller. "Our relationship went on for several years, and we became good friends. He even confided in me at one point that he'd had an affair with Marilyn. I joked with him, 'You and Andre de Dienes are probably the only two who did.' He looked back at me and said, 'Well, why didn't everyone?' And I said, with a little smile, speaking only for myself, 'I can tell you that I was scared s***less because if I wasn't that good in bed I might not be photographing her the next day.'"
"I wasn't surprised when Sam told me about the affair with Marilyn," says Schiller. "But this scrapbook was a surprise. And it stayed in that brown bag for a lot of years."

Photos of Marilyn Scrapbook Courtesy of the Archives of Polaris Communication
"Marilyn Monroe's Lost Scrapbook," a special Newsweek issue, is on sale in Walmart and Barnes & Noble, and on newsstands nationwide Tuesday January 14th.
The works of Milton H. Greene consist of a collection of timeless images including some of the most memorable icons of the 20th century, and can be viewed at the Archives LLC's website, thearchivesstore.com.