16 janvier 2014
Marilyn Mon Amour
L'album intime de son premier photographe
Auteur: Andre De Dienes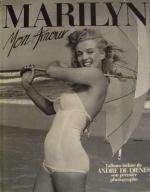 Date de sortie: 1985
Relié 155 pages
Langue Français
Editeur: Filipacchi
Prix éditeur: 15 Euros
ISBN-10: 2850185957
ISBN-13: 9782850185953
Ou le commander ? sur priceminister
Description: On croyait tout connaître de la vie de Marilyn Monroe. On croyait avoir vu toutes les photos parues dans les centaines d'ouvrages publiés dans le monde. Et pourtant...en 1945 à Los Angeles un jeune photographe, André de Dienes cherche dans les agences un modèle pour des nus artistiques. Une jeune fille se présente, elle s'appelle Norma-Jeane Baker. Ébloui par sa fraîcheur , de Dienes tombe amoureux d'elle. Il commence à la photographier, l'emmène en voyage. Il l'aime, veut l'épouser. Elle veut faire carrière. Sous l'objectif de de Dienes, Norma-Jeane deviendra Marilyn. Il restera son ami, son photographe préféré. Cette extraordinaire histoire, personne ne la connaissait. André de Dienes en avait jalousement conservé le souvenir et les photos. Cet album célèbre une Marilyn inconnue, la métamorphose d'une débutante en une star éblouissante. André de Dienes nous révèle aussi l'émouvante intimité qui s'est établie au fil des années entre le photographe et son modéle. Marilyn mon amour, l'ultime hommage d'un homme amoureux à une femme inoubliable.
---
Marilyn Mon Amour
The Private Album of Andre De Dienes
Author: Andre De Dienes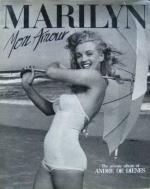 Publication Date: 1986
Number of pages 160 pages
Language English
Publisher: Sidgwick & Jackson Ltd
Dimensions du produit: 31,5 x 25,4 x 2,3 cm
Price: ?
ISBN-10: 0283993375
ISBN-13: 978-0283993374
Ou le commander ? sur amazon.fr
---
Vous avez le livre ? Do you have the book ?
Apportez votre critique, votre avis ou votre note (/10)
Arrêt d'Autobus
Photos scène 5
Bo (Don Murray) annonce à Virgil (Arthur O'Connell) qu'il a trouvé son "ange", Cherie (Marilyn Monroe).
> Photographies de Milton Greene
Photographs of Milton Greene
---
Bo (Don Murray) fait ses exercices d'entraînement
à l'hôtel avec (Arthur O'Connell)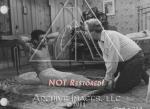 ---
© All images are copyright and protected by their respective owners, assignees or others.
copyright text by GinieLand.