The Loves of Marilyn
Authors: Life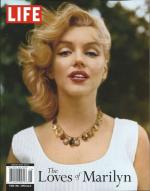 Publication Date: Septembre 2014
Relié 112 pages
Language English
Editeur: Life
Prix éditeur: 14,04 Euros
ISBN-10: 1618931253
ISBN-13: 978-1618931252
Ou le commander ? sur amazon
Description: LIFE was in its heyday in the 1950's and 60's, when Marilyn was at the peak of her fame. In ten years (between 1952 and 1962) LIFE put her on the cover six times. Had she lived, she might well have challenged Liz Taylor's supremacy and her close connection to LIFE magazine.
Central to Marilyn's mystique has always been her love life - filled with rumors, romantic entanglements and multiple marriages, all before she died prematurly at the age of 36. Within its pages, LIFE captured everything from her flirtations with co-stars to her genuine affection for her husbands to her tragic divorces. All three of her marriages (two famously to Joe DiMaggio and Arthur Miller), ended in divorce, and she was rumored to have multiple affairs, including one with JFK.
From famous pictures such as Marilyn singing "Happy Birthday Mr. President" to John F. Kennedy to lesser known shots such as those from her divorce proceedings with Joe DiMaggio, this book will feature both iconic and rare photography and provide fans of Marilyn with a definitive summary of her many romances.
---
Vous avez le livre ? Do you have the book ?
Apportez votre critique, votre avis ou votre note
/!/ Le livre ne doit sortir qu'en septembre 2014, étonnemment, on le trouve déjà sur ebay (en ce début de mois février), soyez vigilants et informez-vous sur les vendeurs !! Le livre est en précommande sur amazon.