Marilyn and Me, John Stephens on filming Bus Stop in Sun Valley

by Jennifer Tuohy
online blog.sunvalley.com
The Valley Sun introduces a new series from guest blogger Jennifer Tuohy. In Stories from the Staff, she highlights the stories of former employees, talking about their time at Sun Valley and where their Sun Valley experience has led them. In this two-part opener she profiles John M. Stephens, a famed cinematographer who worked as a photographer for Sun Valley from 1955 to 1959. His groundbreaking career included such movie classics as Grand Prix, South Pacific, Titanic, ET, Field of Dreams and Indiana Jones.

John M. Stephens, the famed cinematographer who got his start in Sun Valley.
One evening in 1956 a 24 year-old kid found himself sitting in The Ram drinking with the cast and crew of a big Hollywood motion picture. One of his companions, chatting and laughing along with the grips, gaffers and cameramen of Bus Stop, was Marilyn Monroe.

Since the moment The Lodge opened its doors in 1936, Sun Valley has welcomed countless Hollywood stars. But stories of the ski resort launching Hollywood careers are few and far between. For the young John M. Stephens, sitting in The Ram that night was not only a dream come true, it was the start of a long, glittering and hugely successful career as a celebrated cinematographer. And it all began in Sun Valley.

A few months earlier, Stephens had been just another kid fresh off a Navy ship looking for a job. He knew what he wanted to do, he wanted to shoot pictures. The Navy had given him a valuable skill, the ability to shoot pictures in extreme, hair-raising conditions. So far, he had been able to apply that skill to the sport of skiing – photographing his pal Doug Pfeiffer at the ski resort he founded in Southern California, Snow Summit. But it wasn't Hollywood.

After being unceremoniously booted out of the Motion Picture Cameraman Union office, with the words "You'll never work in this town" ringing in his ears, he joined Pfeiffer on a trip to Sun Valley, Idaho, where the skiing legend wanted to shoot pictures for his new book Skiing With Pfeiffer.

"I went up there with him," said Stephens, now 80, from his home in Laguna Niguel. "And while Doug went off skiing I went to the publicity department." He met with Sun Valley's publicity guru Dorice Taylor and showed her his book of ski action photography. Within hours he was hired.

"They gave me a room in the basement of The Lodge and tried me out that winter." he said. "I took a lot of publicity pictures of the socialites that came up, Hollywood people, shooting pictures to send to hometown papers. I'd follow guests around and do a ski action book for them of their vacation. Skiing all the time with a camera."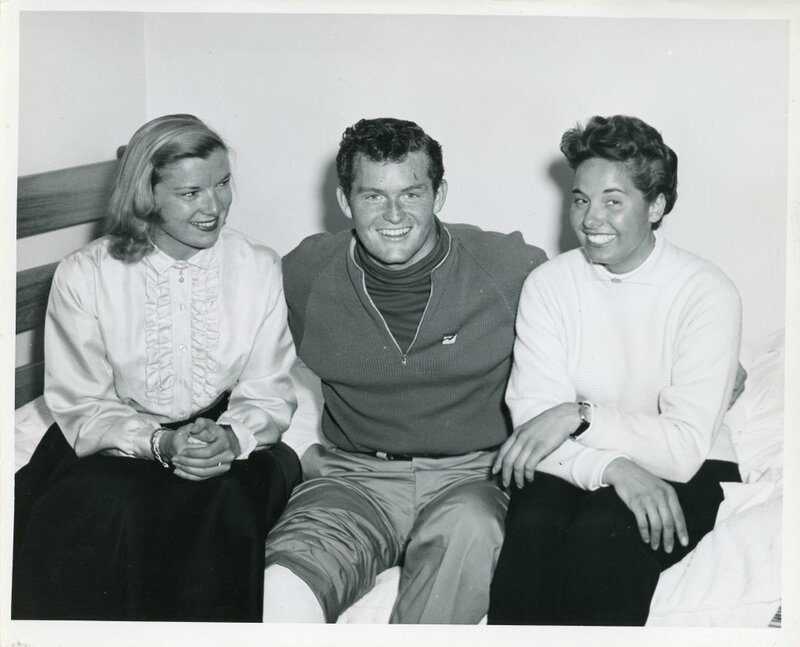 Stephens spent a spell in the Sun Valley hospital after breaking his leg during one of the 3 winters he spent photographing for the resort.
After a few weeks of shooting the likes of Gary Cooper, Leif Odmark and Sigi Engl on skis, opportunity came barreling over the mountain. "When the production crew for Bus Stop came up to Sun Valley to shoot, I was sent up to North Fork to take publicity shots of the production," Stephens said. "I took a lot of pictures of Marilyn up there around Galena Summit and at the North Fork gas station. One day an assistant cameraman took sick and they asked me if I'd help them out for a few days. Dorice said it was okay, as long as I could still shoot pictures for Sun Valley, so I ended up working for them as a cameraman, holding the slate."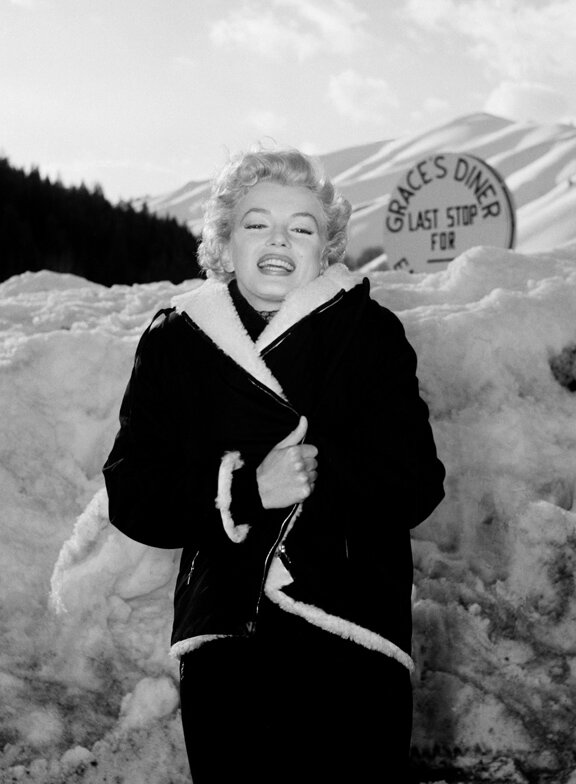 Stephens captured this iconic image of Marilyn Monroe while she was shooting Bus Stop in Sun Valley. "We got to be friends on the set," he said. "She'd come up to talk to me, she was very friendly and very nice."
While the job wasn't particularly glamorous, it opened up the closed world of the Hollywood studio system to Stephens. The crew took him under their wing, showing him how to operate the equipment and teaching him the basics of a cameraman's job.

When another production crew rolled into town a few weeks later, Stephens was ready for them. They were looking for someone skilled and fit enough to ski with a new 70mm widescreen camera that weighed 25 lb, to shoot a promotional film for the first widescreen picture of its kind, Oklahoma. The shots of skiing in Sun Valley feature Trail Creek Cabin, Lookout and some excellent slope and tree skiing down Baldy in the 50s, all filmed by Stephens.

With two Hollywood flicks under his belt, he headed back to the union office and walked out with his coveted card. His next stop was to look up his Bus Stop friends at 20th Century Fox. They introduced him to the head cameraman who hired Stephens as 2nd assistant cameraman on South Pacific.

He went back to Sun Valley for two more winters following his Hollywood breakthrough, and today he says he owes it all to the little mountain town. "It was in Sun Valley that it all got going, Got me into the union and started a career that has been spectacular," Stephens said.
"John Stephens has gone where the action is," said the Society of Operating Cameramen in 1994 when it gave him the Technical Achievement Award for developing the first remotely controlled pan and tilt head camera on the Oscar-winning Grand Prix. "A top second unit cameraman and director he has photographed some of the most exciting images ever recorded on film. From breaking new ground on Grand Prix to the exciting bicycle chase in Steven Spielberg's ET, John has photographed the action from virtually every kind of vehicle, from lear jets to helicopters. (He has survived three helicopter crashes)."

The summer after his final Sun Valley ski season, he was hired to work on Lets Make Love. On his first day on set he was standing behind the camera when a pair of hands slipped over his eyes. "Well, well," an unmistakable voice said into his ear. "Now what are you doing here?" It was Marilyn.