Le mardi 7 août 1962, la police de Los Angeles et celle de New York font l'inventaire des fourrures et des bijoux de Marilyn Monroe. Ils sont stockés temporairement aux postes de police pour être conservés en sécurité.
On Tuesday, August 7, 1962, Los Angeles Police and New York Police made an inventory of Marilyn Monroe's furs and jewelry . They are temporarily stored at police stations to be kept safe.
> Los Angeles

---
Au Grauman's Chinese Theatre de Los Angeles, des petites filles mettent leurs mains dans les empreintes laissées par Marilyn (le 26 juin 1953).
At Grauman's Chinese Theatre in Los Angeles, little girls put their hands in the handprints left by Marilyn (in June, 26, 1953).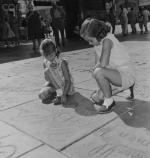 ---
Joe Jr., le fils de Joe DiMaggio, arrive à Santa Monica avec son costume pour assister le lendemain aux funérailles de Marilyn.
Joe Jr., the son of Joe DiMaggio, arrived in Santa Monica with his costume to attend the day after the funeral of Marilyn.
---
Dans la journée, Eunice Murray (la gouvernante de Marilyn), Inez Melson (la conseillère financière de Marilyn) et Berniece Miracle (demie-soeur de Marilyn) se retrouvent à la maison de Marilyn, au Fifth Helena Drive dans le quartier de Brentwood de Los Angeles, pour choisir la tenue que Marilyn portera pour ses funérailles. Quand Berniece demande où se trouvent les robes bleues de Marilyn, Eunice Murray lui explique que Marilyn ne portait plus de bleu depuis longtemps. Eunice choisit une robe vert pâle de Pucci suspendue dans la penderie, qui était la robe préférée de Marilyn.
In the afternoon, Eunice Murray (Marilyn's housekeeper), Inez Melson (financial advisor of Marilyn) and Berniece Miracle (half-sister of Marilyn) are meeting in Marilyn's house at Fifth Helena Drive at Brentwood, in Los Angeles to choose the outfit that will wear Marilyn for her funeral. When Berniece asks where are the Marilyn's blue dresses, Eunice Murray explains that Marilyn was not wearing color blue since a long time. Eunice chooses a Pucci pale green dress hanging in the closet, which was the favorite dress of Marilyn.
> Eunice Murray au 5 Helena Drive
-photographies de Gene Anthony-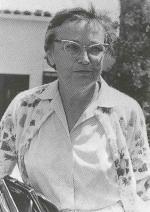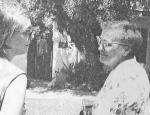 > Eunice Murray accueille Berniece Miracle et Inez Melson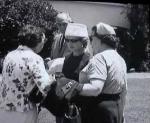 > Berniece Miracle ressort avec les affaires vérifiées par la police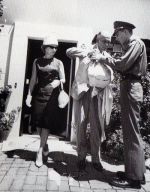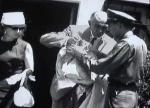 > Berniece Miracle avec Inez Melson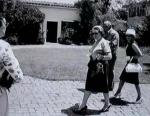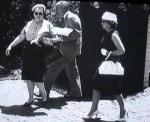 Après qu'elles soient sorties de la maison, la police pose à nouveau les scellés sur la porte.
After they have gone out the house, the police once again raises the seals on the main door.

La robe verte de chez Pucci choisie pour l'inhumation de Marilyn était la robe qu'elle avait portée le 22 février 1962 à la conférence de presse au Hilton de Mexico:
The green dress from Pucci which has been chosen for the burial of Marilyn was the dress that she wore in February, 22, 1962 at the press conference at the Hilton in Mexico City:
---
Puis Berniece se rend au cimetière Westwood Village Mortuary, où elle s'entretient avec le révérend Floyd Darling.
Berniece then goes to the Westwood Village Mortuary Cemetery , where she speaks with the Rev. Floyd Darling.
Joe DiMaggio reste 4 à 5 heures seul dans la pièce avec le corps de Marilyn.
Joe DiMaggio stays 4 to 5 hours alone in the room with the body of Marilyn.
---
On prépare la chapelle du cimetière de Westwood où aura lieu la cérémonie des funérailles.
The chapel of the Westwood cimetery where the ceremony will be held is prepared.
---
L'emplacement où reposera Marilyn Monroe est décidé: elle sera inhumée dans la crypte au marbre rose du "corridor of Memories" n°24 du cimetière de Wetswood Village Memorial Park.
The place where Marilyn Monroe will be rested is decided: she will be intered in a pink marble crypt at Corridor of Memories, #24, at the Wetswood Village Memorial Park Cimetery.
---
Le cercueil dans lequel elle reposera a été fabriqué par la société de cercueil Belmont à Shadyside, dans l'Ohio. C'est un cercueil que l'on a appelé la "Cadillac des cercueils" - en argent antique de gros calibre, de fermeture hermétique, en bronze doublé à l'intérieur d'un tossi de satin de couleur champagne-soie.
The casket in which she will rest was manufactured by the Belmont casket company in Shadyside, Ohio. It's a casket known at that time as the "Cadillac of caskets" – a hermetically sealing antique-silver-finished 48-ounce (heavy gauge) solid bronze "masterpiece" casket lined with champagne-colored satin-silk.
---
© All images are copyright and protected by their respective owners, assignees or others.
copyright text by GinieLand.