Le matin du lundi 6 août 1962, Berniece Miracle (la demie-soeur de Marilyn) arrive de Gainesville, au Texas, où elle vit, à l'aéroport de Los Angeles. C'est Inez Melson (la conseillère financière de Marilyn) qui vient la chercher à l'aéroport.
On Monday morning, August 6, 1962, Berniece Miracle (Marilyn's half-sister) arrives from Gainesville, Texas, where she lives, at Los Angeles. This is Inez Melson (Marilyn's financial advisor) who joins her at the L.A. airport.

> Berniece Miracle avec Inez Melson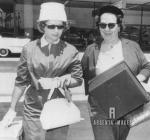 Elles se rendent au cimetière de Westwood Village pour finaliser l'organisation des funérailles de Marilyn avec Joe DiMaggio.
They go to the Westwood Village Mortuary to make final arrangments for the funeral services with Joe DiMaggio.
> Berniece Miracle avec Inez Melson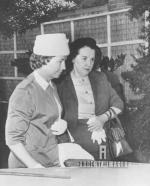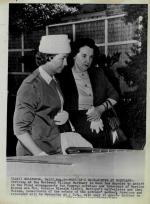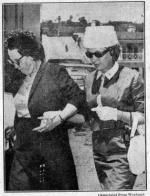 Joe DiMaggio se rend au cimetière de Westwood Village Memorial Park pour organiser les funérailles de Marilyn Monroe (qui se tiendront le 8 août), en compagnie de Milton Rudin (l'avocat de Marilyn).
Joe DiMaggio goes to Westwood Village Memorial Park to make arrangments for the funeral of Marilyn Monroe (which will be held in August, 8) with Milton Rudin (the Marilyn's lawyer).
> Joe DiMaggio (photo de Lawrence Schiller)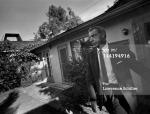 > Joe DiMaggio et Milton Rudin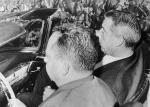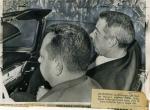 ---
Inez Melson et son mari se rendent à la maison de Marilyn, au Fifth Helene Drive, pour trier les effets personnels de la star. Melson se souvient que la table de nuit était encore encombrée de divers flacons: "Nous en trouvions sans cesse: des somnifères, du nembutal et du seconal". Soucieuse de la réputation de Marilyn, Mrs Melson détruit alors les pillules, en les jetant dans les toilettes et en emportant le reste pour les mettre à la poubelle. Elle a par la suite beaucoup regretté son geste.
Inez Melson and her husband go to Marilyn's house at Fifth Helena Drive, to sort the belongings of the celebrity. Melson remembers that the night table was still cluttered with various bottles: "We found it constantly: sleeping pills, nembutal and seconal." Concerning about the reputation of Marilyn, Mrs. Melson then destroyed pills, throwing them in the toilet and taking the rest to put in the trash. She has later deeply regretted her actions.
---
Eunice Murray est interviewée par des journalistes: "Je n'ai jamais vu Marilyn Monroe pleurer" et elle ajoute: "Marilyn n'a jamais parlé de la mort".
Eunice Murray talks to press: "I never saw Marilyn Monroe cry." She also says "Marilyn never mentioned death."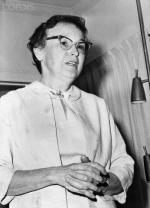 ---
En début d'après-midi, à 14 heures, le corps de Marilyn Monroe est transféré de la morgue au cimetière de Westwood, où auront lieu les funérailles.
At 2 pm, the body of Marilyn Monroe is wheeled from the Los Angeles County morgue and taken to Westwood Village Mortuary, Los Angeles, where funeral services will be held.
---
© All images are copyright and protected by their respective owners, assignees or others.
copyright text by GinieLand.