Eternity with the In-Crowd: Funny Fellows, Doomed Damsels and Hollywood Hangers-on of Westwood Village Memorial Park

by Hadley Mearers
published on October, 25, 2013
online kcet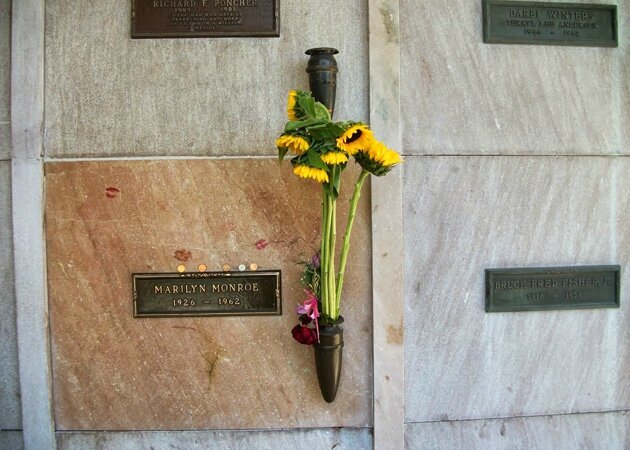 Is it bad luck to laugh in a cemetery? If it is, then I'm in for a lifetime of doom. Is it strange to feel the crackling of opportunity and mid-century American idealism in the air of the dead? Then I am one odd bird. Is there a graveyard where you can transport yourself into the VIP room of a Dean Martin Celebrity Roast? There sure is, pal o'mine, and it is right in the heart of our dear old Los Angeles, USA.

Westwood Village Memorial Park is hard to find, as any legendary Hollywood haunt should be. Nestled behind the towers of Wilshire Boulevard, off Glendon Avenue, it is hidden by tall trees and high walls. It is an elegant little cemetery, and when I get there on a Saturday afternoon, it is quietly humming. The sparse modern chapel, akin to a ski lodge, has been roped off in anticipation of a memorial service later in the day. A smattering of people mill along the grassy yard with their heads down. They are not mourners but tourists, forever on the hunt for the next name they recognize. Every few minutes one motions over to another, their eyes never leaving the ground. This is a signal that another celebrity has been "spotted," and a picture of the cold stone must be taken.

A bald man with purple shorts and a large calf tattoo walks slowly around the cemetery, placing a single sunflower on select celebrities' simple graves. Many of the names evoke a glamorous sadness. There are the famous women who met untimely ends -- Natalie Wood, Dorothy Stratton, Dominique Dunne, Farrah Fawcett, Heather O'Rourke, Minnie Riperton, and Marilyn Monroe. But there are so many other notables -- Karl Malden, Truman Capote, John Cassavetes, Mel Torme, Walter Matthau, Ray Bradbury, Burt Lancaster, Eve Arden, Jack Lemmon, Donna Reed, Don Knotts, Roy Orbison, Rodney Dangerfield, Billy Wilder, Bob Crane, Dean Martin, Peggy Lee, Fanny Brice, Frank Zappa, George C. Scott, James Wong Howe, Peter Falk, Eva Gabor, Bettie Page, Darryl Zanuck and Janet Leigh, to name a few -- that the sadness is quickly snuffed out by sheer celeb-shock.
Overall, this unassuming, lovely place gives off the feel of a friendly studio commissary, of lives well lived and then some. There is evidence of rapid expansion, as uninhabited grave sites and uninscribed headstones abound. Sage Stallone, the tragic son of Sly, is buried all alone amongst a new corridor of deluxe plot berths. Each features a blank headstone and a ceremonial bench. There are several of these VIP corridors, including a couple which make up a sort of frat-row of famous chums. They seem to have tried to out funny each other, even in death (but more on that later). I laugh out loud at many of the epitaphs, and realize I have been on my feet so long I am absolutely knackered. I want to rest, but it feels presumptuous and rude to sit on a stranger's memorial bench. Then, by some kind of magic or sheer luck, I come to the grave of a couple named Lewis Hyman and Sandra Moss. Their bench reads: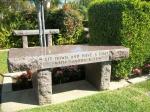 "Sit down and have a chat with Sandra and Lew."

"Well, thank you," I say aloud, taking a load off as my eyes follow sunflower man, who has just reached Marilyn Monroe's lipstick stained crypt, on the other side of the park. "Don't mind if I do."

Sunrise in Sunset
"God's acre beautiful." 1
Westwood Village Memorial Park has existed under several names. There is some conjecture that it was a burial ground as early as the 1820s, when the area was part of the Rancho San Jose de Buenos Ayres. Burials were almost certainly taking place by the 1880s, and in 1904 the cemetery was legally established as Sunset Cemetery. The first recorded burial was in 1905. The cemetery was briefly part of the short lived boom town of Sunset, while the area to the north became the city of Sawtelle (1899-1922), a town of farms and small homes, which was centered around the Soldiers Home (now the VA complex). For a few years, the cemetery's mailing address was listed as Sawtelle.
The cemetery was thoroughly run of the mill, a place for the lower to upper-middle class residents in the surrounding area. In 1916, the dedication of a granite soldier's monument was conducted by the Burnside Post, Daughters of Veterans and the Corps of Sawtelle. In 1922 a civil war veteran named Dr. Osborne Wilson, who, it was claimed, developed the world's first life-like false teeth, was buried in the cemetery. His wife, Mary, one of the last commissioned civil war nurses, was in attendance. Sunset was sold in 1923, and in 1926 its name was changed to Westwood Memorial Park. The new owners of the expanded 3-acre park began to make extensive improvements. A promotional brochure promised potential residents:
It is being gradually improved with beautiful and permanent shade trees, shrubs and flowers. All existing monuments were lowered to grade and all future markings are restricted to uniform size, of granite or bronze, set flush at the head of each grade, thereby creating the effect of a pleasant and shaded park.2
In 1933, the owners and neighboring citizens squared off over the construction of a crematorium on site. In superior court, neighbors argued that smoke fumes and noxious gasses would cover their property and diminish its value. Despite protests and a temporary injunction, the crematorium was built in 1934. A year later, the L.A. Times profiled LaDessa Gibson Schaffnit, who had inherited the cemetery and crematorium from her father, as part of an article called "Why Women Won't Stay at Home." The article heralded LaDessa, a "pretty" L.A. native, who had witnessed her first cremation at the age of five. She subsequently ran the business operation at Westwood Memorial, although the family eventually sold the property.
In 1948, 68 year-old Ana Lower's ashes were interred at Westwood Memorial. This burial would change the pedestrian cemetery's destiny, though no one could have known this at the time. In 1953, Ana's niece, Grace Goddard, was also buried in the cemetery. Her small stone simply listed her name, birth and death dates, and the words "beloved sister." The quiet burial was reputedly paid for by a woman, whom Grace had taken care of as a child after her mother had been placed in a sanitarium. Grace had often sent this exceptionally attractive girl to live with her loving and maternal Aunt Ana, who, the woman claimed, was the first person whom she ever really loved. The woman was an actress, who, after years of bit parts, finally struck it big with the movie, "Gentlemen Prefer Blondes." Her name was Marilyn Monroe.
It almost seems like fate that the famed Pierce Brothers bought the cemetery in 1959, right before the deluge of celebrities began. If ever there were superstars in the L.A. mortuary business, then the Pierce Brothers were it. In the early 1880s, William and Fred Pierce opened a livery stable at Alameda and 16th Street. They soon found that some of their best passengers were the dead, and expanded into the mortuary business. In 1924, they built the first full service funeral home in the city, at 720 West Washington Boulevard. Expert showmen, they offered tours of their mortuaries to church groups to help assuage people's fears about the modern death industry. One night, dramatic actress and blowsy eccentric person, Tallulah Bankhead, burst into the mortuary with a gaggle of drunken friends and demanded a tour.
Pierce Brothers expanded exponentially, buying up most of the mortuaries in the city, opening more, and running three cemeteries. The same year they bought Westwood Memorial, they sold their large chain of mortuaries and graveyards for $6.5 million. Befitting the family's status, the cemetery was now called "Pierce Brothers Westwood Village Memorial Park," or just "Pierce Brothers." Indeed, it was a village -- with a crematorium, a mortuary (that had been built earlier in the decade) and a cemetery -- it was a one stop shop for the bereaved. The family set about expanding and beautifying the grounds. The small peaked-roof chapel was built, as were new mausoleums. Neighbors complained once again, fearful that the construction and expansion would lead to noise and increased traffic in the neighborhood.
They had no idea what they were in for.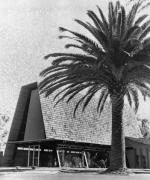 Westwood Memorial Chapel, 1962 | Herald-Examiner Collection,
Courtesy of the Los Angeles Public Library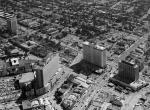 Westwood Village Memorial Park can be seen behind the church facing Wilshire |
Courtesy of the Los Angeles Public Library
The Marilyn Effect
"So many people kiss the monument that we can't get the lipstick stains out of the granite." 3
It was August 8, 1962. The exhausted director of Westwood Memorial, Guy R. Hockett, was close to collapse on account of phone calls that had been pouring in from all over the world. But he still had to manage a small memorial service for 31 people, only the second ever performed in the new chapel. The deceased lay in her coffin, dressed in a simple green dress, a small bouquet of baby pink roses pressed into her hands. Before the casket was closed, her second husband kissed her lips and whispered, "I love you, I love you."
Marilyn Monroe had been discovered three days before in Brentwood, dead from an overdose of barbiturates. She had died in bed all alone, her only link to the world a telephone receiver clutched in her cold hand. On the day of her funeral, over 500 fans and the ever present press stood outside the gates, on walls and on neighboring roofs, straining to catch a glimpse of the select mourners, as they walked from the chapel to her new crypt. Over 100 police officers, studio security guards, and Pinkerton detectives were on hand to ensure order. Only those invited by the family and second husband, Joe DiMaggio, were allowed to enter the cemetery grounds. Those not on the list included almost all of her famous Hollywood friends. According to DiMaggio: "If it hadn't been for some of her friends, she wouldn't be where she is." 4
Where she was now -- near Ana and Grace, the guardian angels of her unhappy childhood -- quickly became a mecca for tourists from all over the world. Luckily, they tended to come in ones and twos. On the one year anniversary of her death, a reporter came across two women praying in front of the crypt, which was festooned with more than a dozen floral remembrances. No matter what time of the year it was, there was always one bouquet of six red roses, placed in the black ceremonial urn next to her nameplate. For over twenty years, they were delivered thrice weekly by the Parisian Flower Shop on a standing order from Joe DiMaggio. His instructions to the family run florist simply read, "three times a week ... forever." 5
These flowers were often stolen by trophy hunters, while thrill seekers often attempted to pry open Marilyn's crypt, or steal the brass nameplate. A tradition arose of kissing the crypt, which over the years has turned it a pale rose that stands out from the rest of the mausoleum. Celebrations on her birthday have grown over the years. On the 30-year anniversary of her death in 1992, over 200 impersonators, fans, and her longtime stand-in attended a service held in the rustic chapel. Afterwards, paparazzi snapped pictures of women modeling versions of her low-cut, iconic white gown on the cemetery grounds.
Perhaps in search of those eternal flashing bulbs, Marilyn's presence transformed this rather blasé cemetery into the in-eternity spot for the movie makers and shakers of her generation. Cemetery neighbors soon learned to deal with the crush of mourners and press each new celebrity burial would bring. There was Natalie Wood's heart breaking burial in 1981, where her husband, Robert Wagner, took three gardenias from her beige coffin, and handed them to their three daughters. At Dean Martin's nighttime memorial, reporters on a nearby rooftop garage struggled to see a who's-who of the rat pack generation enter the cemetery grounds. Prices for plots skyrocketed, leading Walter Matthau's son to joke: "Poppy, you said that you wanted a simple pine casket, so that's what we got you. But we want you to know, this plot alone cost as much as Ebbets Field." 6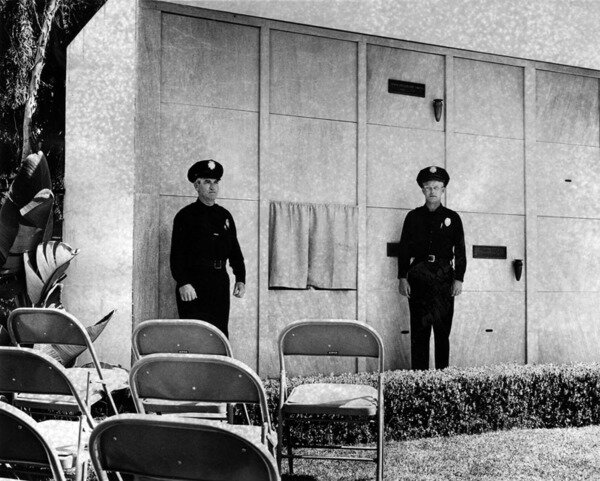 Studio police guard Marilyn Monroe's crypt, August 8, 1962 |
Herald-Examiner Collection, Los Angeles Public Library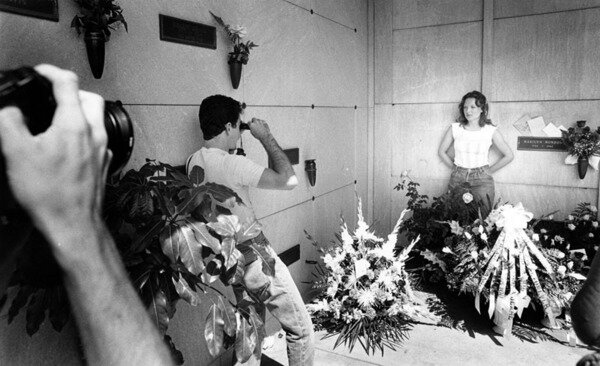 Fans of Marilyn Monroe photograph each other today at star's tomb |
Herald-Examiner Collection, Los Angeles Public Library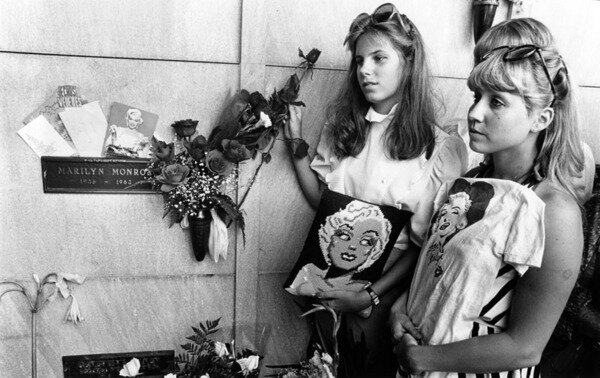 Nancy Yorkshaitis, 14, left, and Jamie Steward, 18, pay their respects at cryptside ceremonies
in Westwood for Marilyn Monroe, who died 20 years ago. August 8, 1982 |
Herald-Examiner Collection, Los Angeles Public Library
Darling, you should have been there
Houston-based Service Corp International bought the cemetery in 1996, "with dollar signs in their eyes," according to Steve Sann, current chair of the Westwood Community Council. In 2002, a plan for massive expansion of crypt space sparked a nasty fight, which pitted the mega-corporation against plot-holders and neighbors in Westwood. Spearheaded by Steven Sann and Tamar Hoffs, a civic action committee called The Friends of Westwood Village Memorial Park was formed. At a heated meeting with city planners, Audrey Wilder, widow of Billy, voiced the sentiments of many.
"How dare you turn this beautiful and sacred place into Disneyland for the dead!" 7
Those opposed to the expansion fought back by campaigning for the cemetery to be designated as a historic cultural monument. This status was granted, and the West Los Angeles Planning Commission reversed an earlier OK of the plan, which would have granted the construction of two new large mausoleums. In the end, the smaller mausoleum was built, but the larger and more offensive one was not. A wall separating neighbors from the cemetery was also built, after having been promised to the neighborhood for 60 years.
Obviously, many people care deeply about this lovely cemetery. My favorite thing about Westwood Memorial is the culture of epitaphs, rich in café society élan and slapstick humor. In the newer part of the cemetery, near the chapel, some of the crème de la crème of '60s, '70s, and '80s Hollywood are buried close together. Many of the public figures buried at Westwood have crafted one last headline, one last punch line, to amuse their friends, family and the public -- their personas etched into stone:
Rodney Dangerfield: "There goes the neighborhood"
Merv Griffin: "I will not be right back after this message"
Jack Lemmon: "in"
Walter Matthau memorial bench: "There was a star danced and under that was I born"
Peter Falk: "I'm not here, I'm home with Shera"
Dean Martin: "Everybody loves somebody sometime"
Miss Peggy Lee: "Music is my life's breath"
Mel Torme: "Music, the greatest good that mortals know, and all of heaven we have below"
Billy Wilder: "I'm a writer but then nobody's perfect"
Audrey Wilder: "I'm right here Billy"

It isn't just the famous whose epitaphs sparkle and shine. Scattered all over the cemetery are epitaphs rich in humor, joie de vivre, and professional pride. Some include pictures, like Jacques and Madeline Delobel, who smile at each other warmly, a glass of spirits raised in his hand. Some of my personal favorites include:

Douglas Wicks Walker: "WOW!"
Lewis I.: "Finally under par"
Marilyn Dunton Simpson: "I could have danced all night..."
Vince Eckhart: "The 'computer guys'"
The Young family memorial bench: "Forever Young"
Biff Elliot, actor: "It was easy."
Milton A. Rudin: "Counselor at law"
Charles McKey Hart: "A twinkle in his eyes, a smile, life was good"
Alice Gilbert Hart: "She cared"
Robert Earl Bradley: "Loving husband, terrific father and a super good guy"
Jeffery Craig Burkhart: "Darling, you should have been there."
Dorothy McKee Wray: "She passed the good around."
Lord Bacon Scherer: "God knows we love you!"
Hannah Russell: "...And life goes on."

Indeed, life does go on. But at Westwood Village Memorial Park, the spirits of those who have left -- be they tragic or comic, famous or not -- are celebrated in an elegant and graceful way. One hopes that the owners of the cemetery will preserve the intimate, cocktail party feel of this peaceful oasis.. For as every good Hollywood insider knows, parties are best when they aren't too crowded.
1"Graveyard of stars hard to locate" Los Angeles Times, October 1976: graveyard of stars hard to locate
2Ibid.
3"Rest in Peace Fan Adoration Can Make It Hard" Los Angeles Times, July 24, 1995
4 "Joe Dimaggio weeps at Marilyn's funeral" Los Angeles Times, August 9, 1962
5"Three times a week...forever" Los Angeles Times, August 6, 1972
6"He Was No Grumpy Old Man" Los Angeles Times, July 26, 2000
7"Los Angeles; Cemetery's Expansion Plans OKd" Los Angeles Times, July 26, 2002