25 février 2014
Année: 1953
Produit/Marque: SunMaster Garden Umbrella
Pays: USA
Séance: photos de Mischa Pelz
Observez bien cette photographie prise le 5 août 1962, soit le lendemain de la mort de Marilyn Monroe, par le photographe Gene Anthony qui va photographier pratiquement toutes les pièces de la maison de Marilyn au Fifth Helena Drive, dans le quartier de Brentwood de Los Angeles, où Marilyn trouva la mort dans son lit.
Observe this photograph taken on August 5, 1962, the day after the death of Marilyn Monroe, by the photographer Gene Anthony who will photograph every room of the house of Marilyn at Fifth Helena Drive, at Brentwood, in Los Angeles, where Marilyn died in her bed.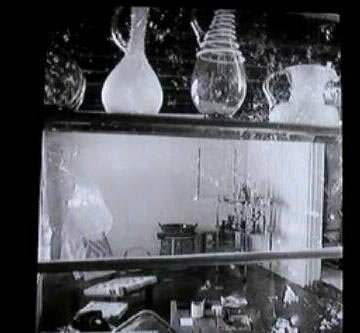 Il s'agit ici de la pièce appelée le "solarium" qui est en fait une pièce donnant sur le jardin, avec une grande baie vitrée laissant passer les rayons du soleil. Il est étrange de constater à gauche de la photo, une forme, peut être formée par les ombres, mais qui laisse fortement penser à Marilyn, qui se tiendrait debout, contre le mur. S'agit-il d'une photograhie truquée, obtenue d'un habile montage de superposition avec une photo de Marilyn, mais dans ce cas, quelle photographie de Marilyn a été utilisée ? Ou serait-ce le fantôme de Marilyn ?
This is the room called the "Sun Room" which is a room overlooking on the garden, with a large window letting the sun's rays. It is strange to see on the the left of the photo, a form, could be shaped by shadows, but strongly suggests Marilyn, who would stand against the wall. Is it a fake photograhy obtained with a clever montage overlay with a picture of Marilyn, but in this case, what Marilyn's photography was used ? Or is it the ghost of Marilyn?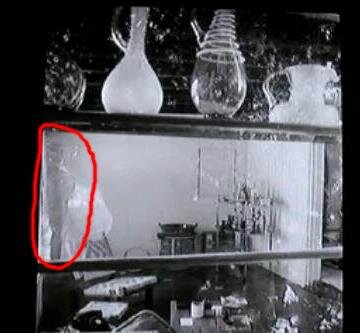 Et vous, que voyez-vous ? Qu'en pensez-vous ?
Your opinion: What do you see ? What do you think ?