27 février 2014
La déposition de Arthur Miller devant la commission des activités antiaméricaines a lieu le 21 juin 1956 à Washington et débute peu avant 10 heures. Miller s'y présente, vêtu d'un costume bleu marine, avec son avocat Joseph L. Rauh et fait face aux questions de Richard Arens, le représentant de l'HUAC (House Un-American Committee) et à Francis Walter, le Président de la cour; Miller affirme s'être inscrit à un cours de formation marxiste en 1939 mais dit ignorer avoir présenté une demande d'inscription au parti communiste. Il déclare alors qu'il n'avait jamais été communiste, mais il reconnaît avoir été associé par le passé avec un certain nombre de groupes communistes. Il déclare avoir été présent à cinq ou six réunions d'auteurs communistes à New York en 1947.
Mais il a toujours refusé de nommer les personnes qu'il avait rencontrées à des réunions communistes et déclare devant les parlementaires: "Je ne protège pas des communistes ni le parti communiste, j'essaie juste de me protéger moi-même (...) Je ne saurais attirer des ennuis à d'autres personnes en les nommant. C'étaient des écrivains, des poètes, autant que je sache; et la vie d'écrivain, malgré ce qu'il semble parfois, n'est pas facile. Je vous demande de ne pas me poser cette question. Je vous dirai tout ce que vous voulez sur moi. Je vais prendre la responsabilité pour tout ce que j'ai fait, mais je ne peux pas prendre la responsabilité pour un autre être humain. (...) Je pense que cela serait une catastrophe et une calamité si le parti communiste dirigeait notre pays."
Il déclare aussi qu'il avait dénoncé la Commission quand elle enquêtait sur les « Dix d'Hollywood » (les scénaristes mis sur la liste noire à cause de leurs opinions politiques considérées dangereuses) ; qu'il s'était opposé à la loi Smith, laquelle considérait hors la loi quiconque prônait le renversement du gouvernement car pour Miller "la littérature ne peut exister: un homme doit pouvoir écrire une pièce ou un poème sur quelque sujet que ce soit."
Ses déclarations sont reproduites dans la presse et, pour le plus grand plaisir de Marilyn, il devient une sorte de modèle de lutte contre la censure et la répression.
Immédiatement, Francis Walter menace de citation à comparaître, mais il propose en alternative à Joseph Rauh d'abandonner les charges si Marilyn Monroe acceptait d'être photographiée en serrant la main à Walter; Miller rejete l'offre et dénonce une telle proposition.
Arthur Miller's testimony before the Committee on Un-American Activities helds on June 21, 1956 in Washington and begins shortly before 10:00 am. Miller presents, wearing a navy blue suit, with his attorney Joseph L. Rauh, and faced the questions from Richard Arens, the HUAC counsel (House Un-American Committee) and Francis Walter, the chairman; Miller says he enrolled in a course of training Marxist in 1939 but says to ignore have submitted an application for registration of the Communist Party. He testifies then that he had never been a Communist, but he acknowledges that he had been associated in the past with a number of Communist-front groups. He testifies he was present at five or six meetings of Communist authors in New York in 1947.
But Miller always refused to name the people he met at Communist's meetings and declare before parliamentarians: "(...) I am not protecting the Communists or the Communist Party, I am trying to and I will protect my sense of myself. (...) I could not use the name of another person and bring trouble on him. There were writers, poets, as far as I could see, and the life of a writer, despite what is sometimes seems, is pretty tough. I wouldn't make it any tougher for anybody. I ask not to ask me that question. I will tell you anything about myself, as I have. I will take the responsability for everything I have ever done, but I cannot take responsability for another human being. (...) I think it would be a disaster and a calamity if the Communist Party ever took over this country".
He also says that he has denounced the Commission when they investigated against the "Hollywood Ten" (the writers put on the blacklist because of their political views considered dangerous), and that he was opposed against the Smith Act, which considered outlaws anyone advocating the overthrow of the government as to Miller "literature can not exist: a man must be able to write a play or a poem on any subject whatsoever"
His statements are reproduced in the press and, to the delight of Marilyn, he becomes a kind of model of struggle against censorship and repression.
Immediately, Francis Walter threats of subpoena, but he offers an alternative to Joseph Rauh to drop the charges if Marilyn Monroe agreed to be photographed shaking hands with Walter; Miller rejects the offer and denounces such a proposal.
> Arthur et son avocat Joseph L. Rauh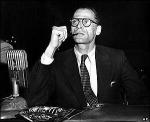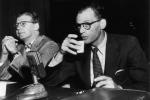 A 12h30, pendant une pause, Arthur Miller, fumant une cigarette, répond aux questions des journalistes. Ils lui demandent pourquoi il désirait un passeport (qui lui avait été retiré) pour se rendre en Angleterre: "Mon objectif est double. D'abord, pour la mise en scène en Angleterre de ma pièce 'Vue du pont'; je veux participer aux discussions; puis cela me permettra d'être là-bas avec la femme qui sera alors mon épouse." Face à l'insistance des reporters, il finit par avouer vouloir épouser "sous peu" Marilyn Monroe, et que la cérémonie aura lieu soit à New York, soit dans le Connecticut où "j'ai mon refuge".
Arthur sera de retour à New York tard dans la soirée.
Un mois après cette audience, la Chambre des représentants accuse Miller de mépris envers le Congrès (risquant une condamnation d'un an de prison). Miller fait appel et sera acquitté deux ans plus tard.
At 12:30 pm, outside the caucus room, Arthur Miller, smoking a cigarette, answers to journalists who ask him why he wanted a passport (which was taken back to him) to go in England: "The objective is double. I have a production which is in the talking stage in England of 'A View from the Bridge', and I will be there with the woman who will then be my wife". At the insistence of reporters, he finally admitted wanting to marry Marilyn Monroe within a couple of days, and that the ceremony will occur either in New York or Connecticut where "I have a hideaway cabin".
Arthur returns to New York later in that evening.
One month after the audience, the House of Representatives accuses Miller of contempt for Congress (possibly to be condamned for one year in prison). Miller appeales and will be acquitted two years later.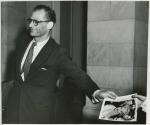 > video


---
Marilyn Monroe souhaitait accompagner Miller à Washington, mais il lui a demandé de rester plutôt à New York; Marilyn l'attend alors dans son appartement de Sutton Place.
Les reporters vont assiéger l'immeuble de Marilyn dès le matin.
Marilyn Monroe wanted to accompany Miller to Washington, but he asked her to stay rather in New York; Marilyn then waits in her apartment in Sutton Place.
Reporters will besiege the building of Marilyn in the morning.
Quand les reporters croisent Marilyn, ils lui demandent de commenter la déposition d'Arthur Miller devant le Congrès mais elle préfère échapper à la question en répondant: "Je ne connais pas grand chose à la politique. Il va falloir que je lui (Miller) parle mais je pense qu'il est très fatigué." Deux ans plus tard, quand Miller sera acquitté, elle dira n'avoir jamais douté du résultat car "j'ai étudié Thomas Jefferson pendant des années et que, selon Thomas Jefferson, cette affaire devait se résoudre ainsi..."
Marilyn préfère jouer les ignorantes et les ingénues face à la presse, mais elle a toujours soutenu Miller et s'est initiée à la politique. Il semble que le fait que Marilyn ait soutenu Miller ait joué en la faveur de ce dernier. La presse le présente alors comme "l'amant persécuté du sex-symbol national". On dit même qu'elle l'aurait aidé dans les frais onéreux de dépenses pour sa défense.
Elle dira à l'écrivain anglais W.J. Weatherby en 1960: "Certains de ces salopards d'Hollywood voulaient que je laisse tomber Arthur, ils disaient que cette histoire allait ruiner ma carrière. Ce sont des trouillards, ils veulent que vous soyez comme eux."
When reporters meet Marilyn, they ask her to comment on the testimony of Arthur Miller before the Congress but she prefers to avoid the question, answering: "I do not know much about politics. I'm going to have him (Miller) talk but I think he is very tired." Two years later, when Miller will be discharged, she will say she never doubted about the results because " I studied Thomas Jefferson for years and, according to Thomas Jefferson, this case should be resolved as well ..."
Marilyn prefers to play an ignorant and naive person to the press , but she has always supported Miller and was learned politics. It seems that the fact Marilyn has supported Miller has played in his favor. The press then appears him as "the persecuted lover of the national sex symbol." It is even said that she would have helped him in the expensive costs of expenses for his defense.
She will tell to the English writer W.J. Weatherby in 1960 : "Some of those Hollywood bastards wanted me to drop Arthur, they said that this story would ruin my career. They are cowards, they want you to be like them. "
---
Quand à l'annonce de Miller d'un mariage imminent avec Marilyn, il existe différentes versions:
> Arthur Miller affirme dans son autobiographie que le mariage était prévu depuis longtemps avant sa comparution devant la commission. D'ailleurs, la veille, le 20 juin, le New York Post révélait le mariage imminent.
> L'autre version, qui est celle la plus reprise dans les biographies, est que Marilyn ignorait les projets de mariage et aurait appris la nouvelle en regardant la télévision. Elle aurait ainsi appelé, en étant quasiment affolée, Norman et Hedda Rosten qui vivent à Brooklyn: "Tu as appris ça ? Il a dit à tout le monde qu'il se mariait avec Marilyn Monroe. Avec moi ! C'est incroyable, il ne me l'a jamais vraiment demandé ! Il faut que tu viennes tout de suite. J'ai besoin d'être soutenue moralement. Je devrais même dire: au secours ! Je suis assiégée, bloquée dans mon appartement. Il y a des journalistes qui essaient de rentrer. Il y en a partout dans l'immeuble."
Les Rosten se sont demandés si Miller n'utilisait pas Marilyn pour se faire valoir, mais ils ne préfèrent pas révéler leur pensée à Marilyn, de peur de la peiner. D'ailleurs, même Rupert Allan, son attaché de presse, affirme que "Marilyn admira Miller à partir de ce jour, bien que sa façon d'annoncer le mariage l'ait perturbée... Je crois qu'il l'a utilisée."
Un ouvrier serait venu réparer la climatisation dans l'appartement de Marilyn et il semblerait qu'en bavardant avec lui, elle lui aurait confirmé qu'elle se marierait avec Miller. Il le répéta vite aux journalistes.
Miller va appeler Marilyn pour lui dire qu'il lui parlerait de tout ça de visu. Ensuite, c'est Hedda Hopper, une fervente anti-communiste et vipère d'Hollywood, qui l'appele de Los Angeles et Marilyn lui confirme la nouvelle: "Je suis très heureuse de mon imminent mariage. Je vais me marier entre maintenant et le 13 juillet. Je ne sais pas encore où ni la date exacte." Elle lui dit aussi avoir reçu un appel de Spyros Skouras, ce qui était faux, afin de faire croire que son union avec Miller était soutenue par les studios de la Fox.
Une conférence de presse est organisée l'après-midi dans le hall de l'immeuble et Marilyn répond ainsi aux questions des nombreux journalistes présents. Certaines réponses de Marilyn font rire l'assistance: une journaliste lui demande "Quand allez-vous avoir des enfants ?" et Marilyn de répondre: "Mais je ne suis pas encore mariée ma chère !"
About the announcement of Miller of an imminent marriage with Marilyn, there are different versions:
> First, Arthur Miller says in his autobiography that the wedding was planned long before his appearance before the commission. In fact, the day before, on June 20 , the New York Post has revealed the upcoming marriage.
> The other version, which is the most repeated in biographies, is that Marilyn -in tight beige toreador pants- didn't know the wedding plans and would heard the news in watching TV. She latter calls, being almost hysterical, Norman and Hedda Rosten in Brooklyn Heights: "Do you learn that ? He announced it before the whole world ! He told the whole world he was marrying Marilyn Monroe. Me ! Can you believe it ? That's unbelievable, he has never really asked me ! You have to come down right away, both of you. I need moral support. I mean, help ! I'm surrounded here, locked in my apartment. There are newspapermen trying to get in, crawling all over the place, in the foyer, in the halls. I told the elevator men to let you through."
The Rosten wondered if Miller did not use Marilyn to make him better before the commission, but they prefer to don't reveal their thoughts to Marilyn, for fear of pain her. Moreover, even Rupert Allan, the press secretary, says that "Marilyn admired Miller from this day, although his way of announcing the marriage was disturbed her... I think he used her. "
An air-conditioner repairman, who was working in Marilyn's eight-floor apartment, repeats to reporters that by chatting with Marilyn, she confirms that she would marry Miller.
Miller later calls to Marilyn to tell her that he would speak of that when he will come back. Then, that's Hedda Hopper, a fervent anti-communist and an Hollywood viper, who calls from Los Angeles and Marilyn to confirm the news: "I'm very happy about my forthcoming marriage. I'm marrying between now and July 13. I don't know where and I don't know the exact date."; she tells also to Hedda that she has received a call from Spyros Skouras, that was in fact wrong, in order to make believe that the union with Miller was supported by Fox studios.
A press conference is organised in the afternoon in the lobby of the building and Marilyn answers to the questions from the many reporters. Some Marilyn's answers make fun the reporters: when a female journalist ask her "When are you going to have some children ?", Marilyn answers: "Well, I'm not married yet dear !"

> Conférence de presse improvisée dans le hall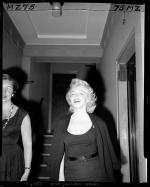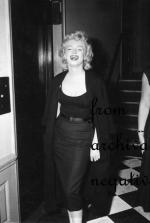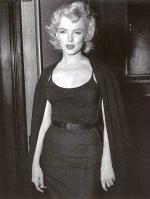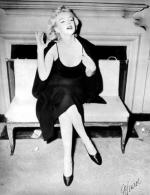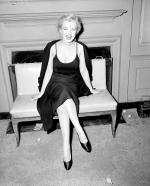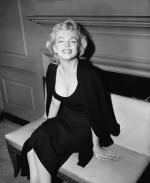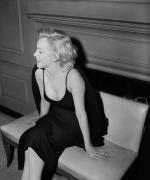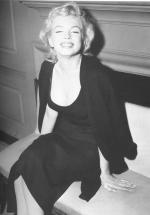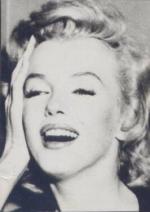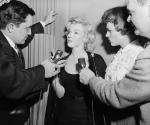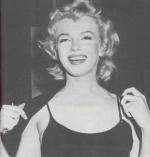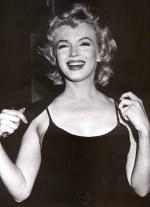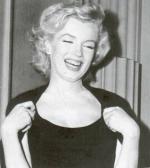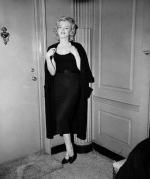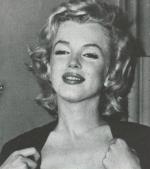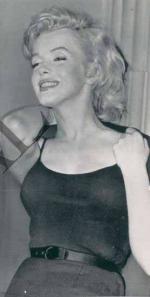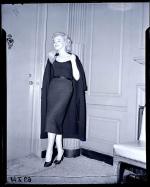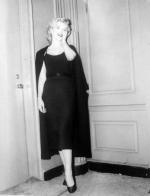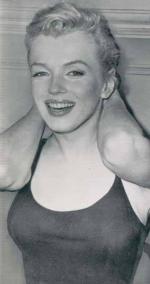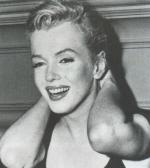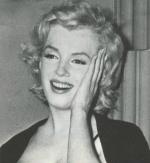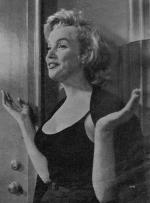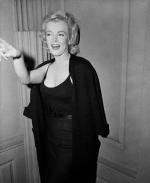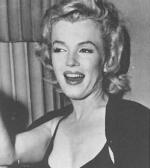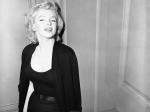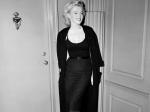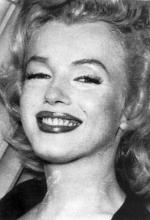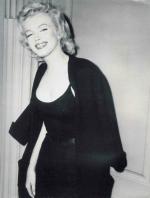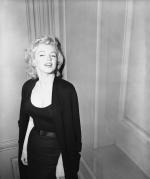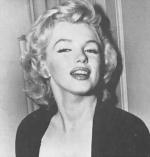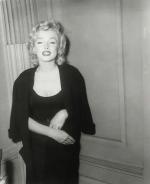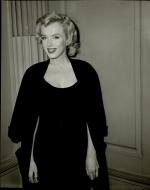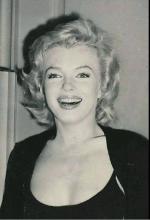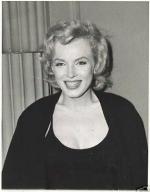 ---
---
> video 1


> video 2


> video 3

---
sources:
Marilyn Monroe, biographie de Barbara Leaming
Les vies secrètes de Marilyn Monroe, d'Anthony Summers
Marilyn Monroe, encyclopédie d'Adam Victor
Les trésors de Marilyn Monroe, de Jenna Glatzer
Marilyn Monroe et les caméras, Georges Belmont
article du nytimes.com
---
© All images are copyright and protected by their respective owners, assignees or others.
copyright text by GinieLand.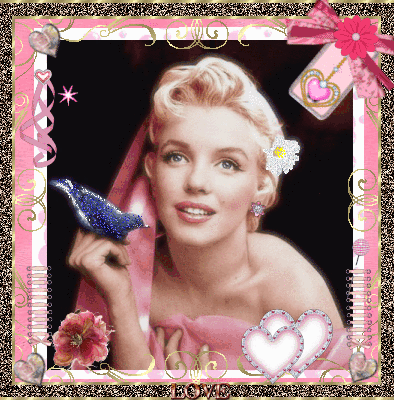 gif > source blingee.com
*actrice américaine, à l'époque du tournage de "The Apartment" ("La Garçonnière") en 1960, de Billy Wilder.
(source: article "The 7 Juiciest Anecdotes Told By Shirley MacLaine at the LA Film Fest Q&A with Jack Black" du 24/06/2011 sur movieline.com )

I'll tell you a story: I came out of the first screening of 'The Apartment'. I left before the lights went up, and I walked out of the door and there, up against kind of a bar because they were serving food and drinks, was a woman -- a blonde swathed in a white mink coat. I walked over to her just to talk, and she said [whispering], 'You were so wonderful! Just brilliant!' She opened up the coat and she had nothing on. Marilyn.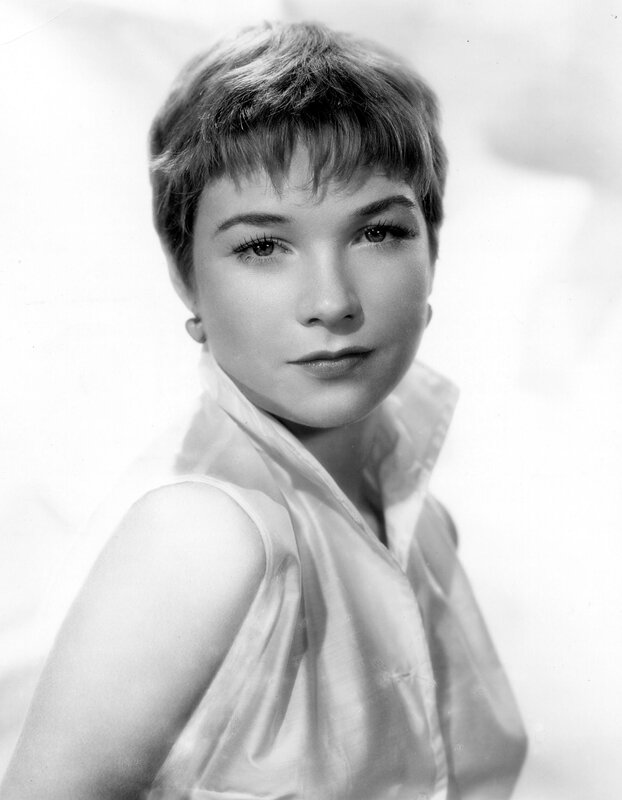 Je vais vous raconter une histoire: quand je suis sortie de la première projection de 'La Garçonnière', je suis partie avant que les lumières ne s'éteignent, et je suis sortie par la porte et là, debout, se tenant contre un genre de bar parce qu'ils servaient de la nourriture et des boissons, se tenait une femme -- une blonde enveloppée dans un manteau de vison blanc. Je me suis dirigée vers elle juste pour lui parler, et elle a dit [en chuchotant]: 'Vous étiez tellement merveilleuse! Tout simplement géniale!' Elle a ouvert le manteau et elle n'avait rien en-dessous. Marilyn.