Marilyn Monroe et les caméras
Auteur: Collectif (Lothar Schirmer / Georges Belmont)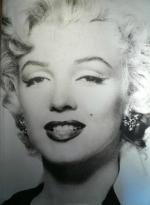 Date de sortie: 1991
Broché 248 pages
Langue: français
Éditeur: Schirmer Mosel / France-Loisirs
Prix éditeur: (en 1991: 196 francs),
d'occasion dès 15 Euros
ISBN 10: 3888145961
ISBN 13: 978-3888145964
Ou le commander ? sur amazon.fr
Description: Ce livre est dédié à la mémoire de Marilyn Monroe. Bien que l'histoire de Marilyn remonte maintenant à une trentaine d'années, le rayonnement de sa beauté et l'extravagance de son allure sont plus captivants, plus époustouflants que jamais. les illustrations de ce livre en sont la preuve même et donnent raison à postériori à Arthur Miller qui disait: "Le soleil semblait terne à côté de Marilyn" ou "elle était le reproche vivant à toute l'indifférence." Cet album contient 152 photographies réalisées par presque quarante photographes dans les années 1945 à 1962 et l"interview que Marilyn accorda à Georges Belmont en 1960.
Sommaire:
Remerciements
Préface de Jane Russell
Les photographes
Interview de Marilyn Monroe avec Georges Belmont
Planches
Biographie
Filmographie
Bibliographie
Sources iconographiques
---
Marilyn Monroe and the Camera
Author: (Georges Belmont)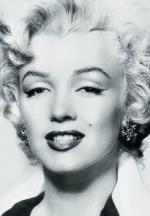 Date de sortie: 1991 (re-édité en 2001)
Relié 248 pages
Langue: anglais
Éditeur: Schirmer/Mosel Verlag GmbH
Prix éditeur: 46,55 Euros
ISBN-10: 3829603126
ISBN-13: 978-3829603126
Dimensions du produit: 33,2 x 23,9 x 2,9 cm
Ou le commander ? sur amazon.com
Description: This book contains 152 photographs of Marilyn Monroe taken during her career from 1945 to 1962; and an interview with french journalist Georges Belmont given in 1960.
---
Mon Avis en Bref... 10/10
Je possède ce livre depuis que je suis enfant (je devais avoir 10 ans et il fut mon deuxième livre sur Marilyn) et honnêtement, il reste l'un de mes préférés, et sans doute l'un des livres de Marilyn que j'ai le plus consulté ! C'est avant tout un livre de photographies, reproduites dans une excellente qualité, beaucoup sont en pleine page (une photo par page, voir même en double page) et toutes sont légendées, apportant des informations sur le contexte photographique (nom du photographe, date, lieu, événement, lien avec la carrière et/ou vie de Marilyn), et le plus important, il n'y a aucune erreur de dates ni de faits. Les photographies reproduites concernent uniquement la carrière de Marilyn: dès l'année 1945 où elle fit ses premières photos professionnelles en tant que mannequin, jusqu'en 1962, les photos de Bert Stern; vous ne trouverez donc aucun cliché de sa vie privée ni de son enfance, pas de photos intimes ni de paparazzis, mais des photos prises en studio, sur les tournages de films, en public comme lors de conférence de presse etc...
Les autres avantages de ce livre sont d'abord, la reproduction de l'interview complète de Marilyn donnée à G. Belmont où elle parle d'elle-même, de sa vision de la vie, de son enfance; c'est l'une des interviews les plus touchantes qu'elle ait donné dans sa carrière. Ensuite, la biographie en fin de livre revient sur les moments clés de la vie de Marilyn par dates et événements importants. Enfin, la préface de Jane Russell, très attendrissante envers Marilyn qu'elle a connu jeune, avant qu'elle ne devienne star.
Donc, en résumé, je conseille vivement ce livre qui reste un incontournable: d'un côté, si vous n'êtes pas fan de Marilyn mais que vous l'appréciez, vous apprendrez à la connaître davantage grâce à ce livre; et d'un autre côté, je pense que tout fan de Marilyn se doit d'avoir ce livre dans sa bibliothèque.

---
Vous avez le livre ? Do you have the book ?
Apportez votre critique, votre avis ou votre note (/10)