25 mars 2014
Le vendredi 29 juin 1956, après avoir donné une conférence de presse en compagnie de Marilyn Monroe dans l'après-midi devant son domicile à Roxbury où le couple annonce officiellement leur intention de se marier, et d'avoir vécu l'accident de voiture qui a coûté la vie à la journaliste Mara Sherbatoff, ce qui a choqué considérablement Marilyn, Arthur Miller décide de se marier immédiatement et secrètement, sans en avertir la presse, afin de reprendre le contrôle de sa vie, étant donné les événements tragiques qui se sont déroulés dans la journée. Mais Marilyn doute et demande l'avis de Milton Greene: "Arthur veut que je l'épouse maintenant. Est-ce que je fais une erreur ? Qu'en penses-tu ?" et Greene de répondre: "Fais ce qui te semble le mieux."
Miller donne de nombreux coups de téléphones à des hommes de lois et autorités locales, avant de trouver un juge qui accepte de les marier: Seymour Robinowitz, qui doit décaler à plus tard la réception donnée pour son anniversaire le soir-même.
On Friday, June, 29, 1956, after giving a press conference with Marilyn Monroe in the afternoon at his Roxbury's home where the couple officially announced their intention to marry, and to have lived the car accident who killed the journalist Mara Sherbatoff, which greatly shocked Marilyn, Arthur Miller decides to marry immediately and secretly without informing the media, to regain control of his life, after the tragic events occured in that day. But Marilyn doubt and asks to Milton Greene his advice: "Arthur wants to marry me now. Do I make a mistake ? What do you think ?" and Greene to answer "Do what it seems the best for you".
Miller phone a lot to Men of laws and local authorities before to find a judge who agrees to marry them: this is Seymour Robinowitz, who has to hold over the reception given for his birthday that evening.

---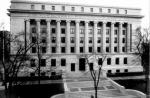 Marilyn Monroe et Arthur Miller se marient civilement à la mairie de White Plains, dans le comté de Westchester, Etat de New York où le juge Seymour Robinowitz leur promet de garder le secret, ne le disant même pas à sa propre femme. L'anneau que Miller a commandé chez Cartier n'est pas encore prêt (il le passera au doigt de Marilyn à la cérémonie juive le 1er juillet), il emprunte alors l'alliance de sa mère Augusta.
Marilyn s'était changée pour porter un pull à manches courtes et un fin gilet. Arthur porte une veste bleue sur un pull en col V et une chemise blanche.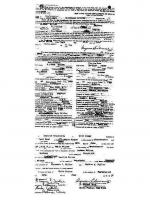 C'est un mariage très rapide et intimiste car peu d'invités furent conviés: Sam Slavitt, un avocat ami de Miller, a organisé la cérémonie; et parmi les convives, invités par Marilyn, figurent Milton Greene, Lee et Paula Strasberg, John Moore (son ami décorateur et couturier); et du côté de Miller, son cousin Morton Miller (témoin d'Arthur) et sa femme Florence.
Sur les papiers à remplir (cf document ci-contre), dans "nom du père", Marilyn a écrit "Edward Mortenson".
Le juge Robinowitz prononce le couple "mari et femme" à 19h21. Une bouteille de champagne a été apportée et le couple porte un toast devant les étagères emplies de livres dans le bureau du juge. Marilyn semble plutôt pâle.
Miller dit "Je suis content, c'est enfin fini. Maintenant le monde peut retourner à faire ce qu'il a à faire."
Un proche de Marilyn qui travaillait au département publicité, dira plus tard, ironiquement: "Il ne réalise pas que c'est seulement le début."
Après cette brève cérémonie civile, il est 21h30 quand Marilyn et Arthur retournent à la maison de Miller à Roxbury, Connecticut, où les attendent les parents d'Arthur -Isadore et Augusta Miller- pour le dîner (du poulet) et qui ne savent même pas que le couple s'est marié.
Marilyn Monroe and Arthur Miller married civilly at the Court House in White Plains, at Westchester County, New York, where Judge Seymour Robinowitz promises them to keep the secret, don't even telling to his own wife. The ring that Miller commissioned from Cartier's is not yet ready (it will be on the Marilyn's finger at the Jewish ceremony on July 1st), then, he borrowns the ring of his mother Augusta.
Marilyn was changed to wear a sweater with short sleeves and a thin vest. Arthur wears a blue jacket over a V-neck sweater and a white shirt.
This is a very fast and intimate wedding because few guests were invited: Sam Slavitt, a lawyer friend of Miller, organized the ceremony, and among the guests invited by Marilyn are Milton Greene, Lee and Paula Strasberg , John Moore (friend fashion designer) and on the side of Miller, his cousin Morton Miller (Arthur's witness) and his wife Florence.
On the official documents, in " father's name" Marilyn writes "Edward Mortenson."
The judge Robinowitz pronounces the couple "husband and wife" at 7:21 pm. A bottle of champagne was bring and the couple toasts in front of to shelves filled with books in the judge's chamber. Marilyn looks rather wan.
Miller says "I 'm glad it's over. Now the world can go back to what he was doing."
One of Marilyn's publicist later says ironically: "He does not realize that this is only the beginning."
After this brief civil ceremony, it is 9:30 p.m. when Marilyn and Arthur return to the Miller's House in Roxbury, Connecticut, where waiting the Arthur's parents -Isadore and Augusta Miller- for dinner (a simple chicken) and who even don't know that the couple are married.
---
.photographies de Milton H. Greene
.sources:
Marilyn Monroe, biographie de Barbara Leaming
Les vies secrètes de Marilyn Monroe, d'Anthony Summers
Marilyn Monroe, encyclopédie d'Adam Victor
Marilyn Monroe et les caméras, Georges Belmont
Life Remembering Marilyn

---
© All images are copyright and protected by their respective owners, assignees or others.
copyright text by GinieLand.