27 mars 2014
Icon: The Life, Times, and Films of Marilyn Monroe
Volume 1 - 1926 to 1956
Auteur: Gary Vitacco-Robles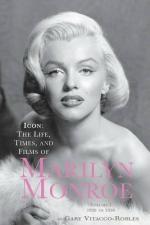 Date de sortie: 6 mars 2014
Broché (existe aussi en Relié) 788 pages
Langue: anglais
Éditeur:
Prix éditeur: 30,56 Euros (broché) / 37,74 (relié)
Broché ISBN 10: 1593935544
Broché ISBN 13: 978-1593935542
Relié ISBN 10: 1593935552
Relié ISNB 13: 978-1593935559
Ou le commander ? broché sur amazon.fr / relié sur amazon.fr
Description -sur bearmanormedia.com -
Goddess...Legend...Icon...
You thought you knew her...but never before like this.
Marilyn Monroe (1926-1962) survived a childhood marked by abuse, neglect, & chaos to become a psychological, cultural, & spiritual phenomenon of the Twentieth Century. Her remarkable life, brilliant film career, & posthumous legend have been deconstructed in over 600 biographies.

Psychotherapist & author Gary Vitacco-Robles reframes & redefines the fascinating woman behind the iconic image through an analysis of her psyche and an appreciation of her film & stage performances. After a decade of meticulous research, Vitacco-Robles offers a treasure trove of facts comprehensively documenting each year of Monroe's inspiring life within the context of her tumultuous times & through her relationships with literary, entertainment, & political figures.

Monroe is resurrected a half-century after her tragic death in this detailed & sensitive biography which intelligently explores her passionate desires: to be loved, become a serious actress, & have a family.
Based upon interviews, diaries, & personal files--and void of sensationalism--Icon: The Life, Times, & Films of Marilyn Monroe dispels many myths & reveals the ultimate truth about Hollywood's most charismatic, beloved, & enduring star.
---
Vous avez le livre ? Do you have the book ?
Apportez votre critique, votre avis ou votre note (/10)

artiste inconnu