28 mars 2014
Le 19 avril 1956, la Twentieth Century Fox envoie un courrier aux Marilyn Monroe Productions pour leur faire part des absences de Marilyn Monroe sur le tournage de "Arrêt d'Autobus" à cause des arrêts maladies de l'actrice et réclame la récupération des 9 jours de maladies.
On April 19, 1956, the Twentieth Century Fox sends a letter to the Marilyn Monroe Productions to inform them of the absences of Marilyn Monroe on the set of "Bus Stop", due to the diseases of the actress and claims the recovery of these 9 sick days.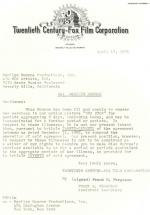 Miss Monroe a été malade et incapable de rendre ses services dans notre film "Bus Stop" pour des périodes totalisant neuf jours, y compris aujourd'hui, et peut être frappé d'incapacité pour une ou plusieurs périodes. En ce qui concerne ces maladies, ce n'est pas notre intention présente, conformément à l'article vingt-sept de l'accord entre nous du 31 décembre 1955, de suspendre le fonctionnement dudit accord. Notre position actuelle, cependant, en ce qui concerne ces maladies, ne doit pas être interprété comme une renonciation de nos droits de vous demander de rendre les services de Mlle Monroe à notre disposition pendant une période ou des périodes équivalentes à des périodes de sa maladie, comme prévu par l'article sept de ladite convention,
Très sincèrement vôtre,
Twentieth Century-Fox Film Corporation
par Franck H. Ferguson (secrétaire adjoint).
Miss Monroe has been ill and unable to render her services in our motion picture "Bus Stop" for periods aggregating 9 days, including today, and may be incapacitated for a further period or periods. in respect to these illnesses, it is not our present intention, pursuant to Article Twenty-Seventh of the agreement between us dated December, 31, 1955, to suspend the operation of said agreement. Our present position, however, in respect of these illnesses is not to be construed as a waiver of our rights to require you to make Miss Monroe's services available to us for a period or periods equivalent to the aggregate periods of her illness, as provided for in Article Seventh of said agreement,
Very truly yours,
Twentieth Century-Fox Film Corporation
by Franck H. Ferguson (assistant secretary).
---
© All images are copyright and protected by their respective owners, assignees or others.
copyright text by GinieLand.
Arrêt d'Autobus
Les Affiches

Les Affiches Ciné dans le monde
> Argentine / Brésil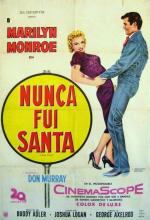 > Asie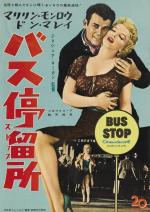 > Pologne

- Hollywood Chinese Theatre-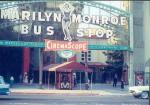 ---
> Programme Publicitaire Allemand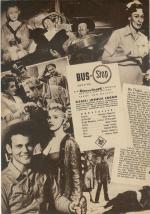 ---